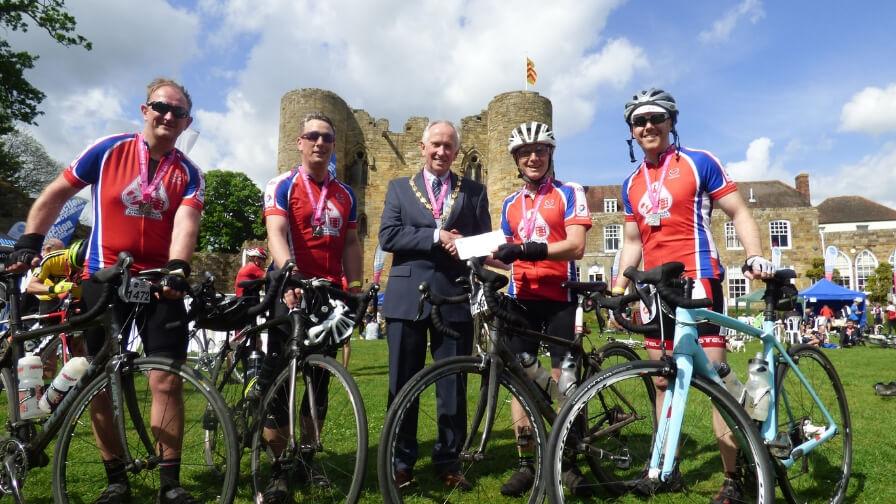 Key Information
Date:

Sunday 12 May 2019

Location:

Tonbridge Castle, TN9 1BG

Cool 33 Miles:

£26.00

Classic 70 Miles:

£38.00

Champion 101 Miles:

£38.00

Epic 124 Miles:

£55.00
33 to 124 Miles, there's a challenge for everyone
Castle's Epic route at over 200km long continues to be a popular option for riders looking for a tough ride and a memorable day in the saddle.
Tonbridge Castle is the setting for the Castle Ride 100 charity cycling sportive that will see over 800 cyclists depart from the castle grounds. The Kent countryside serves up a mixture of quiet villages and beautiful scenery as you meander along quiet lanes. Expect some tough climbs on this charity bike ride as you pedal through the challenging North Downs - the views are spectacular and well worth the effort.
All four routes offer challenging hills, rewarding views and plentiful feed stops making it a cracking event whichever distance you choose!
Enjoy a great day in the saddle with the Action Medical Research team on this cycling event with first class support throughout the day. Help us raise vital funds to help sick and disabled babies and children."
Route Details
Cool Route
33 Miles - £26.00
Registration: 08:30-09:00am
Start Time: 08:45-09:00am
Classic Route
70 Miles - £38.00
Registration: 08:00-08:45am
Start Time: 08:00-08:45am
Champion Route
101 Miles - £38.00
Registration: 07:00-08:00am
Start Time: 07:15-08:00am
Epic Route
124 Miles - £55.00
Registration: 06:15am- 6.30am
Start Time: 06:30am- 6.30am
Event Includes
Chip timing
Route options
Circular route
Feed stations
Mechanical support
Full signage
Medal
Emergency cover
Castle FAQs
Do I need insurance?
We recommend that you have appropriate cover for you and your bike.
Are spare parts available for my bike?
Yes, for most common bikes. Spares are chargeable.
What happens if I get lost or get into difficulties on the day?
On the day you will be given a contact number for our ride control, who will help with any issues.