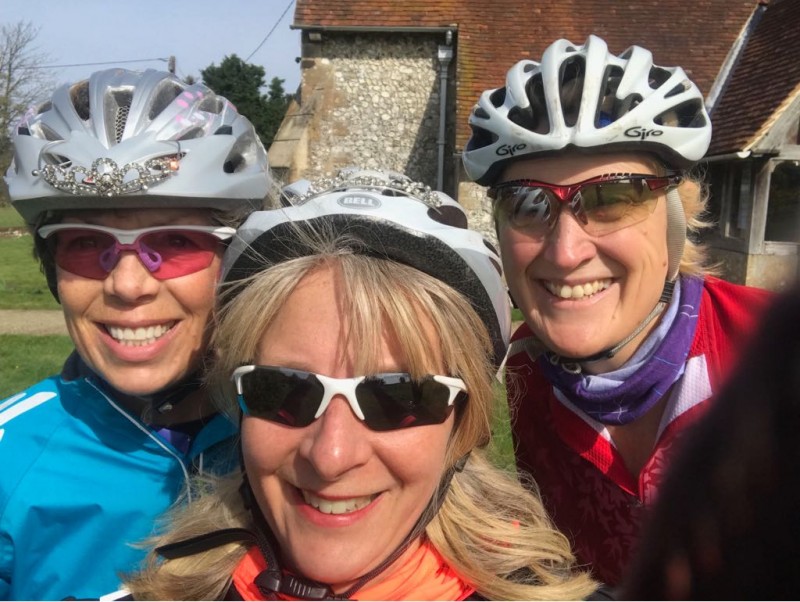 Parents Karen and Russel Brown, along with three friends, are embarking on a massive challenge to raise funds for national children's charity Action Medical Research. The five-strong team named the Paris Peddlers will cycle from London to Paris – a distance of 330 miles – in July 2018.
The couple from Alton are devoted supporters of the charity, which funds research into a wide range of rare and disabling conditions affecting babies and children, including asthma which affects their son Sullivan, 14.
Around 1.1 million children in the UK have asthma, a lifelong condition that affects breathing.1 One in every 11 children in the UK has asthma – one of the highest rates worldwide.1
Mum Karen, 49, who owns Tootsies Private day Nursery in Farnham, and who was recently diagnosed with asthma herself, explains: "Chronic asthma can be very serious. Sullivan has been in hospital a few times with it. Pollen makes it worse and so does the weather – heat and cold in particular affect his asthma."
On a bad day, asthma can stop Sullivan going to school and may mean he has to use a nebulizer – a special machine that turns liquid medicine into a mist that can be inhaled.
Asthma can also prevent talented rugby player Sullivan playing the sport he loves: "Sullivan is in the London Irish Rugby Academy for his age group and is a top five scorer for his school and his club," Karen says. "He loves sport, so asthma can be very frustrating for him."
Although Sullivan's asthma is well managed with two different medicines, his wellbeing fluctuates and wheezing that may lead to an attack is an ever present worry that Sullivan describes as 'scary'.
Action is funding a study led by Professor Somnath Mukhopadhyay at the Royal Alexandra Children's Hospital in Brighton. He is leading an expert team of geneticists and children's respiratory physicians who have a special interest in asthma. Their aim, says Professor Mukhopadhyay, is to help bring about 'a major step change in the quality of life of children with asthma and allergy.'
The researchers aim to tailor treatment to each child, according to their genetic features – an approach known as personalised therapy. Up to 240 children and young people aged 12 to 21 are taking part in the study.
"Our ultimate aim is to make the most of the treatments we've already got for asthma, so children get the medicines that suit them best – and they can enjoy the best possible quality of life," says Professor Mukhopadhyay.
Fundraising for the London to Paris event is already underway: supported by friends and family, the Paris Peddlers raised £1,100 with a static bike turbo-trainer event and bucket collection for Action in Camberley on Saturday 21 April – just ahead of World Asthma Day on Wednesday 2 May.
Head of Events at Action Medical Research Emma Morgan comments: "The research into asthma we are funding aims to make a real difference to children and young people like Sullivan. London to Paris is one of the most exciting and memorable cycling challenges in the Action Medical Research events calendar. We are so proud of the Paris Peddlers and wish them every success."
Ends
Notes for editors:
World Asthma Day is on Wednesday, 2 May 2018
Action Medical Research has funded scientists to investigate the links between early infections, allergy, wheezing and asthma:
The charity has also funded a team in Leicester to investigate the potential role of fungi in relation to asthma in children:
https://www.action.org.uk/research/severe-asthma-are-fungi-blame
More information about the current study into personalised treatment for young asthma patients can be found here:
https://www.action.org.uk/research/asthma-could-personalised-treatment-improve-childrens-quality-life
Registration for Action's London to Paris fundraising ride which takes place from 25 to 29 July 2018 can be made online: https://www.action.org.uk/action-london-paris
The Paris Pedlars team comprises Karen Brown, Russell Brown, Dave Hobson, Jo Beardsley and Ali Morris. They welcome sponsorship:
www.action.org.uk/sponsor/parispeddlers
References:
1. Asthma UK. Asthma facts and FAQs. http://www.asthma.org.uk/asthma-facts-and-statistics Website accessed 24 April 2018.
Images:
Paris Peddlers team:
https://www.action.org.uk/sites/default/files/paris_peddlers_karen_brown_ali_morris_and_jo_beardsley_taking_a_well_earned_rest.jpg
Sullivan Brown, 14, who has asthma:
https://www.action.org.uk/sites/default/files/sullivan_brown_14_who_is_affected_by_asthma.jpg
Russell Brown fundraising for Action Medical Research:
https://www.action.org.uk/sites/default/files/paris_peddler_russell_brown_raising_funds_for_action_medical_research.jpg
Karen Brown, Ali Morris and Jo Beardsley:
https://www.action.org.uk/sites/default/files/karen_brown_centre_with_fellow_cyclists_ali_morris_and_jo_beardsley.jpg
Action Medical Research
Please contact Peter Denton, Fundraising Communications Officer:
T: 01403 327412
E: pdenton@action.org.uk
W: action.org.uk
Follow us on Twitter at @actionmedres and @amr_events  
Like our Facebook page at facebook.com/actionmedres
Follow us at pinterest/actionmedres
Action Medical Research is a leading UK-wide charity saving and changing children's lives through medical research. For more than 65 years we've helped pioneer ways to prevent disease and develop treatments benefiting millions of people. Our research has helped to beat polio in the UK, develop ultrasound in pregnancy, fight meningitis and prevent stillbirths. But we urgently need to develop more new treatments and cures for sick babies and children and we can't do it without you.
Join our fight for little lives today.
Charity reg. nos 208701 and SC039284.