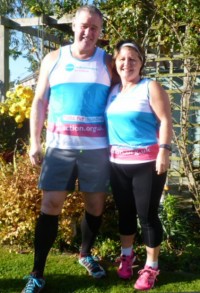 Why husband and wife Jim and Jeanetta Darrah took on the new London Landmarks Half Marathon.
As this issue of Touching Lives went to press Jim and Jeanetta Darrah, from Suffolk, were, quite literally, pounding through the streets of the capital and hopefully enjoying the sight of an iconic landmark or two along the way! London's newest, closed-road, running event took place on Sunday 25 March, with 10 runners pulling on their Action vests to take part.
Speaking about the couple's motivation to run, Jim, 51, said: "Our daughter Abby was born very, very poorly and to be honest we were worried she would not survive.
"We have a photo of her in the hospital bed with her very worried-looking older sister Zoe holding her hand. As a parent you just feel so helpless when your little ones are sick.
"Fortunately our Abby is now a healthy 26-year-old woman who has even run marathons herself. We know not everyone is so lucky which is why we appreciate the invaluable work Action does."
Jim and Jeanetta, 53, have supported Action for 10 years and Jeanetta says she'd encourage anyone to sign up for a future event: "Look around you; do you know a child or family suffering from illness or fearing for the future due to the unknown? Do something, however small, to help make a difference," she says.
Team Action runners made a big difference in 2017, raising more than £108,000 – that's an amazing £72 per mile!
If you want to run for a reason, please join us. We have places in various events across a range of distances – from the London Marathon to the Mud Monsters Run. Find out more