Archived
Please note, this page may contain outdated information or subject matter.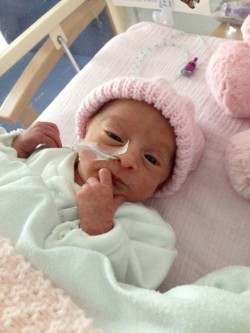 Research funded by Action has provided important new evidence about how vitamin D affects processes in the womb that are vital for a healthy pregnancy.
Baby Emily, pictured, was delivered six weeks early, weighing just 3lb 8oz, after her mum developed pre-eclampsia during pregnancy. Doctors were unable to stabilise her mum Tracy's high blood pressure. Scans also showed there was too little fluid around baby Emily – a sign that the placenta might not be working properly – and she seemed very small.
Allowing the pregnancy to continue was considered too dangerous for both mother and child so tiny Emily was born by caesarean section. Thankfully she is now a healthy toddler but Tracy says: "We were so lucky. At the time I didn't realise how much danger we were in."
Pre-eclampsia affects up to eight per cent of pregnant women worldwide and remains a leading cause of death and illness in both mothers and their babies. In the UK it's estimated that 1,000 babies die each year due to the condition.
With Action funding of £182,000 over three years, Mark Kilby, Professor of Fetal Medicine at the University of Birmingham, has been studying the link between vitamin D deficiency and pre-eclampsia.
This has included comparing blood and tissue from the placentas of women with both uncomplicated pregnancies and those with pre-eclampsia.
The new information generated has for the first time clarified the specific effects vitamin D has on critical events in very early pregnancy. It is especially important for stimulating the healthy development of blood vessels in the womb and also appears to affect certain immune cells.
It's already recommended that pregnant women consider taking small amounts of vitamin D, but this research has given further evidence to support the need for trialling the use of higher dose supplements to reduce the risk of pre-eclampsia. Such a trial could start within the next three years.
Action Medical Research previously supported the research that discovered the importance of taking folic acid before and during pregnancy to prevent spina bifida.