From long-distance bike rides to fundraising balls, we're incredibly grateful for the support of our corporate partners.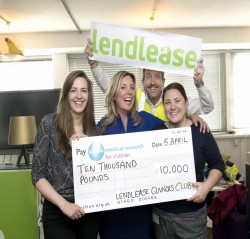 We were delighted to receive a £10,000 cheque from construction and property company Lendlease, part of the proceeds from their annual Guvnors Club charity ball. Pictured (L-R) are Sophie Bevington, Sarah Stevenson (from Action), Katrina Lamberton and back row Andy Lee from Lendlease. The money will go towards research into the rare genetic illness neurofibromatosis type two.
One Stop convenience stores across the country once again embarked on a fortnight of fundraising in June. More than 750 branches placed collection boxes on their countertops, with many also holding raffles. Some lucky stores even enjoyed a visit from Paddington Bear! And the funds don't just come from in-store activity – this year two employees, Property and Distribution Director Mark Williams and Rawtenstall Store Manager Karen Parkinson, ran the Virgin London Marathon and raised £9,700. A group of regional managers also took on an inflatable 5k obstacle run in Nottingham.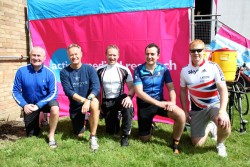 More than 100 eager riders took to the Kent countryside for the Aon Benfield Summer Bike Ride on a wet and windy day in June. The event raised more than £60,000. Pictured are the AON Team (L-R) Mike Weeks, Jeremy Lee, Glenn Francis, Toby Russell and Lee Taylor. Special thanks to everybody who helped make this event happen.
Our inaugural construction industry bike ride Ziggurat took 46 cyclists from London to Paris. Generously supported by Mace, Brett, Glendining Highways and Dome, the ride was a huge success and raised more than £115,000. Next year's event will take riders to Brussels via Amsterdam and we are looking for industry partners now.
A team of 35 staff from Black and White Hospitality, owned by famous chef Marco Pierre White, also took part in our London to Paris bike ride this summer. We hope to have ignited their passion for cycling and to do another bespoke event with the company next year.
And a special mention to investment banking company Evercore who entered seven teams – 25 people in total – for our Race the Sun Isle of Wight challenge in July. This beat their own record for having the biggest group from a single firm on a Race the Sun event, set last year in the Brecon Beacons edition.