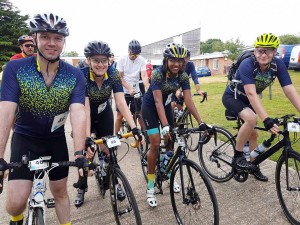 Action-funded researcher Dr Shivani Bailey took on two charity challenges this summer. She cycled the 100-mile route of the Suffolk Sunrise and then headed to the Isle of Wight for our newest Race the Sun event.
Dr Bailey is dedicating her career to helping young cancer patients and was awarded one of our Research Training Fellowships in 2014. She hopes to develop a new treatment for germ cell cancers, one that improves survival rates and causes fewer long-term side effects.
"I'm acutely aware that my research has been made possible by the dedication of the many committed individuals who have taken the time and effort to raise money for Action. I felt it was high time I joined their ranks!" says Dr Bailey.