Robbie was born with a cleft palate and he and his family have had many difficulties to overcome. Even now, after three operations and years of speech and language therapy, it can still be hard to understand Robbie when he talks, as his mum Geraldine explains.
Every day in the UK an average of three babies are born with a cleft lip and/or palate, which means they have a gap or split in their upper lip and/or the roof of their mouth. This can have a wide-ranging impact on a child's life, affecting the appearance of their lips and nose, their hearing, speech, face shape and teeth.
Discovering that their son Robbie, who is now 14, had a cleft palate was a shock for his parents, Geraldine and Stephen. "We weren't aware at all. During my pregnancy I did have a second scan after my routine 20-week scan, to look at Robbie's mouth area, but nothing showed up," recalls Geraldine.
But when baby Robbie arrived he had breathing problems and struggled to feed. Robbie had a cleft palate, meaning the roof of his mouth was affected, and this was part of a condition called Pierre Robin Sequence, which meant he also had a small, receding lower jaw. This leads to the tongue being more likely to fall backwards and obstruct the airways.
Robbie's lips were not affected but the gap in his soft palate meant he was unable to breastfeed. "It was heartbreaking," says Geraldine. "I so wanted to feed my newborn baby."
Instead Geraldine expressed milk for Robbie and used a special teat to help him feed. But sucking was still very tiring for him and he spent three weeks in special care struggling to regain his birth weight.
Back home, the risk of breathing difficulties meant that Robbie could not be laid down on his back – even for nappy changes. For the first 18 months of his life he wore a sleep apnoea monitor every night. "It was a terrifying and really upsetting time," recalls Geraldine.
Robbie had his first operation on his palate at just three months old, followed by more surgery when he was a toddler. He then joined a long waiting list for the specialist speech and language therapy he needed, and much of his therapy had to be carried out at home: "It was a case of 'teach the parents'," Geraldine says. "We helped him make lots of different sounds in a fun way."
During his early years Robbie was also frequently referred to an ear, nose and throat specialist because he developed hearing problems every time he caught a cold.
Unfortunately, even with weekly therapy, Robbie's speech did not progress as well as hoped and at
10 years old he needed a daunting, major operation on his throat. "The surgery involved moving the back of Robbie's throat forwards and could have affected his breathing," explains Geraldine. "Thankfully, it went well and has made a massive difference."
Robbie is now in secondary school, doing well with his studies and enjoys playing the guitar. But despite three operations and years of speech and language therapy, his speech can still be difficult to understand.
"Older children ask, 'Why do you talk funny?' and that's hard for a teenager to deal with," says Geraldine.
Fortunately, Robbie has a quiet strength: "He is working out how to respond to people who give him a hard time and is quite robust about it," says Geraldine.
Robbie is also very keen to help others. "He has a caring nature and is already finding ways to support other children born with a cleft palate," says his mum proudly.
OUR RESEARCH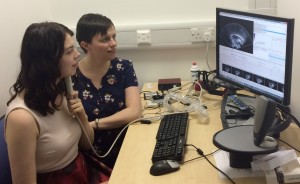 Like Robbie, many children born with a cleft lip or palate experience ongoing problems with their speech. With funding from Action Medical Research, Dr Joanne Cleland of the University of Strathclyde (pictured) is using ultrasound technology to help.
She is testing a new technique which involves placing a small ultrasound scanner under the child's chin and a camera in front of their lips. This enables therapists, and children themselves, to see images on a computer screen showing how the tongue and lips move when they speak. This could help therapists to make more accurate and detailed diagnoses, including detecting speech errors that cannot be easily distinguished by ear, and ensure each child gets the best possible treatment.
Robbie has tried the painless, non-invasive scanner for himself and Geraldine says: "It makes it easier for the child to be assessed and gives a wealth of detail. I just think it's invaluable."
This project has been jointly funded with The Chief Scientist Office, Scotland.
Action Medical Research has a proud history of funding research to help children with many different disabilities.