Dani Rowe MBE has a wealth of titles under her belt: multiple times national and European champion, Commonwealth Games medallist, three times World Champion, and Olympic gold medallist. Her latest title is that of Mum – so we spoke to the stalwart Action supporter about how her exercise regime has changed since giving birth to her son, as well as why she's looking forward to our Champions of CycleSport Dinner in November…
How has your fitness regime changed since becoming a mum in September 2020?
I make an effort to fit it into my days: for me it is so important for my mental health as well as physical health. It has been a part of me for so long that I knew I had to keep up when I had a baby. Yes, it's a lot harder and it takes a lot of planning and teamwork, but I absolutely do make it happen. We're really lucky, we've got a makeshift gym inside the house so if he goes down for a nap, I put the monitor on and get on the bike or the treadmill. If he wakes up, so be it but generally I'll be able to get something done. And I work through plans with my husband and when he has got some free time, or in the evenings I can just get out. So it is good, I'm actually feeling pretty fit again now.
How did you ease back into exercise after giving birth?
I got back on the bike within about four weeks of having him, slowly on the turbo. I was really lucky, I had a very good recovery after the birth so yes, exercise is a very big part of my life again. I exercised throughout my pregnancy – I'm a real advocate of exercising through pregnancy, obviously if you are well enough. I did suffer from morning sickness for about 10 weeks but it really wasn't too bad at all; I was lucky that I felt well enough to keep riding and running. I ran up until about 20 weeks then I decided it wasn't that comfortable any more, but I kept riding and I definitely think that really helped my recovery.
Any big goals at the moment?
I'm training for the London Marathon at the moment so I am hoping to run that in October, fingers crossed it happens. I've tried to do it a couple of times: when I initially started training for the marathon, I got two stress fractures because I just wasn't used to anything that was weight-bearing. When I was cycling, we never did anything that was on our feet so it was a bit of a shock to the system. So I'm just trying to take it slower this time but so far so good. No other challenges… that's enough!
Is there extra pressure as an Olympic gold medallist?
I guess so, in a way, but because it's such a different sport I don't think anyone would expect anything. My target is to run under four hours which I think is quite a big target –  I'm not sure it's achievable now that I've started training! I've set my standard a little too high, but I think that comes with the nature of being an athlete. But I'm not putting any pressure on myself really… I just love competing and the atmosphere will be incredible. I've watched the London Marathon from such a young age so I'm really looking forward to ticking it off the bucket list.
How important is fitness for your mental health and energy levels?
I absolutely love it, it gives me structure to my day – the baby helps with that now, but especially last year when I wasn't cycling competitively and throughout lockdown, it was just a great way for me to plan my day. It gives me endorphins, I enjoy my food more, I sleep well; I'm just such a lover of exercise being the best medicine. I'm so tired being a mum but it gives me more energy. I love getting the fresh air, I think it's good for so many reasons…
Any tips for tired parents out there?
It can become very overwhelming being tired, and sleep deprivation is really, really tough. I'm lucky that Ted is a good sleeper and I still get tired from waking up earlier than I used to, so I totally get it. You can feel like exercise is the last thing you want to do when you're tired but if you can just push yourself to get out; it doesn't need to be for long, even just walking for 20 minutes, I find it makes you feel so much better. I'm such a lover of it. I can see how that would be the first thing to go if you are feeling overwhelmed with everything you have got to do whilst being parents juggling a baby. My tip would be to plan it: my husband and I chat on a Sunday and plan the week ahead to see where we can slot in some exercise, and then it doesn't all become too much.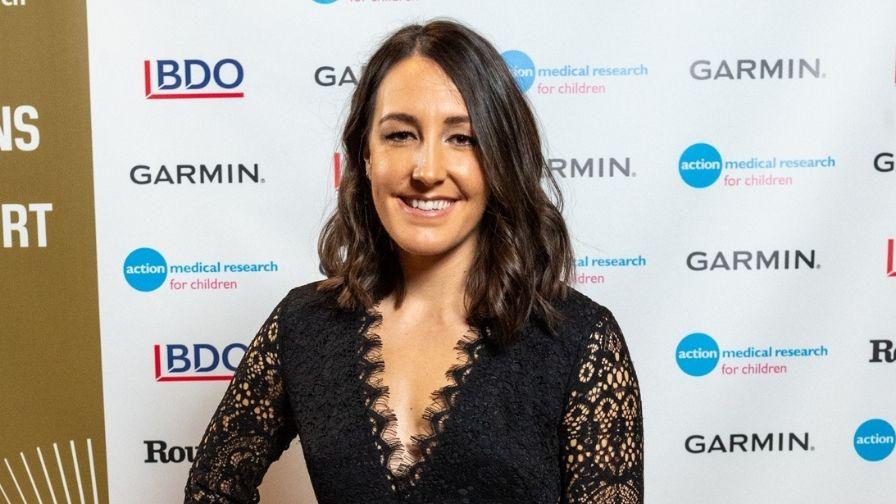 Why is Action an important cause for you?
I have been to the Champions of CycleSport Dinner 10 or 11 times and I have always been appreciative of what it does but now as a mum, as parents, it is even more special and means more to me. I have been in hospital a couple of times with Ted and it is the worst feeling in the world. He was fine but when your child is poorly, it is the worst thing ever so I feel so strongly for the parents who have seriously ill children. It is amazing what Action Medical Research has done and is still doing, and it is even closer to my heart.
You're an ambassador for our annual Champions of CycleSport Dinner… are you looking forward to this year's Champs Dinner?
It will be my first one as a parent so that is pretty cool! I think we are all looking forward to it – everyone is going to be bringing their A-game for sure.
Find out more about our Champs Dinner at https://action.org.uk/champions