Inspired by the idea of cancer research as a young medical student, Professor Deborah Tweddle of Newcastle University now works with young patients as well as in the lab in her quest to help children with neuroblastoma.

Back row left to right: Dr Al Gabriel, Mr Tom Crowe, Dr Nick Bown, Dr Richard McNally
Front row left to right: Mrs Nermine Basta, Miss Sylvia Liew, Professor Deborah Tweddle. Dr Lindi Chen, Mrs Angharad Humphreys
What inspired you to investigate this particular area?
I have worked on childhood neuroblastoma for most of the last 20 years. During that time I have seen many advances in the biology and treatment of this condition. However compared with other childhood cancers, survival for the commonest type, high risk neuroblastoma, is still poor and more than 50 per cent of children go onto relapse, often despite having responded to treatment initially. We want to understand more about why neuroblastoma returns in some cases, whether there are some tumours that can be successfully treated second time around, how can we identify them and what the best treatments are to offer.
What does Action funding for this study mean to you?
We are hugely grateful to Action Medical Research and Great Ormond Street Hospital Children's Charity (GOSHCC) for funding this research. Our research is unique as it combines epidemiological, clinical and genetic research so that we can tease out clinical and biological characteristics of relapsed neuroblastomas, identify factors that affect how long a child survives with relapsed neuroblastoma and, perhaps most importantly, identify the new genetic changes associated with relapse so that we can develop new drugs for relapsed neuroblastoma – and perhaps one day in the future prevent it happening altogether.
What does a typical day look like for you … or is every day different?
As a clinical academic in Paediatric Oncology I have a varied schedule. A typical day might be spending the morning in the university supervising my research team or undertaking duties related to the Children's Cancer and Leukaemia group tissue bank, of which I am scientific director, and in the afternoon going across to the Great North Children's Hospital to see my patients with neuroblastoma on the ward or day unit. After picking up my children from school I often finish off some research work on my computer when they're in bed.
Can you tell us a bit about your team?
For the research project funded by Action and GOSHCC, the research team comprises Dr Richard McNally (Reader in Epidemiology and co-Principal Investigator) and Mrs Nermine Basta (Research associate in Epidemiology) from the Institute of Health and Society, Newcastle University, Dr Nick Bown (Head of Cytogenetics) and Mrs Angharad Humphreys (clinical scientist) from the Institute of Genetic Medicine, Newcastle University and Northern Genetics Service, Newcastle upon Tyne Hospitals NHS Trust; and Dr Al Gabriel, who is a post-doctoral researcher at the Wolfson Childhood Cancer Research Centre, NICR, Newcastle University.
My laboratory research is carried out at the newly opened Wolfson Childhood Cancer Research Centre, Northern Institute for Cancer Research at Newcastle University. My research team comprises two post doctoral researchers, Dr Lindi Chen and Dr Al Gabriel; a PhD student, Swathi Merugu; academic foundation doctor Dr Hayley Bowyer; and currently two Masters students, Dr Fiona Herd and John Raven and two undergraduate project students, Tom Crowe and Sue Sian Sylvia Liew.
Who's your research hero, and why?
My research hero is Professor Sir David Lane, who co-discovered the tumour suppressor gene p53 back in 1979. I studied the role of p53 in neuroblastoma for my PhD and found his work on p53 inspiring.
As a charity, Action began in 1952 with our founder's quest to find a cure for polio. What led you to a career in medical research?
I used to walk past the Christie Hospital on my way home from lectures whilst a medical student at Manchester University and wonder what it was like to do cancer research, particularly to learn about oncogenes which were just being discovered at the time.
Action's loyal and lovable mascot Paddington Bear™ is very fond of marmalade sandwiches. What's your favourite snack?
My favourite snack is yoghurt coated raisins.
Tell us something that will surprise us…
I played Cilla Black in a Paterson Institute for Cancer Research Annual Revue production of Blind Date during my intercalated BSc research year whilst a medical student at Manchester in 1987!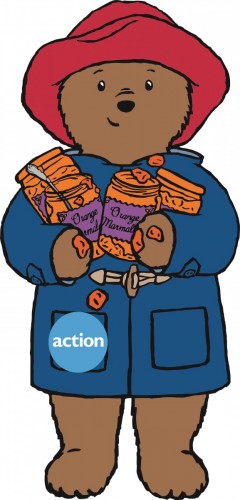 Find out more:
At Action Medical Research we're proud to support World Cancer Day on Saturday, 4 February 2017. Action is funding a range of research projects into childhood cancer including three current studies into neuroblastoma. You can find out more about Professor Tweddle's research here, and studies in Glasgow and London, and visit the World Cancer Day website here.