Action Medical Research is very fortunate to have a number of dedicated committee members across the UK. During this crisis, their unwavering support has been vital with many members looking at alternative ways to continue their fundraising. Fiona Kitson lives in Tiverton and is Chair of the local Devon committee. The 55-year-old yoga teacher has been running virtual classes in exchange for donations since lockdown began. Here, in her own words, Fiona explains why she chooses to support Action.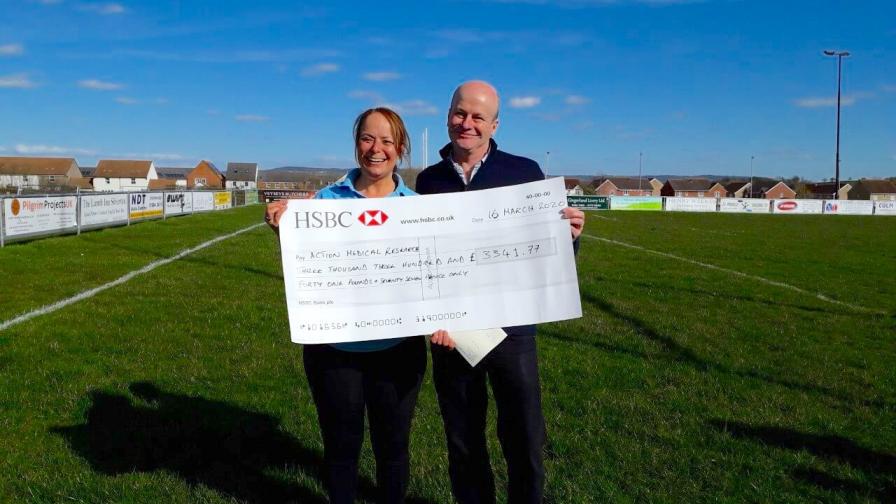 Occasionally in life you hear about a cause or a charity and feel instinctively drawn to help. That was certainly my experience. Until a friend mentioned Action Medical Research to me, I was unaware of all the great work they do. From that moment I wanted to do whatever I could to assist a charity which, now more than ever, has the capacity to improve millions of young lives.
I was also keen to contribute in memory of my beloved Mum, Ilse. As a young Jewish refugee, she escaped Nazi Germany on the kindertransport, leaving behind her parents who ended up in Auschwitz. Having been taken in by an English vicar's wife, she trained as a nurse but, aged 24, contracted polio from a patient at Guys Hospital in London. Despite being confined to a wheelchair for the remainder of her life, she went on to have four children, one of whom died as a baby from spina bifida.
Had a polio vaccine been introduced a little earlier, Mum might not have been required to bring us all up from her chair, which took a fair amount of doing! Had pregnant women had access to folic acid in the 1960s my middle sister, Judith, might also still be around. Both those medical developments have been funded by Action, who have been backing vital and much-needed research to help sick babies and children since 1952.
It makes me feel even more fortunate to have given birth to three healthy children of my own. My youngest son is 19 now but, in honour of my late mother and father - who was a consultant paediatrican based in Torbay and Exeter - I remain passionate about raising money to facilitate further research and to find cures for diseases and conditions still affecting so many families today.
The current Covid-19 pandemic has underlined, once again, the importance of developing vaccines which can help to control new and existing viruses alike.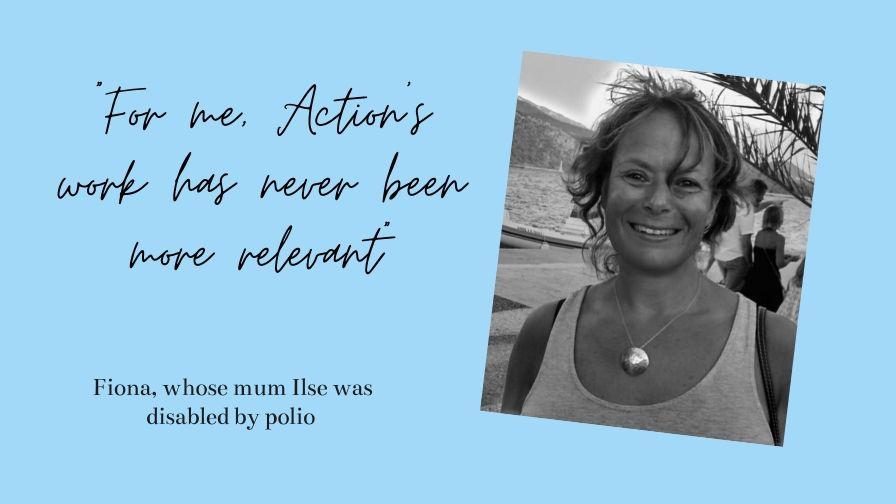 As Chair of the Tiverton Branch I remain hugely grateful to the dozens of people who put in years of hard work prior to the current committee taking over. Among the events we put on annually is a long-running Burns Night extravaganza - 27 years and counting! - and we have also organised a range of sponsored family walks, sports evenings and race nights. We have strong ties with the local community and late last year picked up a cheque from the NFU/ /Westcountry Layers Association following their annual dinner. A stand-up comedy show is scheduled to happen this autumn and, during the nine years I have been involved, I am proud to say we have collectively managed to raise over £60,000 for Action Medical Research.
Most recently, with lockdown making life slightly trickier for all of us, I have been trying to find ways to be more inventive and raise some money online. As a yoga teacher I have encouraged those attending my classes to donate to Action as part of the recent #TwoPointSixChallenge. In our case that involved doing 26 Sun Salutations which managed to generate £450 in a single morning for 10 different charities, with almost half going to Action Medical Research.
Hopefully we can encourage more people in Devon, and across the whole country, to contribute to a charity that has never been more relevant. If my Mum were still around I know she would be both touched and thrilled by the kindness and generosity of everyone who has contributed so far. I'm not sure how many Sun Salutations she would have managed but raising money for Action feels like a perfect way to remember her and celebrate her remarkable spirit. If anyone reading this would like to touch your toes for Ilse and donate a few pounds to the cause I'm sure she would be delighted.
Action is always looking for new committee members. If you would like to find out about committees near you, click here.