Children's charity Action Medical Research has celebrated 70 years of saving lives through medical research at a reception in Mansion House, London, the very same location where their founder, Duncan Guthrie, held the first fundraising event for the charity in 1953 – nearly 70 years ago to the day.
Duncan Guthrie set up the charity in response to the polio epidemic and made it his mission to raise funds to defeat polio, which affected the lives of many thousands of children including his own daughter Janet. His mission was realised when within 10 years, the first UK polio vaccines were introduced.
Since then, the charity has invested over £131m (over £355m in today's terms) to help support some of the most significant medical breakthroughs in recent history – breakthroughs that have helped save thousands of children's lives and changed many more.
1960s: Discovering the importance of taking folic acid before and during pregnancy to help prevent spina bifida.

1970s: Developing the use of ultrasound technology in pregnancy.

1980s: Creating the Matrix Seating System to help support physically disabled children as they grow.

1990s: Establishing a vaccine to prevent meningitis.

2000s: Contributing to the development of groundbreaking cooling therapy to prevent brain damage in babies.

2010s: Funding research to reduce stillbirth which led to new advice for pregnant women to go to sleep on their side, rather than their back, in the third trimester of pregnancy, helping to save around 130 babies a year in the UK.

2020s: Helping to bring dedicated eyecare services to children in special schools across the UK.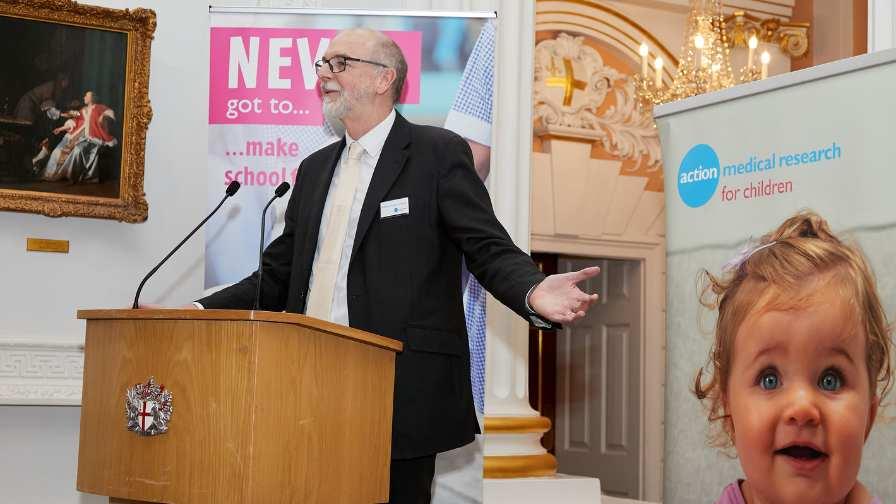 The event also marked 50 years of Action's Research Training Fellowship scheme (1973 – 2023) which has funded 183 fellowships to date at a total value of over £14.5 million. This scheme develops promising doctors and researchers early in their careers as future leaders in children's research. As Research Training Fellows, these high-fliers carry out a key piece of research to help children and undertake training to develop their research expertise.
One former Action Research Training Fellow is Professor Sir Andrew Pollard, who helped develop and test the Oxford/AstraZeneca COVID-19 vaccine. The charity supported Professor Pollard early on in his career, funding a Research Training Fellowship back in 1995, when he was at St. Mary's Hospital Medical School in London. This supported his early work studying meningitis in young children. And in 2010 the charity funded further research, supporting him and his team's work to develop new vaccines for meningitis.
Professor Sir Andrew Pollard, Director of the Oxford Vaccine Group in the Department of Paediatrics at the University of Oxford, consultant paediatrician at Oxford Children's Hospital and former Action Research Training Fellow attended the event and commented: "My Action Research Training Fellowship was critical. It gave me a portfolio of understanding and skills which I continue to use today."
Also in attendance were a number of eminent researchers who are leading groundbreaking work funded by the charity, including in the area of rare diseases in children. With 75% of rare diseases affecting children, and 30% of children with a rare disease losing their lives before they are five,1 Action is striving to develop treatments and cures to tackle rare diseases that together affect so many forgotten children. The charity has a strong track record in funding research to better understand rare diseases in children and in helping to develop treatments and cures for a range of devastating and often life-limiting diseases.
Professor Claire Booth, Professor in Gene Therapy and Paediatric Immunology at UCL GOSH ICH and Consultant in Paediatric Immunology, Great Ormond Street Hospital, says, "Action Medical Research is committed to funding research into rare childhood diseases to help families facing the unimaginable reality that their child has a life-limiting disease. It's exciting to work with a charity who are championing research in a range of diseases which affect children, so that we can work towards safer treatments and cures."
Despite the enormous progress that has been achieved in medicine, there are still hundreds of thousands of children in the UK today who are affected by disease and disability. They and other families like them urgently need hope – the hope that only medical research can provide. To find out more about the rare disease campaign and how Action is helping to support vital research to develop treatments and cures for children living with a rare disease, visit www.action.org.uk/rare.
Learn more about Action's Research Training Fellowship scheme: www.action.org.uk/ResearchTrainingFellows.
Images from the event can be downloaded here.
References
The Department of Health and Social Care, 2021. The UK Rare Diseases Framework. Available online at: https://assets.publishing.service.gov.uk/government/uploads/system/uploads/attachment_data/file/950651/the-UK-rare-diseases-framework.pdf. [last accessed March 2023].