Archived
Please note, this page may contain outdated information or subject matter.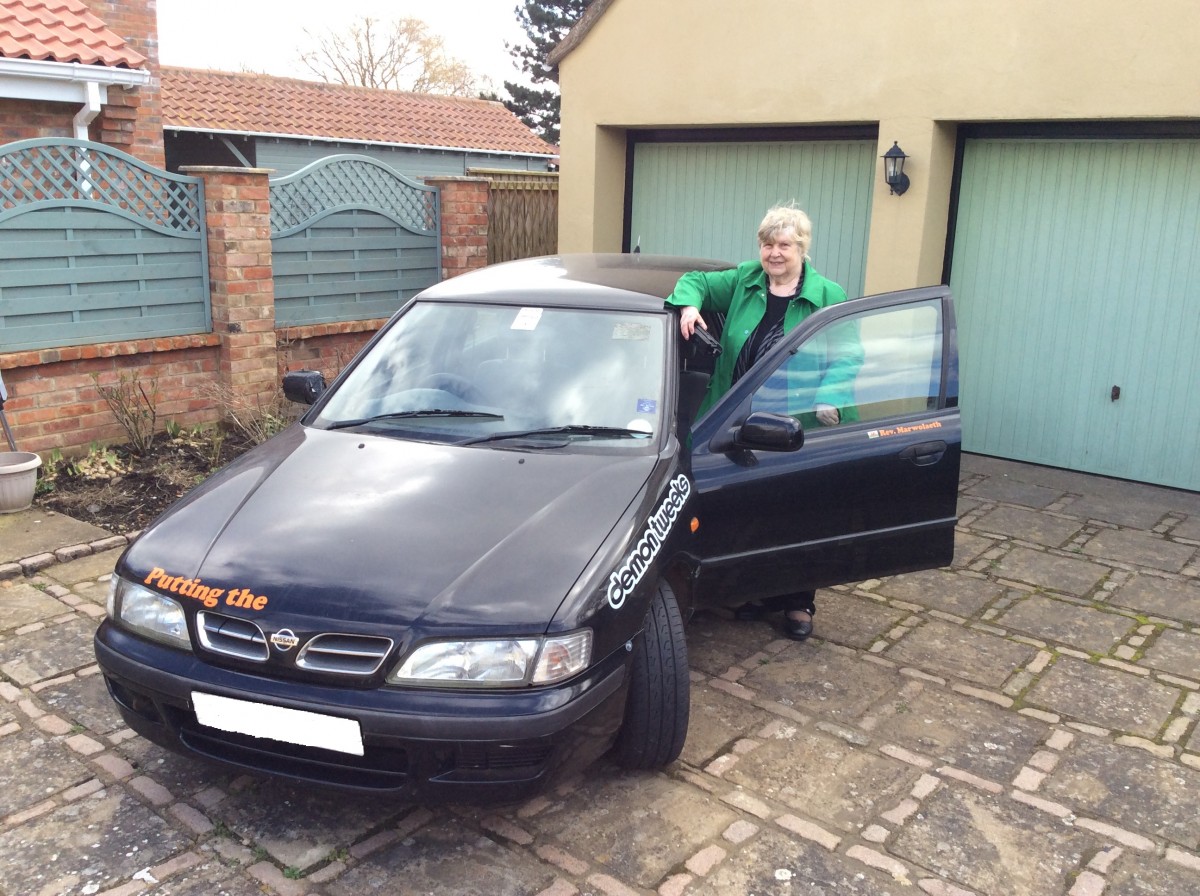 Carolyn Corliss is not one for a quiet retirement.
The 75-year-old from Bourne in Lincolnshire is dusting off her driving gloves and preparing for a charity challenge with a difference: "Scumrun".
Teams are invited to buy a car (strict budgets are in place), decorate it and drive it around a mystery course across Europe.
This year's chosen charity is Action Medical Research.
"I've supported Action for nearly five years now", says Carol. "It's a wonderful charity which deserves more recognition for the work it does. I'm just delighted to be able to help in some small way."
Carolyn, a lifelong driving enthusiast, will be joined by rally driver Bryan Harris (76) and Richard Gumsley (44).
They have chosen a 'Carry On' theme and are still putting the finishing touches to their 1999 Nisssan Primera, bought for £250.
"We were struggling to think of a suitable theme and when we put our heads together we thought we should concentrate on the medical side of things. The 'Carry On' films were the first thing that popped into my head!
"I've already got my matrons uniform and when the car's finished it will have the charity's logo on one side and a giant funnel with a tube coming out of it on the roof. You certainly won't miss us!"
Teams from across the UK will converge in Ashford, Kent on Wednesday 17th May before being given their first checkpoint by event organisers and setting off the following morning.
People can still sign up for the charity challenge – you can find out more information here.
Carolyn hopes to see as many people at the start line as possible: "There's nothing like a challenge to bring people together, bond and help promote team unity. If you're a fan of cars and adventure I would highly recommend giving this a go. If I can do it at my age, anyone can!"
'Carry On Action Medical Research' hope to raise more than £500 for Action. You can find out more here.
Action Medical Research has been funding medical breakthroughs since it began in 1952 including helping to introduce the first polio vaccines in the UK, developing the use of ultrasound in pregnancy and testing the rubella vaccine.
The charity is currently funding research into conditions including asthma, prematurity, epilepsy, meningitis, cerebral palsy, brain cancer and some rare and distressing conditions.
-END-
NOTES TO EDITORS:
Scumrun is organised by Scumrun Ltd (https://www.scumrun.com/)
To download a photo of Carolyn with the Nissan Primera:
https://www.action.org.uk/sites/default/files/downloads/press/carolyn_corliss_car.jpg
To download a photo of Carolyn in her Alfa Romeo (sold a few years ago):
https://www.action.org.uk/sites/default/files/downloads/press/carolyn_corliss_alfa.jpg
Carolyn's fundraising page:
https://www.justgiving.com/fundraising/carolyn-corliss
For more information on Action Medical Research, contact Peter Denton, Fundraising Communications Officer, on:
T: 01403 327412
E: pdenton@action.org.uk
W: www.action.org.uk
Follow us on Twitter at @actionmedres and @amr_events 
Like our Facebook page at facebook.com/actionmedres
Follow us on Instagram at @actionmedres and @actionevents 
Action Medical Research is a leading UK-wide charity saving and changing children's lives through medical research. For more than 65 years we've helped pioneer ways to prevent disease and develop treatments benefiting millions of people. Our research has helped to beat polio in the UK, develop ultrasound in pregnancy, fight meningitis and prevent stillbirths. But we urgently need to develop more new treatments and cures for sick babies and children and we can't do it without you.
Join our fight for little lives today.
Charity reg. nos 208701 and SC039284.