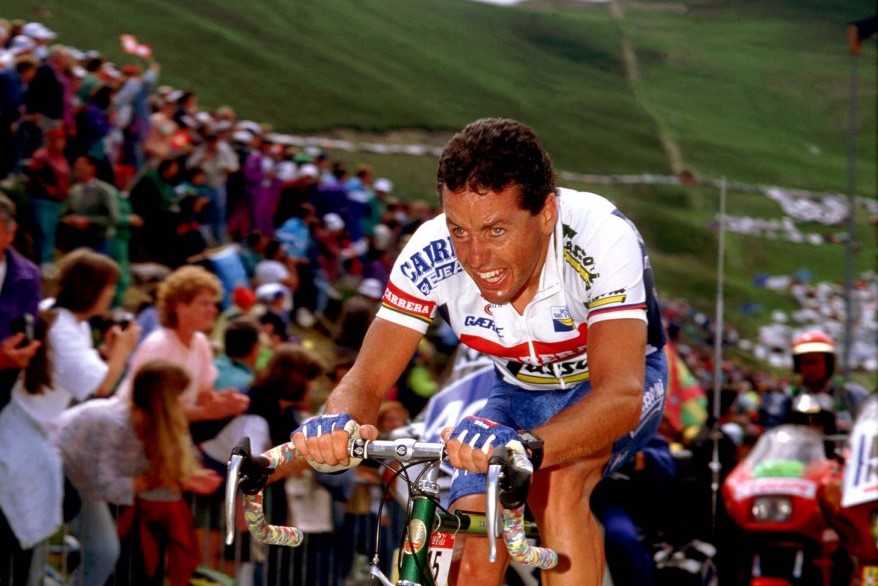 To cycling fans around the world, the legacy and accomplishments of Stephen Roche will forever be lauded.
The Dublin-born 58-year-old enjoyed an illustrious 13-year career and remains one of only two people to win the Triple Crown of victories in the Tour de France and the Giro d'Italia stage races, plus the World road race championship.
On 23 November, at the Action Medical Research 'Champions of CycleSport Dinner' in London, someone could be walking away with an original piece of art signed by the man himself.
Sarah Stevenson is the charity's Senior Partnerships Development Manager: "This year marks the 30th anniversary since Stephen Roche's iconic Triple Crown victory and so we wanted to do something special.
"The painting will be unveiled on the night and Stephen himself will then sign it on stage.
"We are very lucky to have the talented Paul Oz who, over the years, has become our resident artist! Last year he painted an amazing portrait of Chris Froome and this year we are delighted that he has once again agreed to immortalise another cycling legend on canvas."
Speaking ahead of the event Stephen Roche said: "The 'Champions of CycleSport Dinner' is an absolute dream event for anyone who is a fan of cycling and I can't think of a better way to celebrate my 30 year anniversary.
"It's raising money for a tremendous cause and I'm just excited to be a part of it. I can't wait to see Paul's finished picture."
The signed painting will be one of a number of unique lots up for auction, with money raised going to the UK-wide children's charity. Other items will include a Garmin Fenix Watch, the chance to name a Stobarts truck and a framed Team Sky photo signed by Chris Froome and the rest of the team.
This year's Champions of CycleSport Dinner is being held at Battersea Evolution in London on Thursday 23 November.
The charity is delighted to have the event supported by Maserati and Garmin along with BDO and Rouleur.
Action Medical Research has been funding medical breakthroughs since it began in 1952 including helping to introduce the first polio vaccines in the UK, developing the use of ultrasound in pregnancy and testing the rubella vaccine.
The charity is currently funding research into conditions including asthma, prematurity, epilepsy, meningitis, cerebral palsy, brain cancer and some rare and distressing conditions.
- ENDS -
To download a photo of Stephen Roche:
https://www.action.org.uk/sites/default/files/downloads/press/stephen_roche_champions_2015.jpg
To download a photo of Stephen Roche on a climb:
https://www.action.org.uk/sites/default/files/downloads/press/stephen_roche_climb.jpg
To download a photo of Stephen Roche from 1987 with Pedro Delgado:
https://www.action.org.uk/sites/default/files/downloads/press/stepehn_roche_1987_delgado_roche_battle_phspt.jpg
NOTES TO EDITORS:
In addition to Stephen Roche, Chris Boardman MBE, Dani King MBE and Jody Cundy OBE have already confirmed their attendance.
More details here: https://www.action.org.uk/press-release/boardman-cundy-and-king-confirmed-champions-cyclesport-dinner
For more information on Action Medical Research, contact Peter Denton, Fundraising Communications Officer, on:
T: 01403 327480
E:pdenton@action.org.uk
W: action.org.uk
Follow us on Twitter at @actionmedres and @amr_events  
Like our Facebook page at facebook.com/actionmedres
Follow us at pinterest/actionmedres
Action Medical Research is a leading UK-wide charity saving and changing children's lives through medical research. For 65 years we've helped pioneer ways to prevent disease and develop treatments benefiting millions of people. Our research has helped to beat polio in the UK, develop ultrasound in pregnancy, fight meningitis and prevent stillbirths. But we urgently need to develop more new treatments and cures for sick babies and children and we can't do it without you.
Join our fight for little lives today.
Charity reg. nos 208701 and SC039284.