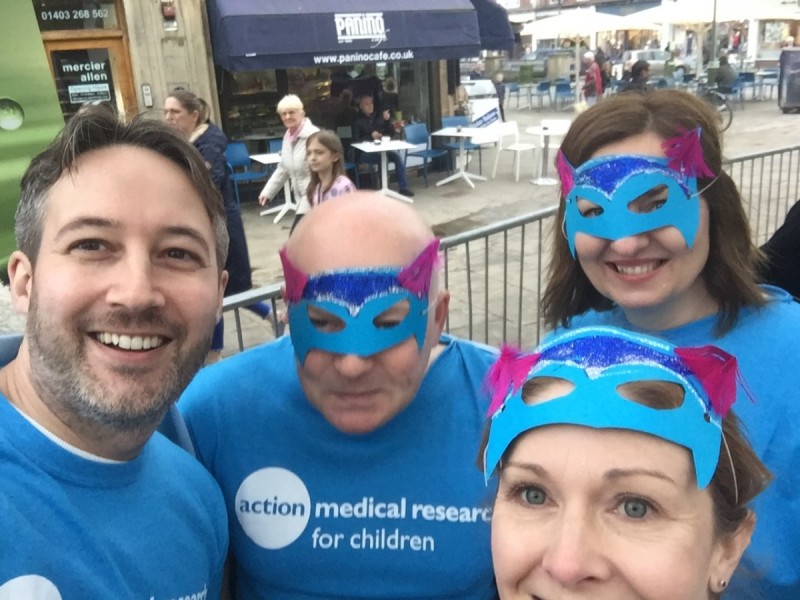 A team of 'Pancake Flippers' from Action Medical Research braved the grey skies on Tuesday (10 April) to take part in the 10th annual Horsham Pancake Race.
The event – which is run by Horsham Rotary - was originally due to be held on 13 February (Shrove Tuesday) but had to be postponed following snowy forecasts.
The friendly competition saw 22 teams of businesses; charities and local organisations from across the town compete for the coveted first place trophy!
Peter Denton, Kate Lee, Dave O'Rourke and Clare Airey donned masks and capes as part of the four-person 'Action Heroes' team. The charity representatives managed a respectable Quarter-Final performance, before graciously bowing out and allowing the other teams to progress (editor's note: they were beaten by better teams).
Speaking afterwards Fundraising Communications Officer Peter said: "Well, we gave it our best shot!
"It's great to be a part of these pancake races which have really become something of a tradition in Horsham. Our work is UK-wide but the Action offices have been based here in West Sussex for over 60 years, so it's nice for us to get involved and help support our local community.
"We certainly tried our best, but our pancake-flipping skills left a lot bit to be desired; we'll get training for next year!"
Congratulations to all the teams who took part, especially Harris Lord Recruitment who were worthy winners!