Action Medical Research is delighted to announce we are once again launching our cream teas delivery service this summer.
It's the perfect opportunity to take a break and enjoy a quintessentially English treat with family and friends either at home, at work or even at school! You'll be supporting a great cause as well – helping to fund medical research for sick and disabled babies and children.
Last year we raised nearly £55,000 with more than 6,000 boxes - all packed by our army of volunteers - delivered across the UK.
This year, with YOUR help, we want to do even better.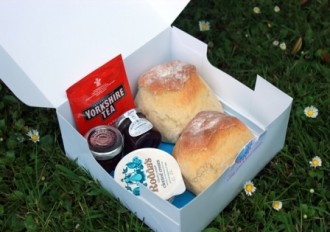 All you have to do is order our unique cream-teas-in-a-box from our website. 
Each box costs £6 (minimum order of 10 boxes) and includes:
2x classic plain scones
A jar of Rodda's Cornish clotted cream (40g)
2x jars of Tiptree strawberry conserve  (28g)
Yorkshire tea
A knife and serviette
This year we're even giving you a choice of delivery dates: 22 or 23 June.
Action Medical Research is a UK-wide children's charity which funds desperately needed research to tackle the diseases that devastate the lives of so many of our children. It has been funding medical breakthroughs since it began in 1952 including helping to introduce the first polio vaccines in the UK, developing the use of ultrasound in pregnancy and testing the rubella vaccine.
The charity is currently funding research into conditions including asthma, prematurity, epilepsy, meningitis, cerebral palsy, brain cancer and some rare and distressing conditions.
Join the fight for little lives and order yours online by 12 June 2017 at https://creamteas.action.org.uk/
-Ends-
For more information on Action Medical Research, contact Peter Denton, Fundraising Communications Officer, on:
T: 01403 327480
E:pdenton@action.org.uk
W: action.org.uk
Follow us on Twitter at @actionmedres and @amr_events  
Like our Facebook page at facebook.com/actionmedres
Follow us at pinterest/actionmedres
Action Medical Research is a leading UK-wide charity saving and changing children's lives through medical research. For 65 years we've helped pioneer ways to prevent disease and develop treatments benefiting millions of people. Our research has helped to beat polio in the UK, develop ultrasound in pregnancy, fight meningitis and prevent stillbirths. But we urgently need to develop more new treatments and cures for sick babies and children and we can't do it without you.
Join our fight for little lives today.
Charity reg. nos 208701 and SC039284.