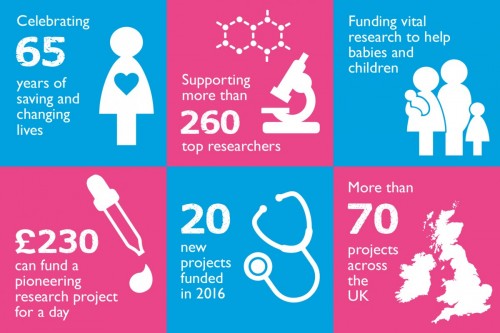 Children's charity Action Medical Research has confirmed funding for seven new studies to help sick babies and children. With a combined value of more than £1.1 million, the charity's latest grant round will see top research teams investigating areas including cerebral palsy, vision problems, speech impairment and the infectious disease scarlet fever.
Through its gold standard peer review process, the charity finds and funds the very best research that is most likely to make a difference to children's lives.
The seven new studies, all due to commence in late 2017 or early 2018, are:
Developmental delay in young children – improving early diagnosis
A 12 month study led by Dr S J Johnson, PhD CPsychol AFBPsS at the University of Leicester
£70,698
Scarlet fever and streptococcal infections – stopping the spread of infection
A two year study led by Professor S Sriskandan, FRCP PhD at Imperial College London
£188,536
Preterm children – identifying those at risk of anxiety problems
A three year study led by Dr C Nosarti, PhD at King's College London
£185,999
Amblyopia (lazy eye) – safety and acceptability of a new treatment
A 22 month study led by Dr A H Dahlmann-Noor, Dr med PhD FRCOphth FRCS(Ed) D at Moorfields Eye Hospital and University College London
£177,932
Craniosynostosis – investigating drug treatment
A two year study led by Dr D Jenkins, BSc PhD at great Ormond Street Institute of Child Health University College London
£160,610
Cerebral palsy – measuring the benefits of physical activity
A 21 month study led by Professor H Dawes, PhD MMedSci MCSP at Oxford Brookes University
£144,436
Specific language impairment – understanding genetic mechanisms
A three year study led by Dr S Paracchini, DPhil at the University of St Andrews
£195,500
Director of Research at Action Medical Research Dr Tracy Swinfield said: "We are very pleased to be funding these new studies at top universities and hospitals across the UK. We are passionate about supporting talented and dedicated research teams to take vital steps towards greater understanding of rare diseases, disabling conditions and issues that can affect tiny, vulnerable babies."
ENDS
For further information on Action Medical Research:
Please contact Kate Lee, Research Communications Officer (Mon-Weds)
T: 01403 327478
Follow us on Twitter at @actionmedres and @amr_events  
Like our Facebook page at facebook.com/actionmedres
Follow us at pinterest/actionmedres
Action Medical Research is a leading UK-wide charity saving and changing children's lives through medical research. For 65 years, we've helped pioneer ways to prevent disease and develop treatments benefiting millions of people. Our research has helped to beat polio in the UK, develop ultrasound in pregnancy, fight meningitis and prevent stillbirths. But we urgently need to develop more new treatments and cures for sick babies and children and we can't do it without you.

Join our fight for little lives today.

Charity reg. nos 208701 and SC039284.