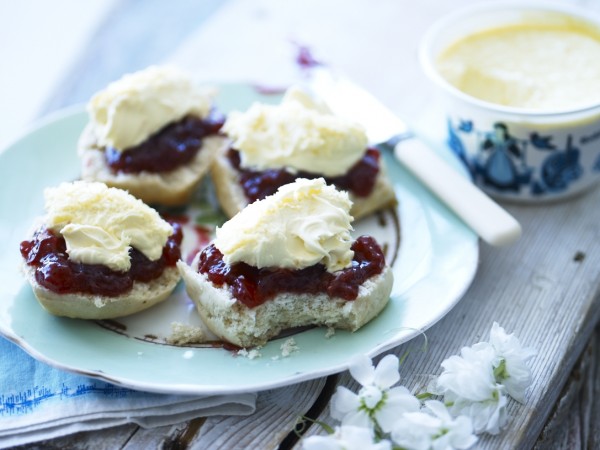 Children's charity Action Medical Research has raised almost £55,000 to help save and change children's lives after it sent out some 9,800 cream-teas-in-a-box in its nationwide delivery.
Thousands of delicious cream teas were sent to homes, workplaces and schools throughout the UK on Friday 1 July, earning £54,848 for Action Medical Research.
David Graham, Head of Events Fundraising, says: "This is the third year we've run our cream teas delivery and it's just gone from strength to strength. We're delighted that so many people were keen to put on the kettle and make time for tea for tiny lives.
"Medical research for children is underfunded in the UK. For every project Action funds there's another one we have to turn away – simply because of a lack of funds which is why this fundraising means so much to us.
"It's not easy to get 9,800 boxes ready for delivery in one day so we're very grateful to our army of volunteers who packed our cream teas as well as to everyone who enjoyed them!"
The delivery included 19,558 scones, 9,779 Yorkshire teabags, 391kg of Rodda's Cornish Clotted Cream and almost 509kg of Tiptree strawberry jam to give supporters everything they needed for the perfect afternoon pick-me-up.
Action Medical Research has also released the results of its tasty survey into the nation's cream tea habits which found that almost 70 per cent said they liked their cream teas the Cornish way, with jam first then clotted cream on top.
Unsurprisingly, almost two-thirds of those surveyed enjoyed their tasty treat with a refreshing cup of tea but it looks like coffee culture is poised to take over: almost one in 10 said they preferred a coffee to the traditional cuppa.
Asked whether they like to share their cream teas, most people said that sharing a cream tea was all part of the experience but 40 per cent of people answered hands off - it's all mine!
And there were some surprising spots where respondents had enjoyed their cream teas: on a punt on the River Cam; in Mauritius; in a tent; and even on top of a lighthouse!
For more than 60 years Action Medical Research has helped pioneer treatments and ways to prevent disease that have benefited millions of people in the UK and across the world. Research they've funded has helped to beat polio in the UK, develop ultrasound in pregnancy, fight meningitis and prevent stillbirths.
Action Medical Research is currently funding research into meningitis, Down syndrome, epilepsy and premature birth, as well as some rare and distressing conditions that severely affect children.
– ENDS –
To download high-res images to accompany this release, please click on the links below:
A Cornish-style cream tea -
https://www.action.org.uk/sites/default/files/downloads/press/roddas_cream_teas_1.jpg
Supporters tuck in to a tasty cream tea -
https://www.action.org.uk/sites/default/files/downloads/press/pauline_kate_and_pauline_-_garden.jpg
For more information on Action Medical Research, please contact Ellie Evans, Fundraising Communications Officer, on:
T 01403 327480
Follow us on Twitter at @actionmedres and @amr_events  
Like our Facebook page at facebook.com/actionmedres
Follow us at pinterest/actionmedres
Action Medical Research is a leading UK-wide charity saving and changing children's lives through medical research. For more than 60 years we've helped pioneer ways to prevent disease and develop treatments benefiting millions of people. Our research has helped to beat polio in the UK, develop ultrasound, fight meningitis and prevent stillbirths. But we urgently need to develop more new treatments and cures for sick babies and children and we can't do it without you.
Join our fight for little lives today.
Charity reg. nos 208701 and SC039284.