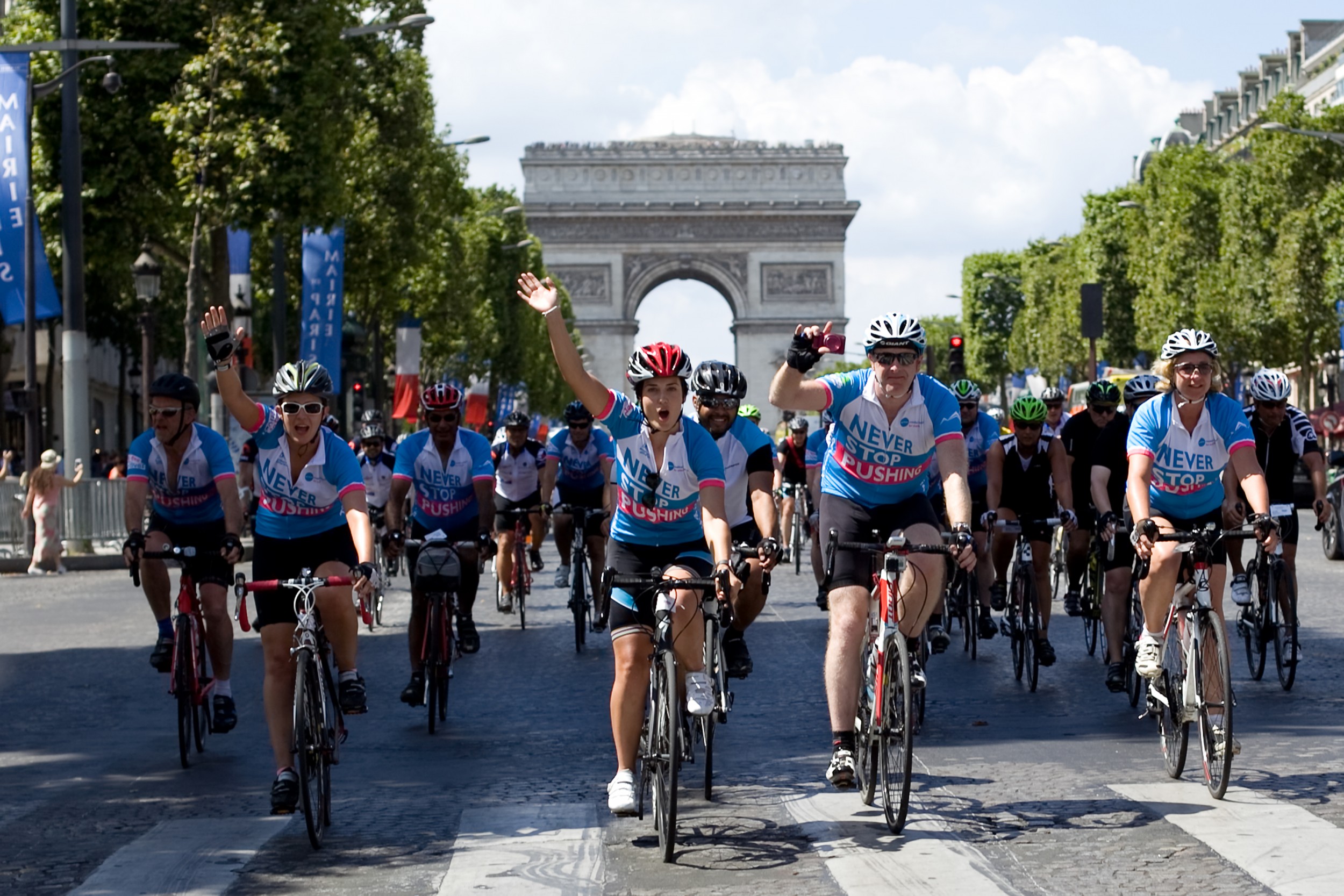 With the 2017 Tour de France well underway, children's charity Action Medical Research is once again giving amateur cyclists the chance to emulate their sporting heroes.
The annual Action Medical Research 'London to Paris' bike ride will be setting off from Crystal Palace at around 8.30am on Wednesday, 19 July with nearly 100 riders signed up for the four day challenge.  
Head of Events Emma Morgan says: "We have been running this challenge for the past 16 years and it really is one of our flagship events.
"Cyclists will be making their way to Kent before taking in some beautiful scenery in northern France and then arriving in Paris on 23 July, just in time for the finale of the Tour de France!"
For anyone who missed out on the opportunity to sign up for this year's ride, there's already a chance to get involved in 2018. You can find out more details here.
But that's not all…
For the very first time, Action is also running another 'London to Paris' bike ride simultaneously.
'Ziggurat' has been introduced this year for members of the constructions and built environment sector. Fifty cyclists will make their way from Coulsdon, Surrey to Paris where they will cross the same finish line as those starting in Crystal Palace.
Designed and delivered by the highly experienced Action Medical Research cycling team, Ziggurat has been made possible through the support of our ride partners Brett Group, Mace, Glendining Highways, and Dome Consulting.
Bill Brett, Chairman of the Brett Group, says he cannot wait to get going: "When Action contacted us about getting involved, we jumped at the chance. I'm a keen cyclist myself and I just thought the opportunity to spend a few days this summer in the saddle alongside colleagues from the industry was too good to miss."
Peter Glendining, CEO of Glendining Highways, will also be taking on the challenge: "I think Action is an amazing charity and I couldn't be prouder to lend our support. I'll be keeping my fingers crossed for the weather and looking forward to a well-deserved glass of red when we reach the capital!"
A number of companies within the constructions and built environment sector are being represented, including: Quattro UK Ltd, AFI – Group and Jaguar Landrover.
Senior Partnerships Development Manager for Action Medical Research, Sarah Stevenson, says: "I think it's a great chance for cycling enthusiasts within the industry to get together and share their passion. It could even be a unique networking opportunity, which certainly beats the boardroom and it promises to be a trip to remember
"And of course money raised from all of the riders taking part will really help fund medical research to save and change little lives."
Action Medical Research is a UK-wide children's charity which funds desperately needed research to tackle the diseases that devastate the lives of so many of our children. It has been funding medical breakthroughs since it began in 1952 including helping to introduce the first polio vaccines in the UK, developing the use of ultrasound in pregnancy and testing the rubella vaccine.
The charity is currently funding research into conditions including asthma, prematurity, epilepsy, meningitis, cerebral palsy, brain cancer and some rare and distressing conditions.
- ENDS -
NOTES TO EDITORS:
To download photos of Action cyclists in Paris:
https://www.action.org.uk/sites/default/files/downloads/press/london_to_paris_champs-elysees_2016.jpg
Ziggurat
To download a photo of Bill Brett:
https://www.action.org.uk/sites/default/files/downloads/press/ziggurat_-_bill_brett.jpg
To download a photo of Peter Glendining:
https://www.action.org.uk/sites/default/files/downloads/press/ziggurat_-_peter_glendining.jpg
For more information on Action Medical Research, contact Peter Denton, Fundraising Communications Officer, on:
T: 01403 327480
E:pdenton@action.org.uk
W: action.org.uk
Follow us on Twitter at @actionmedres and @amr_events  
Like our Facebook page at facebook.com/actionmedres
Follow us at pinterest/actionmedres
Action Medical Research is a leading UK-wide charity saving and changing children's lives through medical research. For 65 years we've helped pioneer ways to prevent disease and develop treatments benefiting millions of people. Our research has helped to beat polio in the UK, develop ultrasound in pregnancy, fight meningitis and prevent stillbirths. But we urgently need to develop more new treatments and cures for sick babies and children and we can't do it without you.
Join our fight for little lives today.
Charity reg. nos 208701 and SC039284.