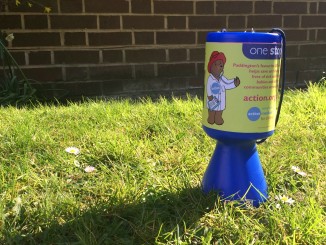 One Stop stores across the country will once again be helping Action Medical Research raise vital funds this June.
More than 750 branches will be placing Paddington BearTM-themed collection boxes on their countertops and organising a range of fundraising activities in store. Some lucky stores will even be getting a visit from the charity's fundraising mascot Paddington BearTM himself!
Last year, One Stop customers and colleagues raised an incredible £26,500 for the charity. Since 2012, the retail convenience business has collected more than £150,000 for Action Medical Research.
And the funds don't just come from instore collection tins: this year, two employees – Retail, Property and Distribution Director Mark Williams and auditor Karen Parkinson – raised a total of £10,000 by running the Virgin London Marathon.  
"We really cannot thank One Stop, their customers and their staff enough for all the work they have done for Action over the years" says Toby Tennant, Head of Relationship Funding for the charity.
"For every project Action funds there's another one we have to turn away – simply because of a lack of funds. Every penny raised really does make a difference in our ongoing fight for little lives."
The collection tins will be in stores for two weeks between 18 June – 2 July.
Mark Williams added: "We are extremely proud to support Action Medical Research; their amazing work saves and changes so many little lives and is a cause close to all our hearts."
Action Medical Research is a UK-wide children's charity which funds desperately needed research to tackle the diseases that devastate the lives of so many of our children. It has been funding medical breakthroughs since it began in 1952 including helping to introduce the first polio vaccines in the UK, developing the use of ultrasound in pregnancy and testing the rubella vaccine.
The charity is currently funding research into conditions including asthma, prematurity, epilepsy, meningitis, cerebral palsy, brain cancer and some rare and distressing conditions.
-END-
To download a photo of a collection tin:
https://www.action.org.uk/sites/default/files/downloads/press/one_stop_collecting_tin.jpg
NOTES TO EDITORS
Paddington appearances
Longford Rd 2733, Cannock WS11 0LG Friday 16 June 2017
Boxgrove Park 1534, Guildford Surrey GU1 2PF Saturday 24th June 2017
For more information on Action Medical Research, contact Peter Denton, Fundraising Communications Officer, on:
T: 01403 327480
E:pdenton@action.org.uk
W: action.org.uk
Follow us on Twitter at @actionmedres and @amr_events  
Like our Facebook page at facebook.com/actionmedres
Follow us at pinterest/actionmedres
Action Medical Research is a leading UK-wide charity saving and changing children's lives through medical research. For 65 years we've helped pioneer ways to prevent disease and develop treatments benefiting millions of people. Our research has helped to beat polio in the UK, develop ultrasound in pregnancy, fight meningitis and prevent stillbirths. But we urgently need to develop more new treatments and cures for sick babies and children and we can't do it without you.
Join our fight for little lives today.
Charity reg. nos 208701 and SC039284.