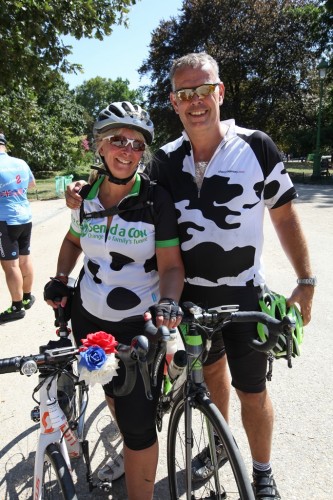 Just hours before Geraint Thomas won his first Tour de France, parents Karen and Russell Brown completed their own challenge in Paris!
The Alton couple – along with some friends – completed the 19th Action London-Paris bike ride for children's charity Action Medical Research.
"The heat was unreal" remembers Karen. "It was just so hot but we powered on through and had an absolute blast with all the other riders and the event organisers! I'm really glad we did it!"
Collectively known as the 'Paris Peddlers', the team wanted to raise £6,800.
But Russell says they've already beaten it: "Our fundraising total is now over £7,000 and we can't believe it! We just want to thank everyone who kindly donated, it really means a great deal to us."
The Peddlers joined around fifty cyclists who set off from London on Wednesday 25 July before making their way through Kent, getting on a ferry to Dunkirk and then completing their ride in Paris on Saturday 28 July.
Action's Head of Events Emma Morgan accompanied the cyclists on their challenge and says they were all inspirational:
"There's always a great atmosphere on our rides and that's really down to our amazing supporters.
"This was our 19th London-Paris ride and the weather was extreme to say the least; temperatures exceeded 42C at various points along the way!
"The 'Paris Peddlers' have been really fantastic, organising a number of fundraising activities throughout the year before they even started the London-Paris challenge. I'd like to thank them for all they have done and hope they now get to enjoy some well-earned rest!"
So far the collective total raised by the riders on this year's London to Paris exceeds £100,000 with donations still coming in.
Anyone wanting to participate in the 20th Action London-Paris bike ride in 2019 can find out more here.
Action Medical Research has been funding medical breakthroughs since it began in 1952 including helping to introduce the first polio vaccines in the UK, developing the use of ultrasound in pregnancy and testing the rubella vaccine.
The charity is currently funding research into areas including premature birth, epilepsy, asthma, scarlet fever, cerebral palsy, brain cancer and some rare and distressing conditions.
-ENDS-
NOTES TO EDITORS:
This is a follow-up press release to the one sent on 27 April:
To download a photo of Karen and Russell Brown:
https://www.action.org.uk/sites/default/files/downloads/press/l2p_karen_russel_brown.jpg
To download an Action logo:
https://www.action.org.uk/sites/default/files/downloads/press/action_logo_for_header.jpg
To find out more about the Action London to Paris ride:
https://www.action.org.uk/action-london-paris
For more information on Action Medical Research contact Peter Denton, Fundraising Communications Officer, on:
T: 01403 327412
E:pdenton@action.org.uk
W: action.org.uk
Follow us on Twitter at @actionmedres and @amr_events  
Like our Facebook page at facebook.com/actionmedres
Follow us on Instagram at @actionmedres and @actionevents
Action Medical Research is a leading UK-wide charity saving and changing children's lives through medical research. For more than 65 years we've helped pioneer ways to prevent disease and develop treatments benefiting millions of people. Our research has helped to beat polio in the UK, develop ultrasound in pregnancy, fight meningitis and prevent stillbirths. But we urgently need to develop more new treatments and cures for sick babies and children and we can't do it without you.
Join our fight for little lives today.
Charity reg. nos 208701 and SC039284.