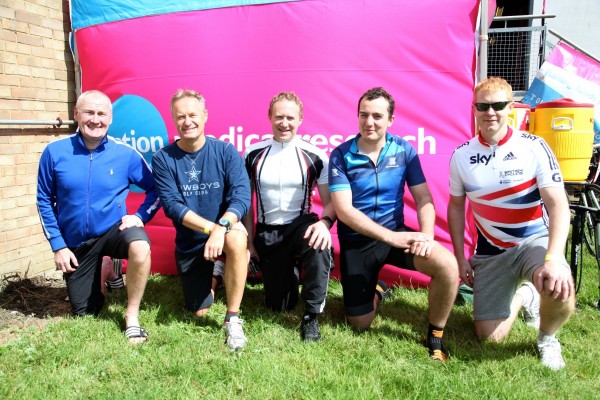 (L to R: Mike Weeks, Jeremy Lee, Glenn Francis, Toby Russell and Lee Taylor)
Cyclists on a ride organised by Action Medical Research for Aon Benfield are on track to raise more than £60,000 for the children's charity.
The Aon Benfield Summer Charity Bike Ride on Friday, 9 June, saw 120 riders tackle three different routes across Kent: 34, 71 or 102 miles.
Starting at Juddians Rugby Club in Tonbridge cyclists were treated to some of the very best scenery that Kent has to offer. After just 10 miles - and a short climb up Windmill Hill - riders were treated with a glorious view back across Tonbridge and towards the North Downs before taking in Headcorn, Egerton,Yalding, Hadlow and even Hever Castle.
Executive Director Mike Weeks from Aon Benfield said: "It was a great day for everyone; I'd like to thank Action Medical Research for organising and all our colleagues and clients who took part. This was a really fun event raising money for a really worthy cause."
Emma Morgan is the Head of Events at Action: "We were delighted with the event and had an absolute blast with all of the riders! The money is still coming in and to top £60,000 is just an incredible achievement.
"I'd like to thank everyone who took part for not only helping raise some vital funds for us, but for also creating such a fun atmosphere. I can't wait for next year!"
Action Medical Research is a UK-wide children's charity which funds desperately needed research to tackle the diseases that devastate the lives of so many of our children. It has been funding medical breakthroughs since it began in 1952 including helping to introduce the first polio vaccines in the UK, developing the use of ultrasound in pregnancy and testing the rubella vaccine.
The charity is currently funding research into conditions including asthma, prematurity, epilepsy, meningitis, cerebral palsy, brain cancer and some rare and distressing conditions.
- ENDS –
To download a high-res image of Aon Benfield riders:
https://www.action.org.uk/sites/default/files/downloads/press/img_0142.jpg
(L to R: Mike Weeks, Jeremy Lee, Glenn Francis, Toby Russell and Lee Taylor)
NOTES TO EDITORS:
About Aon 
Aon plc (NYSE:AON) is a leading global professional services firm providing a broad range of risk, retirement and health solutions. Our 50,000 colleagues in 120 countries empower results for clients by using proprietary data and analytics to deliver insights that reduce volatility and improve performance.
To learn more about the sale, please visit: www.aon.com/acceleratinginnovation
Follow Aon on Twitter: https://twitter.com/Aon_plc
Sign up for News Alerts: http://aon.mediaroom.com/index.php?s=58
For more information on Action Medical Research, contact Peter Denton, Fundraising Communications Officer, on:
T: 01403 327480
E:pdenton@action.org.uk
W: action.org.uk
Follow us on Twitter at @actionmedres and @amr_events  
Like our Facebook page at facebook.com/actionmedres
Follow us at pinterest/actionmedres
Action Medical Research is a leading UK-wide charity saving and changing children's lives through medical research. For 65 years we've helped pioneer ways to prevent disease and develop treatments benefiting millions of people. Our research has helped to beat polio in the UK, develop ultrasound in pregnancy, fight meningitis and prevent stillbirths. But we urgently need to develop more new treatments and cures for sick babies and children and we can't do it without you.
Join our fight for little lives today.
Charity reg. nos 208701 and SC039284.