London researchers are set to start a three year study aiming to identify babies at higher than average risk of autism spectrum conditions (ASC) and attention deficit hyperactivity disorder (ADHD).
The work at King's College London is set to commence on 1 October with funding of £199,968 from children's charity Action Medical Research.
Having one or both of these conditions makes life difficult for children and their families, and can seriously affect children's education, employment chances and quality of life.
The researchers hope that earlier information to help predict which children may go on to have difficulties with these conditions will open the door for support to be provided from infancy to those most in need, greatly helping children and their families.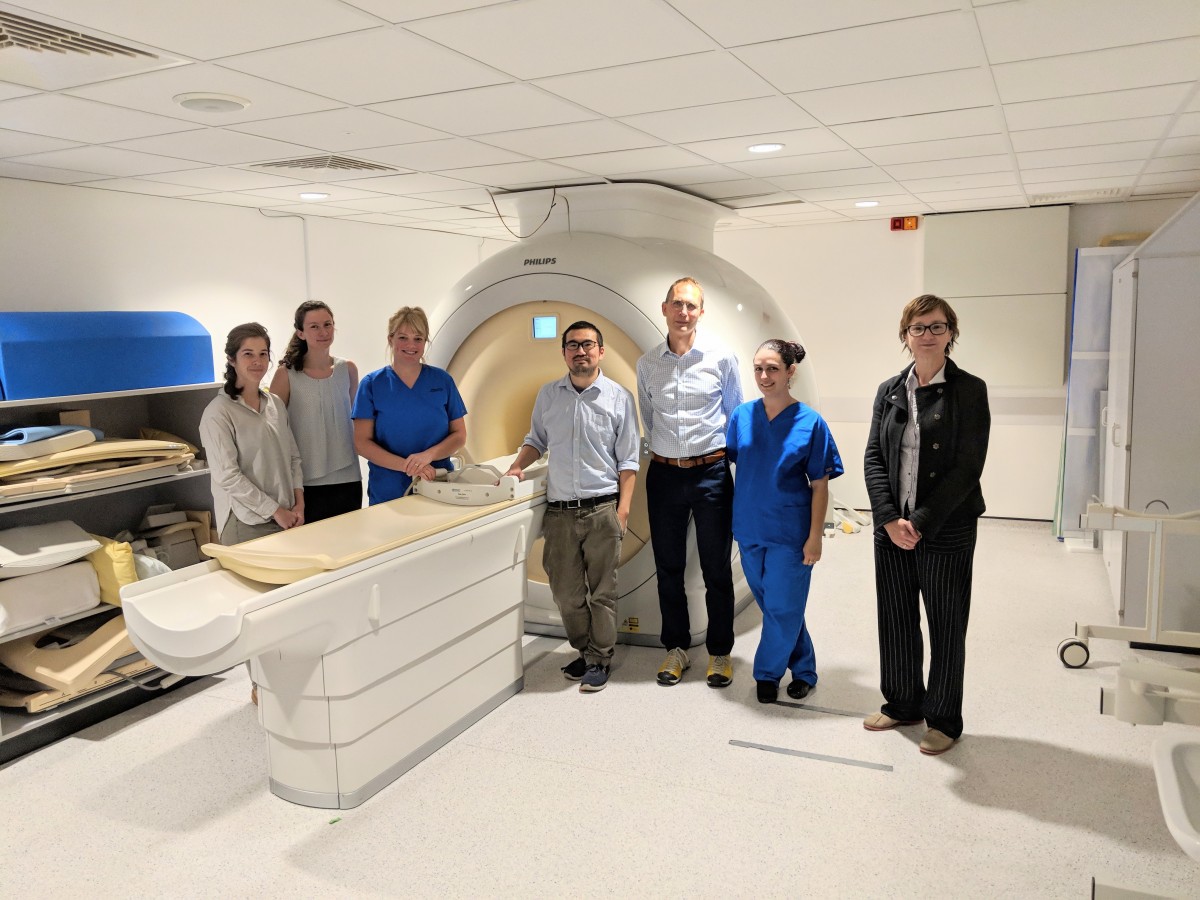 Researchers working on the Action project are included in this photograph (fourth and fifth from left) Tomoki Arichi (Paediatrician);
Enrico De Vita (MR physicist); and (far right) Grainne McAlonan (Professor of Translational Neuroscience).
Both ASC and ADHD are common in childhood, as lead researcher Dr Tomoki Arichi says: "ASC is estimated to affect one per cent of children in the UK1, 2 and typically leads to impaired social interaction and communication. ADHD is more common, affecting up to five per cent of UK children,1, 2 and is characterised by overactivity, impulsive behaviour and difficulties in paying attention."
It is already known that a family history of ASC or ADHD puts a child at a higher risk of developing these conditions. However it is still not known exactly what makes a baby vulnerable to later have these conditions. This has made it difficult to identify, develop and deliver interventions to those who need it most.
There is now evidence that understanding the balance between two chemical messengers in the brain – known as neurotransmitters – called glutamate and GABA, may be key to unpicking what leads to altered brain development.  
Dr Arichi and his colleagues, physicist Dr Enrico De Vita and Professor of Translational Neuroscience Grainne McAlonan, are exploring the role of these two brain chemicals in shaping the developing brain.
Dr Arichi explains: "We want to see if a sophisticated scanning technique which measures the levels of these two particular neurotransmitters in the brain could allow earlier prediction of neurodevelopmental conditions in newborn babies known to be at risk." 
The team will use Magnetic Resonance Imaging (MRI) scanners and a state-of-the-art method called magnetic resonance spectroscopy (MRS) which can measure the levels of chemicals in the living brain safely and precisely.
They will measure glutamate and GABA levels in the brains of 80 newborn babies using a MRI scanner at St Thomas' Hospital London with special adaptations and staff for scanning babies. They will also pioneer scanning babies on a new, highly powerful 7 Tesla MRI scanner which will be installed at St Thomas' Hospital in the coming months.
Dr Arichi explains: "Half the babies will be at high risk of developing a neurodevelopmental condition, due to an affected close family member, and half will have no increased risk – this group will be our control."
The researchers will compare results between the two groups to see if there are any differences.
Dr Tracy Swinfield, Director of Research at Action Medical Research, comments: "Action Medical Research is very pleased to support this study. This research could lead to a new, safe, non-invasive technique to identify babies who may develop difficulties later in childhood, enabling early support and intervention where appropriate."
"Studying neurotransmitter levels in the brain in early life could also help to inform new treatment strategies for currently incurable conditions such as ASC," adds Dr Swinfield.
Ends
Notes for editors
The research will take place at:
The Department of Perinatal Imaging and Health, Centre for the Developing Brain, King's College London
The Department of Forensic and Neurodevelopmental Science, Institute of Psychiatry, Psychology and Neuroscience, King's College London
St Thomas' Hospital, Guy's and St Thomas' NHS Foundation Trust, London
The School of Biomedical Engineering and Imaging Sciences, King's College London
Academics' titles and locations:
Dr Tomoki Arichi is Clinical Senior Lecturer in Paediatric Neurodisability at King's College London
Dr Enrico De Vita is Reader of Medical Physics at King's College London
Dr Grainne McAlonan is Professor of Translational Neuroscience at King's College London
Image:
A photo of Dr Tomoki Arichi and his team, including those linked to this Action funded work, can be downloaded here:
https://www.action.org.uk/sites/default/files/dr_tomoki_arichi_of_kings_college_london_and_colleagues.jpg
Caption:
Researchers working on the Action project are included in this photograph (fourth and fifth from left) Tomoki Arichi (Paediatrician); Enrico De Vita (MR physicist); and (far right) Grainne McAlonan (Professor of Translational Neuroscience).
References
National Institute for Health and Care Excellence, Clinical Knowledge Summaries: Autism in Children https://cks.nice.org.uk/autism-in-children#!backgroundsub:2 [website accessed 26 August 2018]
Sayal, K., et al, ADHD in children and young people: prevalence, care pathways, and service provision. Lancet Psychiatry. 2018; 5(2): 175-186.
Action Medical Research
Please contact Kate Lee, Research Communications Officer (Mon-Weds)
T: 01403 327445
Follow us on Twitter at @actionmedres and @amr_events  
Like our Facebook page at facebook.com/actionmedres
Follow us at pinterest/actionmedres
Action Medical Research is a leading UK-wide charity saving and changing children's lives through medical research. For more than 65 years we've helped pioneer ways to prevent disease and develop treatments benefiting millions of people. Our research has helped to beat polio in the UK, develop ultrasound in pregnancy, fight meningitis and prevent stillbirths. But we urgently need to develop more new treatments and cures for sick babies and children and we can't do it without you.
Join our fight for little lives today.
Charity reg. nos 208701 and SC039284.