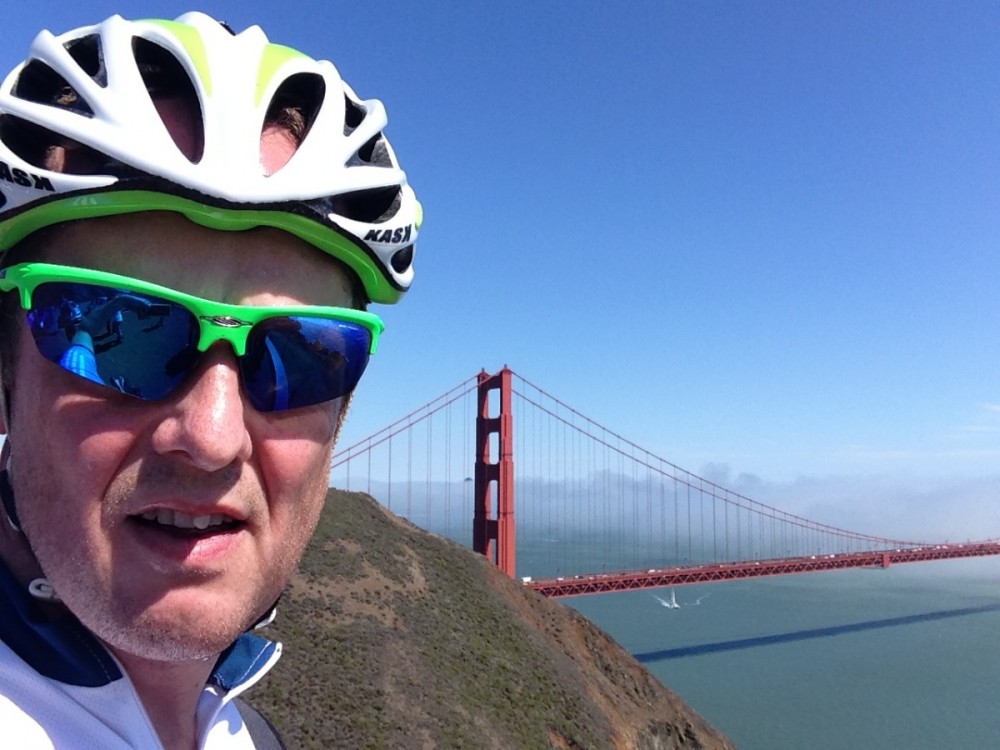 Graham Macgregor-Smith will set off from San Francisco on 29 July
A 54-year-old man from Berkshire's preparing to cycle 3,200 miles across the United States of America for Action Medical Research.
Graham Macgregor-Smith, who was born and raised in Worcestershire, will set off from San Francisco Bay Area, California on 29 July and will arrive in Battery Park, Manhattan on Monday, 28 August.
Graham told Action he was always a keen cyclist as a child but admits he was distracted by four-wheeled vehicles once he passed his driving test at the age of 17: "I didn't take up cycling again until I looked in the mirror one day in the early 90's. I was in my thirties by that stage, and I really didn't like what I saw! So I bought a mountain bike and a second-hand road bike in an effort to get fit."
Spurred on by a friend who once rode the Tour de France route one day ahead of the pro-peloton (a distance of 2,200 miles), Graham has been training hard for the last few months with long rides in the Surrey Hills.
An Action supporter for more than a decade, Graham hopes to raise £10,000 for the charity: "When my son was three weeks old he spent five days in an oxygen tent with an acute bout of Bronchiolitis. This was a very fraught time for my wife and I, so we identify very much with the work that Action does." 
Action Medical Research is a UK-wide children's charity which funds desperately needed research to tackle the diseases that devastate the lives of so many of our children. It has been funding medical breakthroughs since it began in 1952 including helping to introduce the first polio vaccines in the UK, developing the use of ultrasound in pregnancy and testing the rubella vaccine.
The charity is currently funding research into conditions including asthma, prematurity, epilepsy, meningitis, cerebral palsy, brain cancer and some rare and distressing conditions.
-ENDS-
 NOTES TO EDITORS:
To download a photo of Graham by the Golden Gate Bridge:
https://www.action.org.uk/sites/default/files/downloads/press/gms_san_francisco.jpg
Read more about his preparation for the challenge here:
https://www.action.org.uk/blog/2017/06/29/peddle-power-cycling-states-charity
Follow Graham on Twitter @bay2hudson and Instagram bay2hudson.
For more information on Action Medical Research, contact Peter Denton, Fundraising Communications Officer, on:
T: 01403 327480
E:pdenton@action.org.uk
W: action.org.uk
Follow us on Twitter at @actionmedres and @amr_events  
Like our Facebook page at facebook.com/actionmedres

Follow us at pinterest/actionmedres
Action Medical Research is a leading UK-wide charity saving and changing children's lives through medical research. For 65 years we've helped pioneer ways to prevent disease and develop treatments benefiting millions of people. Our research has helped to beat polio in the UK, develop ultrasound in pregnancy, fight meningitis and prevent stillbirths. But we urgently need to develop more new treatments and cures for sick babies and children and we can't do it without you.
Join our fight for little lives today.
Charity reg. nos 208701 and SC039284.