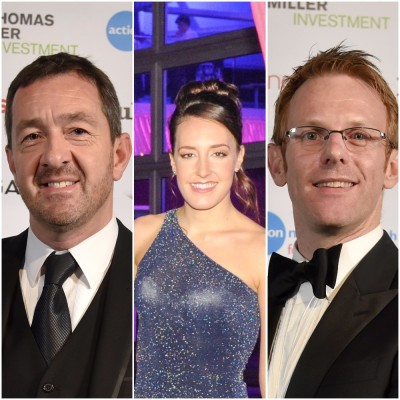 Chris Boardman, MBE, Dani King, MBE & Jody Cundy, OBE 
The countdown is on until Action Medical Research's 'Champions of CycleSport Dinner' supported by Maserati and Garmin.
It'll be held at Battersea Evolution, London on 23 November and three of the world's most recognisable cycling superstars have already confirmed their attendance.
Chris Boardman, MBE is a former Olympic Champion, world-record holder and three time Yellow Jersey winning cyclist. Having 'retired' from the sport he has gone on to become a recognised journalist and is frequently seen on both BBC and ITV coverage of major cycling events.
Jody Cundy, OBE is a former World champion in swimming and – having switched sports in 2006 – is a current Paralympic cycling champion having taken two golds in Rio last year. With numerous world records to his name, the 38-year-old continues to compete and is a motivational speaker.
Dani King, MBE has won Olympic Gold, 3 World titles and numerous European and British medals. Despite her considerable accomplishments in the velodrome, Dani has now turned her attention to the road, where she is currently riding in her second full season with Cyclance Pro Cycling with sights firmly set on the Commonwealth Games 2017.
With over twenty stars due to attend, more names will be confirmed in the coming months.
Peter Denton, Region Manager of Maserati North Europe, says: "The Action Medical Research 'Champions of CycleSport Dinner' is a fantastic event which continues to attract elite cycling athletes and cycling enthusiasts alike, for what is the showpiece event at the end of the cycling calendar. The evening always provides guests with a unique and memorable experience while raising money for such a truly worthwhile cause. Maserati are delighted to once again be supporting it."
Jon Oliver, Managing Director of Garmin UK, says: "We're very excited to once again be supporting the Champions of CycleSport Dinner for another year. To have so many cycling heroes involved truly makes this a night to remember as well as a tremendous opportunity to raise awareness and funds for Action Medical Research."
The high-profile Champions of CycleSport Dinner, which is also sponsored by BDO and Rouleur, reflects Action Medical Research's passion for all things cycling and guests can mingle with some of the world's greatest cyclists while helping sick and vulnerable babies and children.
Chris Grove, partner at BDO LLP, said "This is the fifth year that BDO has supported this event and we cannot wait to see what's in store on 23 November. It's always memorable and a great chance to help raise funds for Action."
Bruce Sandell, Managing Director for Rouleur said: "We are delighted and extremely excited to be supporting this prestigious event. It is such a unique opportunity to have so many cycling superstars under one roof, helping to recognise and raise awareness of the vital work that Action does across the UK."
The Action Medical Research 'Champions of CycleSport Dinner' is a major event in the calendar for all cycling enthusiasts. As well as a chance to meet and talk to some of the world's most elite athletes, there's also the opportunity to purchase some unique memorabilia and experiences.
Last year's sold-out event raised £280,000 with some amazing prizes auctioned off on the night including: a signed painting of Chris Froome by Paul Oz, a Smeg fridge signed by many of the celebrity guests and tickets to the Tour de France. An impromptu offer of a ride out with Geraint Thomas and Laura and Jason Kenny, as well as backstage passes to see Elton John in concert, raised £5,000.
Tables for the 2017 event for 10 people are available in Bronze, Silver or Gold class – the coveted Gold standard has the best view in the house and your very own cycling legend guaranteed at your table. For more information and to get your hands on the cycling industry's hottest tickets, please tap here.
Action Medical Research is a UK-wide children's charity which funds desperately needed research to tackle the diseases that devastate the lives of so many of our children. It has been funding medical breakthroughs since it began in 1952 including helping to introduce the first polio vaccines in the UK, developing the use of ultrasound in pregnancy and testing the rubella vaccine.
The charity is currently funding research into conditions including asthma, prematurity, epilepsy, meningitis, cerebral palsy, brain cancer and some rare and distressing conditions.
- ENDS -
NOTES TO EDITORS:
To download a photo of Chris Boardman:
https://www.action.org.uk/sites/default/files/downloads/press/chris_boardman_champions_2015.jpg
To download a photo of Jody Cundy:
https://www.action.org.uk/sites/default/files/downloads/press/jody_cundy_champions_2015.jpg
To download a photo of Dani King:
https://www.action.org.uk/sites/default/files/downloads/press/dani_king_maserati_champions_2015.jpg
For more information on Action Medical Research, contact Peter Denton, Fundraising Communications Officer, on:
T: 01403 327480
E:pdenton@action.org.uk
W: action.org.uk
Follow us on Twitter at @actionmedres and @amr_events  
Like our Facebook page at facebook.com/actionmedres
Follow us at pinterest/actionmedres
Action Medical Research is a leading UK-wide charity saving and changing children's lives through medical research. For 65 years we've helped pioneer ways to prevent disease and develop treatments benefiting millions of people. Our research has helped to beat polio in the UK, develop ultrasound in pregnancy, fight meningitis and prevent stillbirths. But we urgently need to develop more new treatments and cures for sick babies and children and we can't do it without you.
Join our fight for little lives today.
Charity reg. nos 208701 and SC039284.