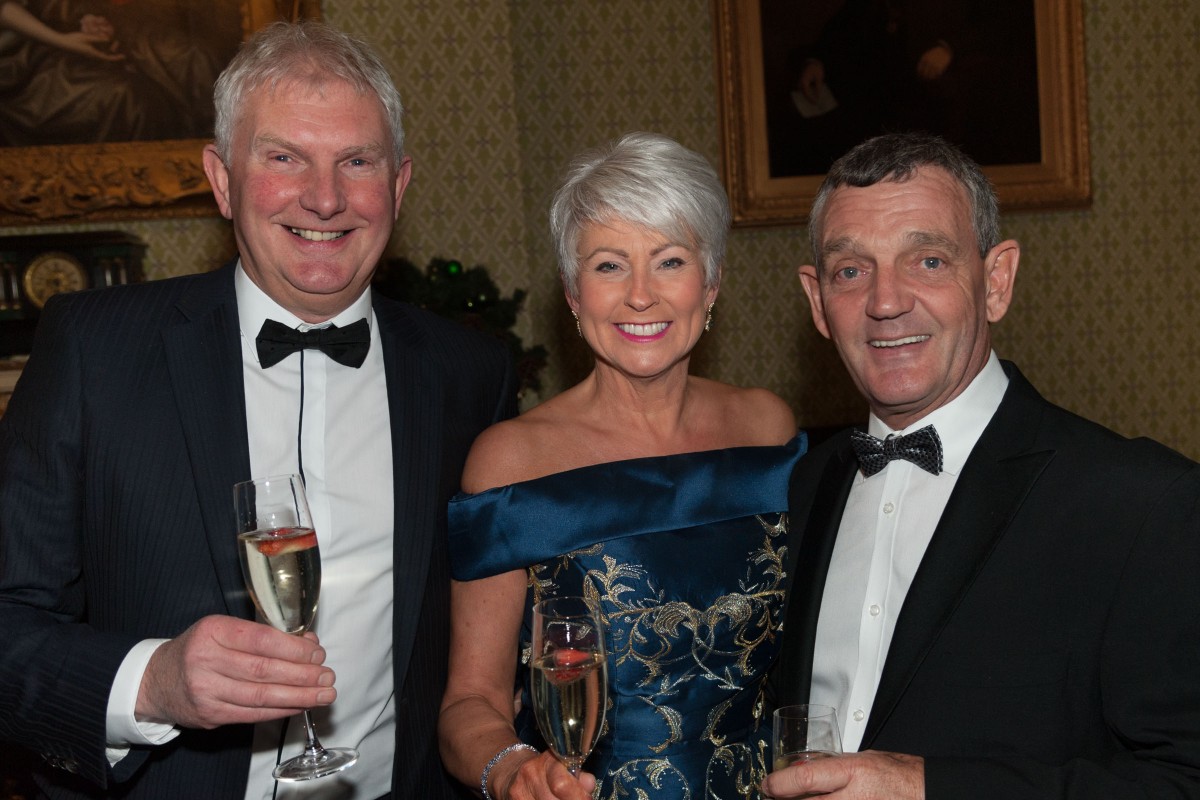 Action Medical Research is delighted to announce that it's 'Celebration of Motorsport Dinner' has raised over £47,000!
The annual event was held on Friday, 1 December at the Culloden Estate and Spa in  Holywood, Belfast.
Over 400 guests were treated to a lavish three course dinner before being entertained by local motorsport stars and a number of motorsport legends including: the founder and Managing Director of the 2017 World Rally Championship winning team M-Sport WRT, Malcolm Wilson, along with his team member and this year's Wales Rally GB winner Elfyn Evans; they were interviewed by regular supporter of the Celebration of Motorsport Tony Jardine.
Former F1 driver Tommy Byrne was another special guest sharing stories of his colourful life and career with F1 journalist Maurice Hamilton. Speaking after the evening, Tommy said: "This is always a fantastic evening and once again it was lovely to see so many passionate racing fans enjoying themselves.
"I was honoured to be a part of this fundraiser for Action Medical Research and I'm so pleased the night was so successful. I'm looking forward to next year already."
An amazing auction - delivered by the highly entertaining Richard Livingston – was also held with an array of one-off items and amazing experiences including: a trip to the Williams F1 Factory for a round of next year's Formula 1 series; a co-driver's seat with M-Sport WRT at a test day before next year's Wales Rally GB; plus a round of the World Rally Championship.
The Celebration of Motorsport Dinner was sponsored by Tourism Ireland and Geoff McConville Opticians.
The annual event is delivered and driven by the SPARKS NI team for Action; since its debut in 1994 it has raised over £500,000 for the children's charity.
TV presenter Pamela Ballantine,Chair of the SPARKS NI group hosted the night. She said she was thrilled with how well it went: "This is a fantastic sum to have been raised for Action Medical Research. 
"I cannot thank the fundraising team enough for all of their hard work but we could not do it without the support of the world of motorsport who year on year attend the Celebration and provide us with fantastic unique auction items. It really is a great start to the Christmas Season."
Action Medical Research is a UK-wide children's charity which funds desperately needed research to tackle the diseases that devastate the lives of so many of our children. It has been funding medical breakthroughs since it began in 1952 including helping to introduce the first polio vaccines in the UK, developing the use of ultrasound in pregnancy and testing the rubella vaccine.
The charity is currently funding research into conditions including asthma, prematurity, epilepsy, meningitis, cerebral palsy, brain cancer and some rare and distressing conditions.
-ENDS-
NOTES TO EDITORS:
To download a photo of Alan Graham, Pamela Ballantine, Tommy Byrne:
https://www.action.org.uk/sites/default/files/downloads/press/celebration_of_motorsport_1.jpg
To download a photo of Maurice Hamilton and Tommy Byrne
https://www.action.org.uk/sites/default/files/downloads/press/celebration_of_motorsport_2.jpg
To download a photo of Pamela Ballantine:
https://www.action.org.uk/sites/default/files/downloads/press/celebration_of_motorsport_3.jpg
For more information on Action Medical Research, contact Peter Denton, Fundraising Communications Officer, on:
T: 01403 327480
E:pdenton@action.org.uk
W: action.org.uk
Follow us on Twitter at @actionmedres and @amr_events  
Like our Facebook page at facebook.com/actionmedres
Follow us on Instagram at @actionmedres and @actionevents 
Action Medical Research is a leading UK-wide charity saving and changing children's lives through medical research. For 65 years we've helped pioneer ways to prevent disease and develop treatments benefiting millions of people. Our research has helped to beat polio in the UK, develop ultrasound in pregnancy, fight meningitis and prevent stillbirths. But we urgently need to develop more new treatments and cures for sick babies and children and we can't do it without you.
Join our fight for little lives today.
Charity reg. nos 208701 and SC039284.