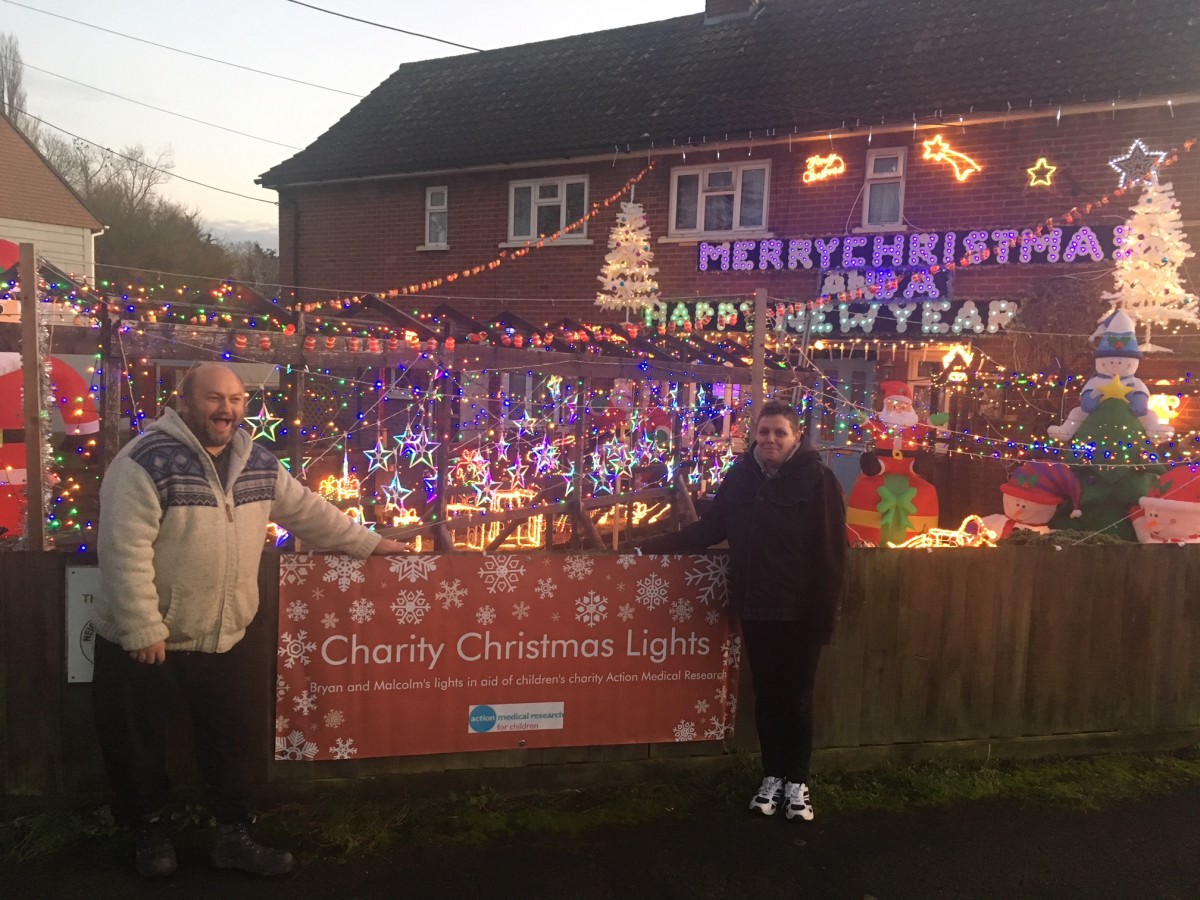 A special Christmas light display in Peasenhall is raising money for UK-wide children's charity 'Action Medical Research'.
Brothers Malcom and Bryan Smith, who live in Mill Road, have been decorating their home and garden throughout the festive period for the last 29 years.
During this time the ornaments have got more elaborate and they now boast more than 2,400 lights with seven inflatables!
"I'm very proud of the display and for raising money for such a good cause", says Malcom. "I'm just a big kid at heart really and I look forward to lighting up Peasenhall for years to come!"
This year the brothers have been helped by their friend Jenny Seagar, a longtime supporter of Action.
Jenny says she hopes the lights will help fill people with Christmas spirit: "Malcom and Bryan have been doing this for nearly thirty years now and they always raise money for charity.
"Last Christmas was the first time Action was the chosen charity and we raised more than £100.
"I can't think of a better way to embrace the festive season: you can come and see an amazing light display while helping a worthy cause at the same time. We'd love to see as many people as possible!"
Action's Community Fundraising Manager for Suffolk Lucy Hynes said: "What a wonderful way to help raise funds for the charity!
"We're so thankful to Malcolm, Bryan and Jenny for their support and to everyone who kindly donates. Every penny really does make a difference, thank you."
Action Medical Research is a UK-wide children's charity which funds desperately needed research to tackle the diseases that devastate the lives of so many of our children. It has been funding medical breakthroughs since it began in 1952 including helping to introduce the first polio vaccines in the UK, developing the use of ultrasound in pregnancy and testing the rubella vaccine.
The charity is currently funding research into conditions including asthma, prematurity, epilepsy, meningitis, cerebral palsy, brain cancer and some rare and distressing conditions.
-ENDS-
NOTES TO EDITORS:
Should you wish to send a photographer and/or speak to either Jenny, Malcom or Bryan please contact Peter Denton (contact details below)
To download some photos of the decorations:
https://www.action.org.uk/sites/default/files/downloads/press/peasenhall_christmas_lights_1.jpg
(L-R: Malcolm Smith and Jenny Seagar)
https://www.action.org.uk/sites/default/files/downloads/press/peasenhall_christmas_lights_2_0.jpg
For more information on Action Medical Research, contact Peter Denton, Fundraising Communications Officer, on:
T: 01403 327480
E:pdenton@action.org.uk
W: action.org.uk
Follow us on Twitter at @actionmedres and @amr_events  
Like our Facebook page at facebook.com/actionmedres
Follow us on Instagram at @actionmedres and @actionevents 
Action Medical Research is a leading UK-wide charity saving and changing children's lives through medical research. For 65 years we've helped pioneer ways to prevent disease and develop treatments benefiting millions of people. Our research has helped to beat polio in the UK, develop ultrasound in pregnancy, fight meningitis and prevent stillbirths. But we urgently need to develop more new treatments and cures for sick babies and children and we can't do it without you.
Join our fight for little lives today.
Charity reg. nos 208701 and SC039284.