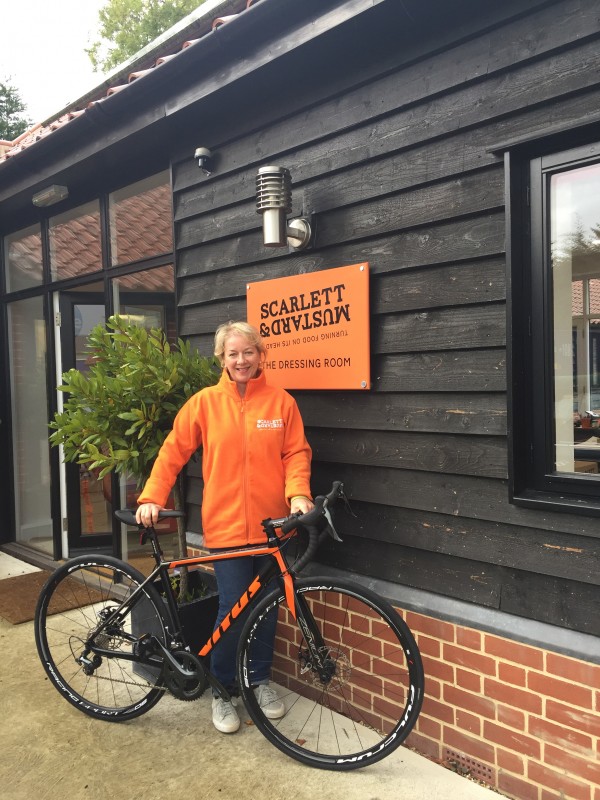 A cycling novice from Earl Soham has won a bike in celebration of her impressive fundraising efforts for UK-wide children's charity Action Medical Research.
Sandy Ruddock, who only began riding this year, was given a brand new Vitus Bikes Zenium Disc road bike last week by Chain Reaction Cycles after becoming the second highest fundraiser on the charity's RIDE100 series.
Chain Reaction Cycles, which sponsors Action Medical Research's cycling events, delivered the bike to Mrs Ruddock after she raised £765 on the Suffolk Sunrise ride earlier this year.
"I am completely beside myself with excitement about winning this bike – I never win anything! I only took up cycling earlier this year and have done a couple of charity rides and all the training on a borrowed bike so it couldn't be better," says Mrs Ruddock, the founder of sauce company Scarlett & Mustard.
"I've totally got the cycling bug and being on a decent bike will be amazing. Plus the fact that the bike is black and orange - which are our company colours - means it must be fate."
For more than 60 years Action Medical Research has helped pioneer treatments and ways to prevent disease that have benefited millions of people in the UK and across the world. Research they've funded has helped to beat polio in the UK, develop ultrasound in pregnancy, fight meningitis and prevent stillbirths.
Action Medical Research is currently funding research into meningitis, Down syndrome, epilepsy and premature birth, as well as some rare and distressing conditions that severely affect children.
The Suffolk Sunrise is part of the charity's popular RIDE100 series of one-day bike rides that take place in fantastic cycling locations across the UK: all include chip timing, food and water stations, marshals and mechanics.
This year more than 6,000 riders have helped to raise a total of £829,500 across all of Action's cycling events to help save and change the lives of sick and disabled babies and children.
The hugely popular event on Sunday, 7 May 2017, starts against the stunning backdrop of Framlingham College and offers three options: the Cool 35-mile choice along the rural lanes of Suffolk; a Classic 60-mile route, the perfect introduction to distance riding; or the tougher Champion option, which covers 101 miles with little traffic, superb countryside and coastal scenery.
Entry is just £25 for the Cool route or it's £38 to join the Classic and Champion options; for more information, please visit action.org.uk/suffolk-sunrise-100
– ENDS –
To download a high-res image of Sandy with her new bike, please click on the link below:
https://www.action.org.uk/sites/default/files/downloads/press/sandy_ruddock.jpg
NOTES TO EDITORS:
For more information on Action Medical Research, please contact Ellie Evans, Fundraising Communications Officer, on:
T 01403 327480
Follow us on Twitter at @actionmedres and @amr_events  
Like our Facebook page at facebook.com/actionmedres
Follow us at pinterest/actionmedres
Action Medical Research is a leading UK-wide charity saving and changing children's lives through medical research. For more than 60 years we've helped pioneer ways to prevent disease and develop treatments benefiting millions of people. Our research has helped to beat polio in the UK, develop ultrasound, fight meningitis and prevent stillbirths. But we urgently need to develop more new treatments and cures for sick babies and children and we can't do it without you.
Join our fight for little lives today.
Charity reg. nos 208701 and SC039284.