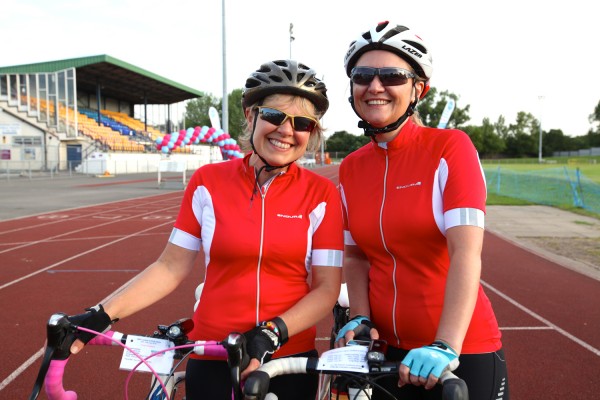 Action Medical Research's Community Fundraising Manager for the west, Tracey Edwards, has successfully cycled 315 miles from London to Paris in aid of the UK-wide children's charity.
After seven years working for Action Medical Research and encouraging thousands of supporters to take part in fundraising events, Mrs Edwards (pictured above left), 51, of Hilperton Road, Trowbridge, was inspired to join the annual ride in the French capital herself.
She was joined by her friend Felicity Warwood Hart, 47, also from Trowbridge, and the pair – who have raised £3,665 to help save and change children's lives so far – arrived in Paris on Saturday, 23 July.
"It was amazing and quite a journey - it was really emotional and I did blub a lot on the last day, I have to admit," she says of the four-day ride.
"I still can't believe I did it. I cycled up every hill, pedalled every mile and made some fantastic friends along the way. It was hard at times, particularly the last day for me when you are so close to Paris and you're really very tired, but we all supported each other to keep on going.
"I would recommend anyone who wants to take on a challenge to cycle London to Paris for Action Medical Research.
"We both send a huge and very sincere thank you to all who have supported us and sponsored myself and Felicity; we really appreciate it."
Almost 150 cyclists took part in the charity's 16th annual London to Paris ride last month and they are on track to raise £250,000 to help the hundreds of thousands of children in the UK whose lives are devastated by disease and disability.
Mrs Warwood Hart, a primary school teacher at Walwayne Court School in Trowbridge, added: "It was a wonderful experience from start to finish. The first day was definitely the most challenging: 89 miles with a deadline for the ferry of 4.30pm. We made it in good time which gave us a huge boost in confidence for the next few days.
"We met the most wonderful people riding for the best reasons, including one young lady fulfilling her friend's bucket list. It was a privilege to cycle alongside them; Tracey and I have both made some new friends for life.
"Having family waiting for us at the Eiffel Tower was the icing on the cake - my son Robert is now thinking of taking on the challenge next year. I would like to reiterate what Tracey has already stated, a HUGE thanks to all those wonderful people who sponsored us."
For more than 60 years Action Medical Research has helped pioneer treatments and ways to prevent disease that have benefited millions of people in the UK and across the world. Research they've funded has helped to beat polio in the UK, develop ultrasound in pregnancy, fight meningitis and prevent stillbirths.
Action Medical Research is currently funding research into meningitis, Down syndrome, epilepsy and premature birth, as well as some rare and distressing conditions that severely affect children.
If you'd like to ride for a reason and raise money for Action Medical Research by cycling from London to Paris in 2017, please visit action.org.uk/action-london-paris to find out more and to register.
To support Tracey and Felicity's fundraising, please visit action.org.uk/sponsor/traceyandfelicity
- ENDS -
To download high-res images of Tracey Edwards (left) and Felicity Warwood Hart at the start of the ride, please click on the links below:
https://www.action.org.uk/sites/default/files/downloads/press/tracey_and_felicity_l2p.jpg
https://www.action.org.uk/sites/default/files/downloads/press/tracey_and_felicity_l2p_2.jpg
NOTES TO EDITORS:
For more information on Action Medical Research, please contact Ellie Evans, Fundraising Communications Officer, on:
T 01403 327480
Follow us on Twitter at @actionmedres and @amr_events  
Like our Facebook page at facebook.com/actionmedres
Follow us at pinterest/actionmedres
Action Medical Research is a leading UK-wide charity saving and changing children's lives through medical research. For more than 60 years we've helped pioneer ways to prevent disease and develop treatments benefiting millions of people. Our research has helped to beat polio in the UK, develop ultrasound, fight meningitis and prevent stillbirths. But we urgently need to develop more new treatments and cures for sick babies and children and we can't do it without you.
Join our fight for little lives today.
Charity reg. nos 208701 and SC039284.