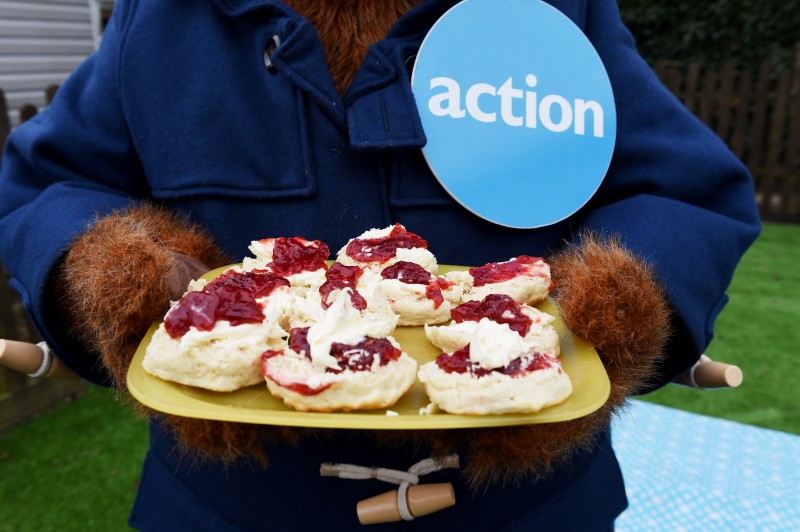 Children's charity Action Medical Research has launched a call for the nation to take a break this summer and enjoy a delicious cream tea delivered to the door.
Its unique cream-teas-in-a-box campaign will see the perfect afternoon pick-me-up delivered directly to homes, workplaces and schools across the country on Friday 1 July 2016.
And the UK-wide children's charity is calling on YOU to get together with friends or colleagues to put the kettle on, tuck in to a tasty cream tea and help raise funds for sick babies and children.
Cook, food writer and founder of www.khoollect.com Rachel Khoo, who is supporting the campaign, says: "Action Cream Teas make the perfect little afternoon treat - and what better way to help a worthy charity than by eating something tasty and indulgent."
Last year Action Medical Research raised more than £60,000 as it sent out more than 10,000 cream-teas-in-a-box packed by its army of volunteers.
In total, the charity sent out 20,740 scones which, if split open and laid end to end, would stretch over 4.1km; 10,370 Yorkshire teabags, enough to make 2,593 litres of tea; 871kg of Tiptree strawberry jam; and 415kg of Rodda's Cornish Clotted Cream, made from nearly 11,000 pints of milk, all neatly packaged up complete with 10,370 knives, serviettes and thank you notes!
For 2016, the mouth-watering Action Cream Teas - which come in a box priced just £6 - will again contain two freshly baked scones perfect for piling high with oozing strawberry jam and Rodda's Cornish clotted cream, ready to be washed down with a refreshing cup of Yorkshire Tea.
Research is the key to saving many children from a lifetime of suffering, yet surprisingly, medical research into conditions that devastate children's lives is poorly funded.
With the help of its supporters, Action Medical Research has played a significant role in many medical breakthroughs since it began in 1952, from the development of the first UK polio vaccines to the use of ultrasound in pregnancy.
It is currently funding research into meningitis, Down syndrome, epilepsy and premature birth, as well as some rare and distressing conditions that severely affect children.
Join the fight for little lives and order yours online by 17 June 2016 at action.org.uk/cream-teas
– ENDS –
For high-res images of Action Medical Research's mascot Paddington Bear TM enjoying a tasty cream tea with some young friends, please click on the links below:
https://www.action.org.uk/sites/default/files/downloads/press/paddington_bear_and_action_cream_teas_2016_1.jpg
https://www.action.org.uk/sites/default/files/downloads/press/paddington_bear_and_action_cream_teas_2016_2.jpg
https://www.action.org.uk/sites/default/files/downloads/press/paddington_bear_and_action_cream_teas_2016_3.jpg
https://www.action.org.uk/sites/default/files/downloads/press/paddington_bear_and_action_cream_teas_2016_4.jpg
https://www.action.org.uk/sites/default/files/downloads/press/paddington_bear_and_action_cream_teas_2016_5.jpg
https://www.action.org.uk/sites/default/files/downloads/press/paddington_bear_and_action_cream_teas_2016_6.jpg
For high-res images of Rachel Khoo, please click on the links below (please credit Lara Messer):
https://www.action.org.uk/sites/default/files/downloads/press/rachel_khoo_portrait_october_2015.jpg
https://www.action.org.uk/sites/default/files/downloads/press/rachel_khoo_usa_book_launch.jpg
NOTES TO EDITORS:
About Paddington:
Paddington BearTM has been at the heart of fundraising for Action Medical Research for 40 years ever since his creator, Michael Bond, met the charity's founder, Duncan Guthrie, in 1976.
British-born writer Michael Bond has been entertaining children and families all over the world for almost 60 years, with his stories about Paddington, the bear from Darkest Peru famous for his love of marmalade. Since the first book, A Bear Called Paddington, was published by HarperCollins in 1958, a further 14 full-length novels and countless other formats have been published. Paddington's adventures have been adapted several times for television and at the end of 2014 Paddington made his debut onto the big screen. In recognition of Paddington's extraordinary popularity and success, Michael Bond was awarded an OBE (Order of the British Empire) from the Queen for services to children's literature in 1997 and a CBE (Commander of the British Empire) in 2015.
Today, with over 150 titles available in 40 languages and more than 100 countries, book sales are in excess of 35 million.
Paddington Bear™ © Paddington and Co Ltd/Studiocanal S.A. 2016
Licensed on behalf of Studiocanal S.A. by Copyrights Group
For more information on Action Medical Research, please contact Ellie Evans, Fundraising Communications Officer, on:
T 01403 327480
Follow us on Twitter at @actionmedres and @amr_events  
Like our Facebook page at facebook.com/actionmedres
Follow us at pinterest/actionmedres
Action Medical Research is a leading UK-wide charity saving and changing children's lives through medical research. For more than 60 years we've helped pioneer ways to prevent disease and develop treatments benefiting millions of people. Our research has helped to beat polio in the UK, develop ultrasound, fight meningitis and prevent stillbirths. But we urgently need to develop more new treatments and cures for sick babies and children and we can't do it without you.
Join our fight for little lives today.
Charity reg. nos 208701 and SC039284.