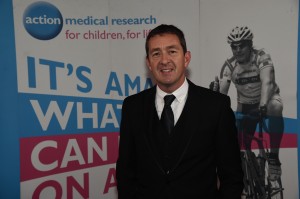 Two of Action Medical Research's most ardent celebrity supporters are getting ready for this year's Eroica Britannia festival.  
The family-friendly event is being held near Friden Grange in the Peak District National Park, Derbyshire between 16 – 18 June. As well as live music, award-winning food and shopping there will also be the 'world's most handsome bike ride'.
Olympic gold medallist Chris Boardman MBE will be there throughout the weekend to represent Action. The cycling superstar will be officially opening the event as well as starting the riders off.
Chris has supported the charity for a number of years and is always keen to help raise awareness: "Action Medical Research is a fantastic charity, funding work that can help so many families. My son George was born prematurely so I know how important research in this area is. It's the kind of work that Action funds that made a huge impact on his life and was essential for his survival." 
Action's charity mascot, Paddington Bear, will also be making an appearance to support his favourite UK charity and to say hello to his fans following a screening of his film 'Paddington' on 17 June 2017 
Action Medical Research is once again the official charity partner of Eroica Brittania, with festival attendees given the opportunity to donate when purchasing tickets online.
Head of Relationship Fundraising for Action, Toby Tennant says it's a real honour: "We are delighted to once again be the official charity partner.
"For every project Action funds there's another one we have to turn away – simply because of a lack of funds.
"Every penny raised really does make a difference in our ongoing fight for little lives."
The Director of Eroica Britannia Nick Cotton said: "We are so proud to support Action Medical Research for a second year, we feel privileged to be raising awareness, funds and support for the crucial work they do with the help and generosity of our wonderful riders and festival visitors.  Action is a charity that we hold in the highest esteem and very close to our hearts."
Action Medical Research is a UK-wide children's charity which funds desperately needed research to tackle the diseases that devastate the lives of so many of our children. It has been funding medical breakthroughs since it began in 1952 including helping to introduce the first polio vaccines in the UK, developing the use of ultrasound in pregnancy and testing the rubella vaccine.
The charity is currently funding research into conditions including asthma, prematurity, epilepsy, meningitis, cerebral palsy, brain cancer and some rare and distressing conditions.
-END-
To download a photo of Chris Boardman:
https://www.action.org.uk/sites/default/files/downloads/press/chris_boardman_mbe_at_the_champions_of_cyclesport_dinner_2014.jpg
NOTES TO EDITORS
About Paddington Bear:
For almost 60 years, British-born writer Michael Bond has been entertaining children and families all over the world with his stories about Paddington, the bear from Darkest Peru famous for his love of marmalade. Since the first book, A Bear Called Paddington, was published by HarperCollins in 1958, a further 14 full-length novels and countless other formats have been published.
Paddington's adventures have been adapted several times for television and at the end of 2014 Paddington made his debut onto the big screen. The movie, produced by Studiocanal, part of the international content and media group Vivendi, was the best-selling non-Hollywood family movie ever released. A second Paddington movie, Paddington 2, is set to launch globally at the end of 2017.
In 2016, Vivendi took full ownership of the Paddington brand worldwide, with the exception of the classic publishing rights.
In recognition of Paddington's extraordinary popularity and success, Michael Bond was awarded an OBE (Order of the British Empire) from the Queen for services to children's literature in 1997 and a CBE (Commander of the British Empire) in 2015.
PADDINGTON™ and PADDINGTON BEAR™
© Paddington and Company Limited/Studiocanal S.A.S 2017
Paddington Bear™, Paddington™ and PB™ are trademarks of Paddington and Company Limited
Licensed on behalf of Studiocanal S.A.S by Copyrights Group
www.paddington.com
For more information on Action Medical Research, contact Peter Denton, Fundraising Communications Officer, on:
T: 01403 327480
E:pdenton@action.org.uk
W: action.org.uk
Follow us on Twitter at @actionmedres and @amr_events  
Like our Facebook page at facebook.com/actionmedres
Follow us at pinterest/actionmedres
Action Medical Research is a leading UK-wide charity saving and changing children's lives through medical research. For 65 years we've helped pioneer ways to prevent disease and develop treatments benefiting millions of people. Our research has helped to beat polio in the UK, develop ultrasound in pregnancy, fight meningitis and prevent stillbirths. But we urgently need to develop more new treatments and cures for sick babies and children and we can't do it without you.
Join our fight for little lives today.
Charity reg. nos 208701 and SC039284.