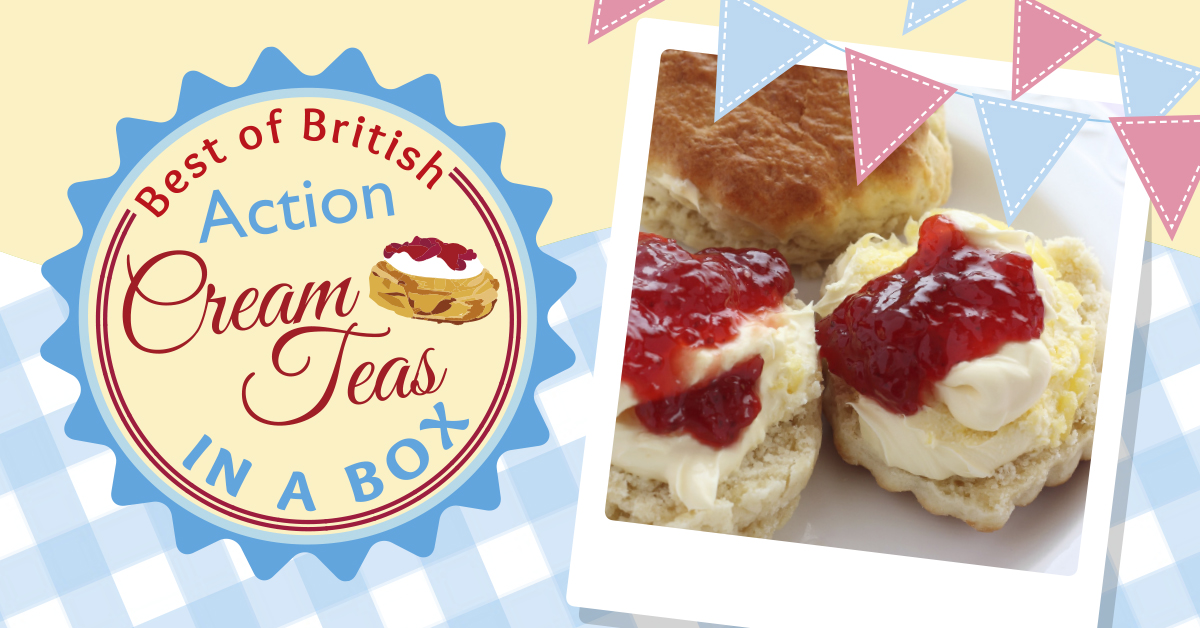 Action Medical Research is delighted to announce that its 2018 Cream Teas campaign has raised around £65,000 with donations still coming in!
"We are thrilled" says Emma Morgan, Action's Head of Events. "We cannot thank everyone enough for their kind generosity. Every one of our boxes sold really does make a difference."
Action is a UK-wide children's charity which funds desperately needed research to tackle the diseases that devastate the lives of so many of our children.
Dr Dawn Harper is an Action Ambassador. She lent her support to this year's campaign and is delighted with the results:
"Action asked if I could helped support this year's campaign and I jumped at the chance!
"I'm just so pleased that thousands of people across the UK got the chance to enjoy a little time out, indulge in a delicious treat and feel good knowing that their kind donations could really help save tiny lives."
The 2018 national campaign was launched in April and gave people the opportunity to buy cream tea boxes online until 15 June.
Each box contained:
2x classic plain scones
A jar of Rodda's Cornish clotted cream (40g)
2x jars of Tiptree strawberry conserve  (28g)
Yorkshire tea
A knife and serviette
A small army of Action volunteers then helped pack the many thousands of boxes before they were delivered nationwide on Thursday 28 June.
"Without our wonderful volunteers, this campaign would just not work" admits Emma Morgan. "We are so lucky to have so many passionate supporters who share our vision to help find future cures.
"The Action Cream Teas campaign is really starting to become a calendar event for people and I can't wait for next year!"
Action has been funding medical breakthroughs since it began in 1952 including helping to introduce the first polio vaccines in the UK, developing the use of ultrasound in pregnancy and testing the rubella vaccine.
The charity is currently funding research into areas including premature birth, epilepsy, asthma, scarlet fever, cerebral palsy, brain cancer and some rare and distressing conditions.
-ENDS-
NOTES TO EDITORS:
Photos
To download a photo of Dr Dawn Harper:
https://www.action.org.uk/sites/default/files/downloads/press/dr_dawn_harper_doc.jpg
To download an official Action Cream Teas asset:
https://www.action.org.uk/sites/default/files/downloads/press/cream_teas_asset_generic.jpg
https://www.action.org.uk/sites/default/files/downloads/press/cream_teas_asset_2.jpg
To download a photo of the cream teas:
https://www.action.org.uk/sites/default/files/downloads/press/cream_teas_2018_action1.jpg
https://www.action.org.uk/sites/default/files/downloads/press/cream_teas_2018_action2.jpg
For more information on Action Medical Research, contact Peter Denton, Fundraising Communications Officer, on:
T: 01403 327412
E:pdenton@action.org.uk
W: action.org.uk
Follow us on Twitter at @actionmedres and @amr_events  
Like our Facebook page at facebook.com/actionmedres
Follow us on Instagram at @actionmedres and @actionevents
Action Medical Research is a leading UK-wide charity saving and changing children's lives through medical research. For more than 65 years we've helped pioneer ways to prevent disease and develop treatments benefiting millions of people. Our research has helped to beat polio in the UK, develop ultrasound in pregnancy, fight meningitis and prevent stillbirths. But we urgently need to develop more new treatments and cures for sick babies and children and we can't do it without you.
Join our fight for little lives today.
Charity reg. nos 208701 and SC039284.