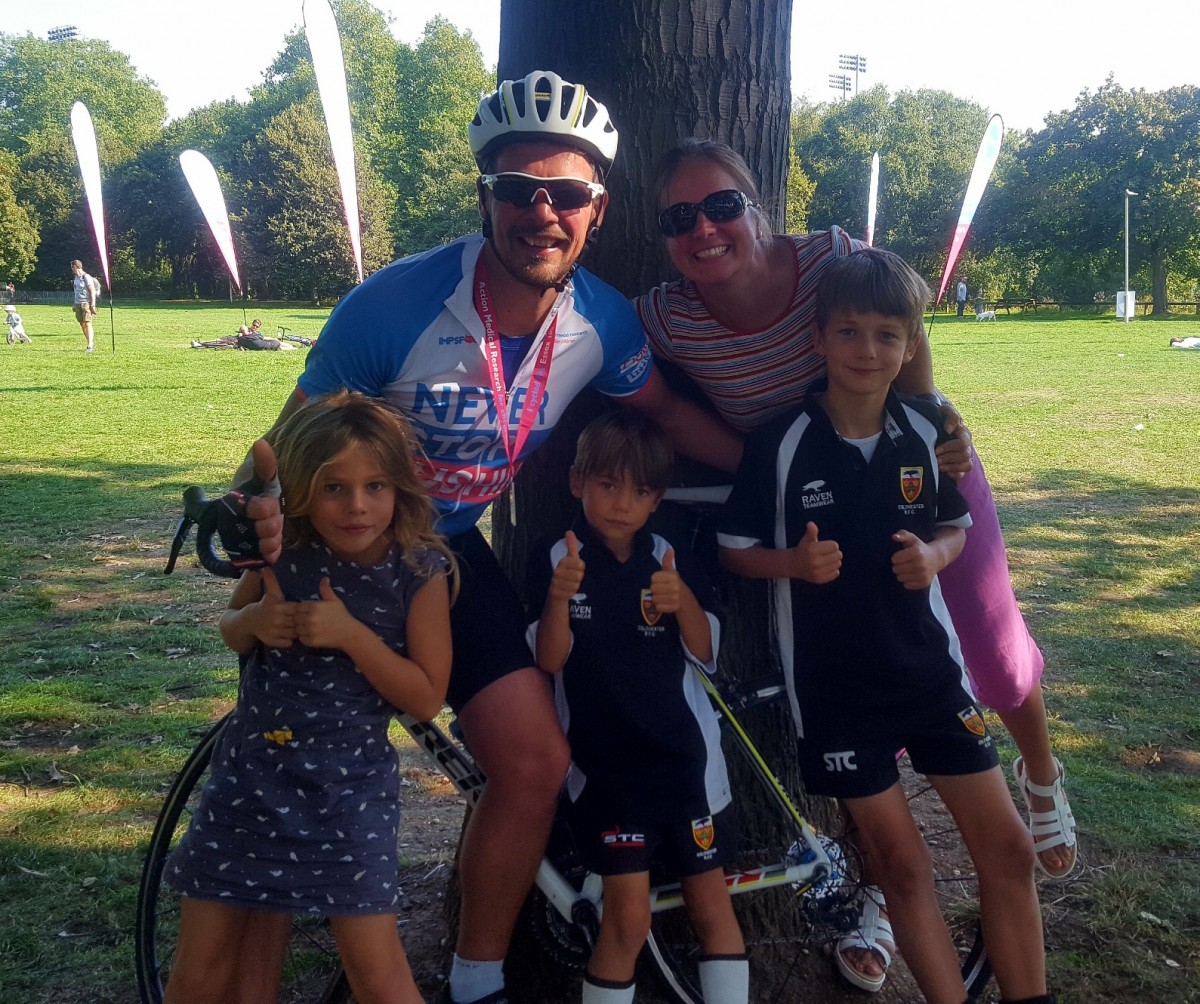 Colchester resident Dave Waterman has completed a major milestone in his recovery from a serious back injury.
On Sunday 2 September the 46-year-old completed the Action Medical Research Essex 100 bike ride to complete his hat trick of challenges for the children's charity.
"It feels really good" said the Company Director at the finish line in Chelmsford. "I'm just so pleased I've been able to complete all three events and help raise some money for Action."
Dave underwent major back surgery towards the end of 2016; although the cause of his pain has never been diagnosed, he believes it's linked to a motorcycle collision he had as a teenager.
"I've always been fairly active and I remember lying in the hospital bed immediately following the operation feeling a bit sorry for myself.
"Mentally preparing for these three fundraisers definitely helped my physical recovery process; it gave me something to aim for, so now I'll have to have a think about my next challenge!"
Earlier this year Dave successfully completed the Virgin Money London Marathon as well as a 40-mile hike with Action's 'Trek The Night: South Downs Way'.
He hopes to collectively raise £3,000 and is on target to beat his goal.
"Being a Dad, it's very sobering to think about all the work Action does to raise funds for research into various childhood illnesses and conditions.
"For me, being able to have fun running, hiking and cycling while raising money for a great cause is a win-win!"
Action's Community Fundraising Manager for Essex, Lyndsay Wood said: "We are so pleased for Dave; it's a massive personal achievement for him and really fitting that his final 2018 challenge was here in his home county.
"Dave is such a passionate supporter of ours and we are really grateful for all that he has done to help raise funds and awareness for us."
Action Medical Research has been funding medical breakthroughs since it began in 1952 including helping to introduce the first polio vaccines in the UK, developing the use of ultrasound in pregnancy and testing the rubella vaccine.
The charity is currently funding research into conditions including asthma, prematurity, epilepsy, meningitis, cerebral palsy, brain cancer and some rare and distressing conditions.
-END-
NOTES TO EDITORS:
Photos
Dave Waterman at Essex 100 with his family:
https://www.action.org.uk/sites/default/files/downloads/press/dave_waterman_family.jpg
(L-R) Anya (8), Dave, Arlo (6), Michelle, Kester (10)
Dave Waterman with his London Marathon medal:
https://www.action.org.uk/sites/default/files/downloads/press/dave_waterman_london_marathon.jpg
Dave Waterman training:
https://www.action.org.uk/sites/default/files/downloads/press/dave_waterman_training.jpg
Further reading
You can read more about Dave's challenges in this short blog:
https://www.action.org.uk/blog/2018/03/12/operating-table-treadmill
You can find a link to Dave Waterman's fundraising page here:
https://www.action.org.uk/sponsor/DavidVLM2018
This press release is linked to the previous ones sent 10th July & 19th March 2018
https://www.action.org.uk/press-release/dave-waterman-prepares-trek-night-south-downs-way
https://www.action.org.uk/press-release/essex-man-prepares-marathon-40-mile-hike-and-101-mile-bike-ride-following-major-back)
For more information on Action Medical Research, contact Peter Denton, Fundraising Communications Officer, on:
T: 01403 327412
E: pdenton@action.org.uk
W: www.action.org.uk
Follow us on Twitter at @actionmedres and @amr_events 
Like our Facebook page at facebook.com/actionmedres
Follow us on Instagram at @actionmedres and @actionevents 
Action Medical Research is a leading UK-wide charity saving and changing children's lives through medical research. For more than 65 years we've helped pioneer ways to prevent disease and develop treatments benefiting millions of people. Our research has helped to beat polio in the UK, develop ultrasound in pregnancy, fight meningitis and prevent stillbirths. But we urgently need to develop more new treatments and cures for sick babies and children and we can't do it without you.
Join our fight for little lives today.
Charity reg. nos 208701 and SC039284.