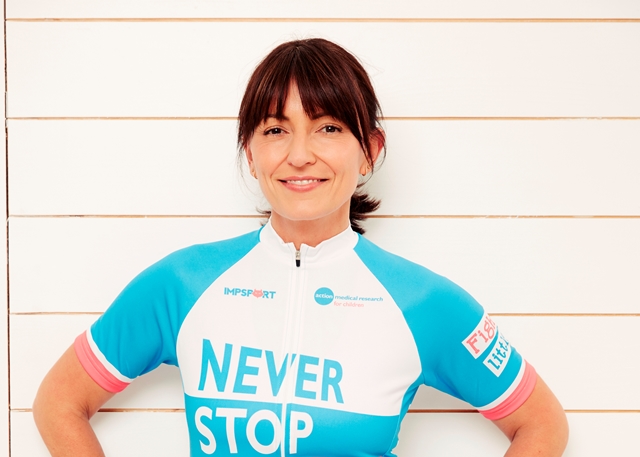 "It is the most supportive, loving, fun, relaxed day out ever!" 

With just under two weeks to go before Davina's Big Sussex Bike Ride on 25 June, Davina McCall is getting ready to power those pedals.
The popular TV presenter and mother of three has hosted the event since it launched in 2010. This year it is being held at the East Sussex National Golf Club near Uckfield and there are once again three routes to choose from:
Cool:               21 miles
Classic:            40 miles
Champion:      68 miles
Davina recently sat down with Action Medical Research to talk more about the bike ride and explained she was first made aware of Action by her granny Pippy when she was just 9-years-old.
It was a few years later that she was asked to become an ambassador: "It's an honour to fundraise with Action – the charity does unbelievable work and I love the fact that it's relatively unknown and yet has discovered such amazing medical breakthroughs that help so many mothers and children!"
Davina's Big Sussex Bike Ride is extremely family-friendly and Davina is proud that so many women feel comfortable signing up to get active and have fun: "For me it's about the giggle! The power of lots of lovely ladies coming together to do good… It makes me emotional just thinking about it."
You can read more about the event and find out how to register here.
Action Medical Research is a UK-wide children's charity which funds desperately needed research to tackle the diseases that devastate the lives of so many of our children. It has been funding medical breakthroughs since it began in 1952 including helping to introduce the first polio vaccines in the UK, developing the use of ultrasound in pregnancy and testing the rubella vaccine.
The charity is currently funding research into conditions including asthma, prematurity, epilepsy, meningitis, cerebral palsy, brain cancer and some rare and distressing conditions.
-END-
NOTES TO EDITORS
To download a photo of Davina McCall:
https://www.action.org.uk/sites/default/files/downloads/press/davina_-_cycling_2017.jpg
To read more about Davina and her training for the Big Sussex Bike Ride:
https://www.action.org.uk/blog/2017/06/09/davinas-big-sussex-bike-ride
Please kindly note that Davina will not be available for media interviews.
For more information on Action Medical Research, contact Peter Denton, Fundraising Communications Officer, on:
T: 01403 327480
E:pdenton@action.org.uk
W: action.org.uk
Follow us on Twitter at @actionmedres and @amr_events  
Like our Facebook page at facebook.com/actionmedres
Follow us at pinterest/actionmedres
Action Medical Research is a leading UK-wide charity saving and changing children's lives through medical research. For 65 years we've helped pioneer ways to prevent disease and develop treatments benefiting millions of people. Our research has helped to beat polio in the UK, develop ultrasound in pregnancy, fight meningitis and prevent stillbirths. But we urgently need to develop more new treatments and cures for sick babies and children and we can't do it without you.
Join our fight for little lives today.
Charity reg. nos 208701 and SC039284.