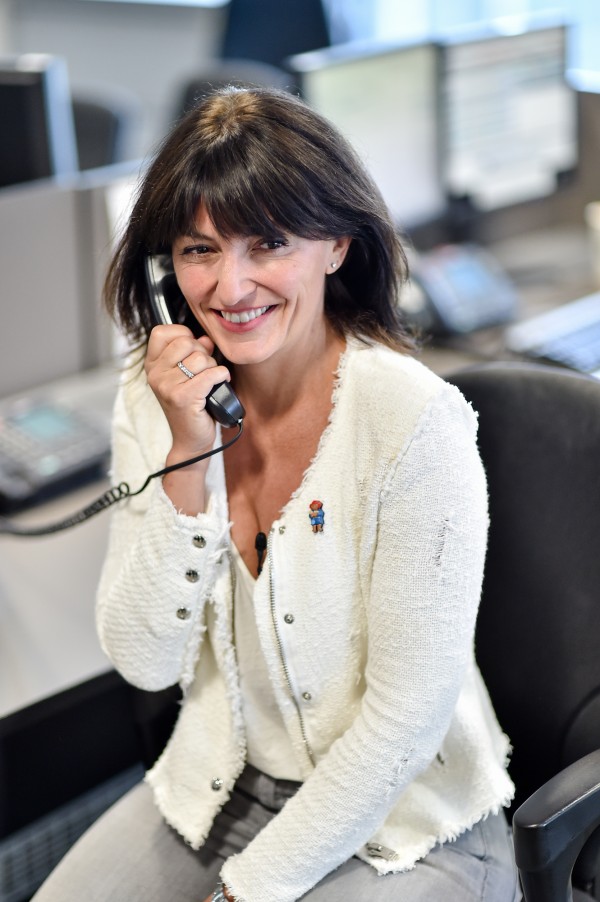 Davina McCall hit the trading floor to represent children's charity Action Medical Research at the annual BGC Charity Day on Monday, 12 September 2016.
Davina, an ambassador for Action Medical Research, got a taste of financial trading excitement at the annual event along with Paddington BearTM, the charity's mascot.
Each year global brokerage company BGC Partners and its affiliate Cantor Fitzgerald donate 100 per cent of the global revenues generated on Charity Day to the Cantor Fitzgerald Relief Fund and dozens of charities around the world.
The companies' 12th annual Charity Day, which was held in BGC offices across the globe including London, New York, Paris, Hong Kong, São Paulo, Singapore and Sydney, raised around US$12 million (£9m) for charities around the world.
"I had such a great time at the BGC Charity Day, and was very proud to be there as the ambassador for Action Medical Research," says Davina, who joined celebrities including Joanna Lumley, Tom Hardy and Lindsay Lohan at the firms' London offices.
"I've been involved with Action since I was nine years old and it's a brilliant cause to support. Everyone has been touched by the studies they've funded, from the polio vaccine to learning the importance of taking folic acid during pregnancy, so it was great for us to raise funds like this!"
The star-studded fundraising event, which was set up to honour the 658 Cantor Fitzgerald friends and colleagues and 61 Eurobrokers employees killed in the World Trade Center terrorist attack on September 11, 2001, has raised more than USD$137 million (£105m) for good causes around the world since its inception.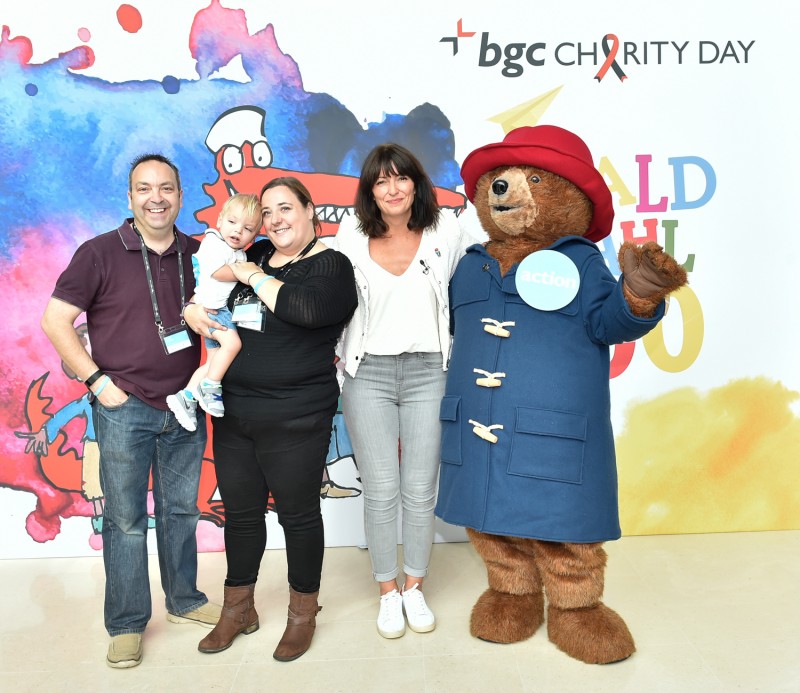 Also attending the London event to support Action Medical Research was two-year-old Aiden Mitchell from Witham, Essex, with his parents Fleur and Keith Mitchell (pictured above).
Complications at birth meant that Aiden suffered a shortage of oxygen to his brain. This type of injury can cause severe disabilities and is one of the three leading causes of death in newborn babies.
Thankfully a pioneering treatment called cooling therapy was available and Aiden's body temperature was cooled using a special blanket for 72 hours to help save his life. This medical breakthrough is due to a 20-year programme of research supported with significant funding from Action Medical Research.
"We cannot begin to thank the Action Medical Research team and Davina McCall enough for including us in such an amazing day at the BGC Charity Day," says Keith.
"Our heads are still spinning from the experience and our feet have not touched the ground since we have been back home due to the positive feedback we have received."
For more than 60 years Action Medical Research has helped pioneer treatments and ways to prevent disease that have benefited millions of people in the UK and across the world. Research they've funded has helped to beat polio in the UK, develop ultrasound in pregnancy, fight meningitis and prevent stillbirths.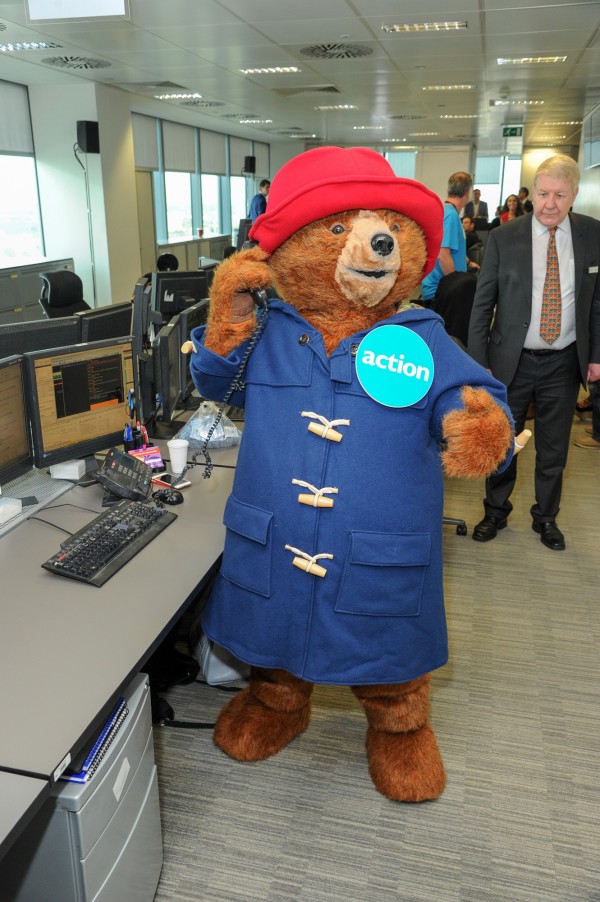 Paddington has been at the heart of fundraising for the UK children's charity ever since his creator, Michael Bond, met Action's founder Duncan Guthrie back in 1976 and his friendly face has helped to attract thousands of new supporters who together have raised millions of pounds to help babies and children.
Action Medical Research is currently funding research into meningitis, Down syndrome, epilepsy and premature birth, as well as some rare and distressing conditions that severely affect children.
For more information on the charity, please visit action.org.uk
- ENDS –
To download high-res images of the BGC Charity Day, please click on the links below (CREDIT RED PHOTOGRAPHIC):
Action Medical Research ambassador Davina McCall –
https://www.action.org.uk/sites/default/files/downloads/press/bgc_day_-_davina_mccall.jpg
Action Medical Research mascot Paddington Bear –
https://www.action.org.uk/sites/default/files/downloads/press/bgc_day_-_paddington_bear.jpg
Aiden Mitchell with parents Keith and Fleur Mitchell, along with Davina McCall and Paddington Bear -
https://www.action.org.uk/sites/default/files/downloads/press/bgc_-_aiden_davina_and_paddington.jpg
NOTES TO EDITORS:
For more information on Action Medical Research, please contact Ellie Evans, Fundraising Communications Officer, on:
T 01403 327480
Follow us on Twitter at @actionmedres and @amr_events  
Like our Facebook page at facebook.com/actionmedres
Follow us at pinterest/actionmedres
Action Medical Research is a leading UK-wide charity saving and changing children's lives through medical research. For more than 60 years we've helped pioneer ways to prevent disease and develop treatments benefiting millions of people. Our research has helped to beat polio in the UK, develop ultrasound, fight meningitis and prevent stillbirths. But we urgently need to develop more new treatments and cures for sick babies and children and we can't do it without you.
Join our fight for little lives today.
Charity reg. nos 208701 and SC039284.
About Paddington:
For almost 60 years, British-born writer Michael Bond has been entertaining children and families all over the world with his stories about Paddington, the bear from Darkest Peru famous for his love of marmalade. Since the first book, A Bear Called Paddington, was published by HarperCollins in 1958, a further 13 full-length novels and countless other formats have been published. Paddington's adventures have been adapted several times for television and at the end of 2014 Paddington made his debut onto the big screen. A second Paddington movie, Paddington 2, is set to launch November, 2017. In recognition of Paddington's extraordinary popularity and success, Michael Bond was awarded an OBE (Order of the British Empire) from the Queen for services to children's literature in 1997 and a CBE (Commander of the British Empire) in 2015.
Today, there are over 150 titles available in 40 languages and in more than 100 countries, book sales are in excess of 35 million. The Paddington DVD was the fastest and strongest selling DVD of 2015 in the UK. Paddington has a growing online presence with over 600 thousand Facebook fans and over 20 thousand Twitter followers.
In 2016 the Paddington brand was purchased by Studiocanal, part of the Vivendi group.
Follow Paddington on Twitter at @paddingtonbear  
Like Paddington's Facebook page at https://www.facebook.com/PaddingtonBear/ 
Paddington Bear™ © Paddington and Co Ltd/Studiocanal S.A. 2016
Licensed on behalf of Studiocanal S.A. by Copyrights Group