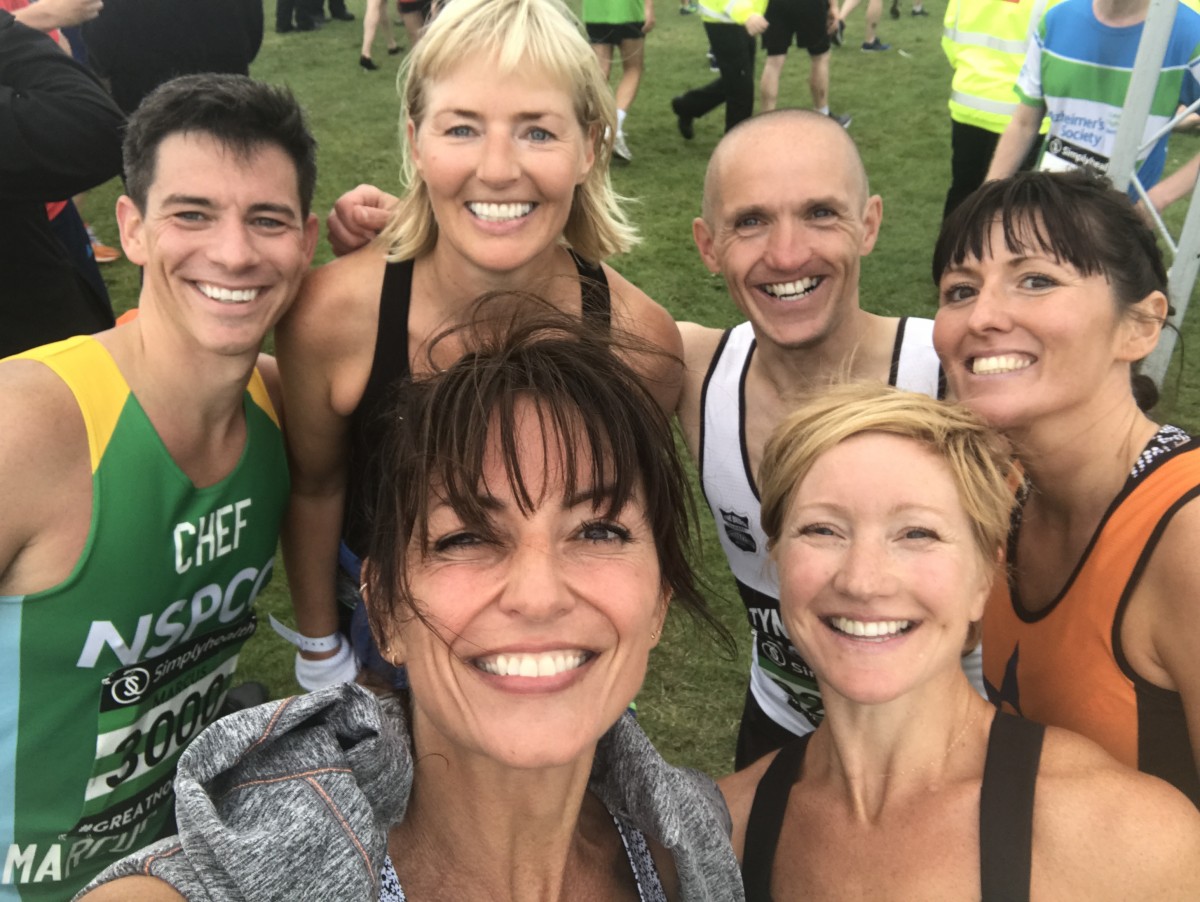 Davina McCall has completed the Great North Run for Action Medical Research.
Not only did the TV presenter beat her initial fundraising target but she also completed the 13.1 mile course in a time of 2 hours and 6 minutes, well under the 2 hours 30 minutes she was expecting.
In doing so, Davina beat a total of four 'Personal Bests': fastest mile, fastest 5k, fastest 10k and a VO2 Max record.
And it's safe to say she had a lot of fun: "I LOVED it. The 'Great North Run' is the best atmosphere, the best run. They carried me through – everybody on the side of the streets with jelly babies and kids with oranges – it was such a good atmosphere."
Davina's achievements are made all the more impressive following a slight injury scare just weeks before the event in Newcastle on Sunday 10 September.
She was initially concerned she had torn her calf muscle but fortunately some rest and intensive physiotherapy meant that she was able to run.
Speaking afterwards Davina said: "If you can do a fundraising event where at the end of it you feel really good about yourself, you've beaten some personal bests, you've exercised AND you've raised money for charity…it's a no brainer. I mean, it just feels good."
Davina has been supporting Action Medical Research since she was nine years old and holds annual fundraising activities for the charity like the 'Big Sussex Bike Ride' and 'Dine with Davina'.
If you fancy taking on a half marathon challenge for Action in 2018 we have places available in the Big Half on 4 March or 'London Landmarks' on 25 March.
Action Medical Research is a UK-wide children's charity which funds desperately needed research to tackle the diseases that devastate the lives of so many of our children. It has been funding medical breakthroughs since it began in 1952 including helping to introduce the first polio vaccines in the UK, developing the use of ultrasound in pregnancy and testing the rubella vaccine.
The charity is currently funding research into conditions including asthma, prematurity, epilepsy, meningitis, cerebral palsy, brain cancer and some rare and distressing conditions.
- ENDS -
NOTES TO EDITORS:
To download a picture of Davina:
https://www.action.org.uk/sites/default/files/downloads/press/davina_et_al_0.jpg
For more information on Action Medical Research, contact Peter Denton, Fundraising Communications Officer, on:
T: 01403 327480
E:pdenton@action.org.uk
W: action.org.uk
Follow us on Twitter at @actionmedres and @amr_events  
Like our Facebook page at facebook.com/actionmedres
Follow us at pinterest/actionmedres
Action Medical Research is a leading UK-wide charity saving and changing children's lives through medical research. For 65 years we've helped pioneer ways to prevent disease and develop treatments benefiting millions of people. Our research has helped to beat polio in the UK, develop ultrasound in pregnancy, fight meningitis and prevent stillbirths. But we urgently need to develop more new treatments and cures for sick babies and children and we can't do it without you.
Join our fight for little lives today.
Charity reg. nos 208701 and SC039284.