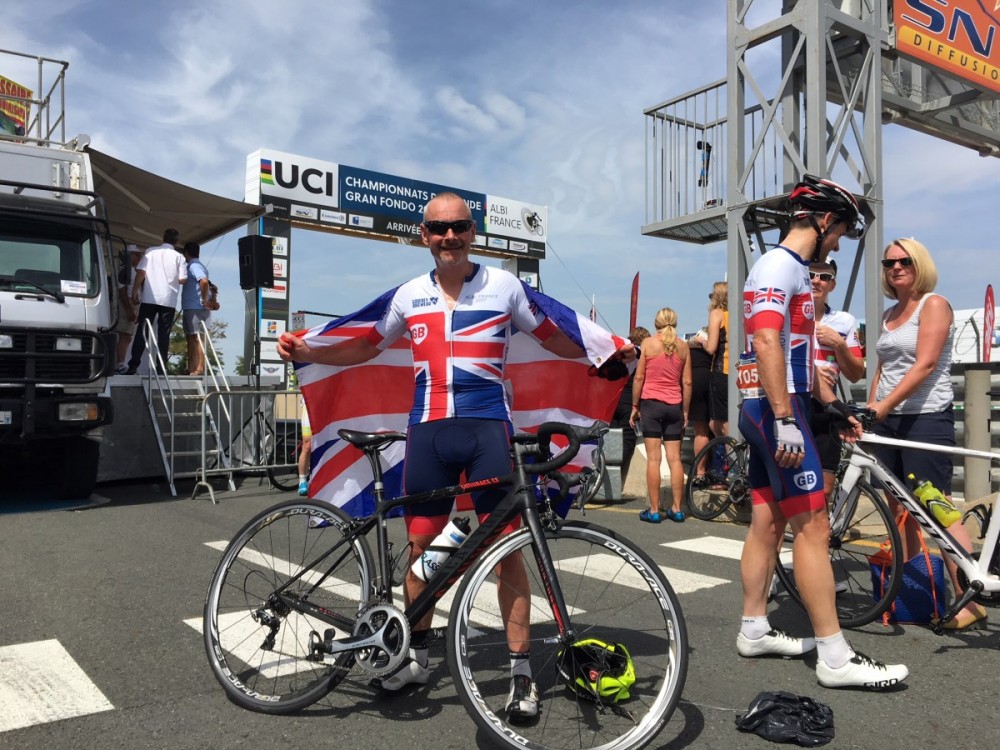 Jeremy Bacon is a keen cyclist.
The 52-year-old from Ashbourne is a keen member of the local cycling club and will be representing Team GB later this year in the UCI World Amateur Road Race in the Italian Lake District.
All of which will certainly help his next charity challenge in the saddle as he prepares to cycle from London to Paris for Action Medical Research.
"It's a wonderful children's charity," says the CEO of The Sherwood Group –a Nottinghamshire-based greeting card print and packaging company. "We have worked with them a number of years helping to produce their Christmas cards".
This won't be the first endurance challenge Jeremy has taken part in for Action, but this year's is particularly poignant.
In 2017, one of the charity's most beloved supporters Lynn Tait sadly passed away.
As well as running her own greetings card business, Lynn ran the 'Ladder Club' for Action which was instrumental in bringing together members of the industry to help raise funds.
Jeremy wants to complete the 340 mile route in her honour: "Lynn inspired me to take on my first ride for Action in 2014 and it really helped open my eyes to the amazing work the charity helps fund.
"There are so many tremendous charities out there, but so few people have heard of Action and I want to help try and do my bit to raise both funds and awareness."
Jeremy - who will be joined by his wife Vicky and close friend Andy Jennings – hopes to raise £1,700.
This will be Action's 19th annual London to Paris challenge.
Around fifty keen cyclists will set off from London on Wednesday 25 July, make their way through Kent before getting on a Ferry to Dunkirk and completing their ride in Paris on Sunday 29 July.
Action is a UK-wide children's charity which funds desperately needed research to tackle the diseases that devastate the lives of so many of our children. It has been funding medical breakthroughs since it began in 1952 including helping to introduce the first polio vaccines in the UK, developing the use of ultrasound in pregnancy and testing the rubella vaccine.
The charity is currently funding research into areas including premature birth, epilepsy, asthma, scarlet fever, cerebral palsy, brain cancer and some rare and distressing conditions.
-ENDS-
NOTES TO EDITORS:
To download a photo of Jeremy Bacon:
https://www.action.org.uk/sites/default/files/downloads/press/jeremy_bacon.jpg
To download an Action logo:
https://www.action.org.uk/sites/default/files/downloads/press/action_logo_for_header.jpg
To find out more about the Action London to Paris ride:
https://www.action.org.uk/action-london-paris
For more information on Action Medical Research contact Peter Denton, Fundraising Communications Officer, on:
T: 01403 327412
E:pdenton@action.org.uk
W: action.org.uk
Follow us on Twitter at @actionmedres and @amr_events  
Like our Facebook page at facebook.com/actionmedres
Follow us on Instagram at @actionmedres and @actionevents
Action Medical Research is a leading UK-wide charity saving and changing children's lives through medical research. For more than 65 years we've helped pioneer ways to prevent disease and develop treatments benefiting millions of people. Our research has helped to beat polio in the UK, develop ultrasound in pregnancy, fight meningitis and prevent stillbirths. But we urgently need to develop more new treatments and cures for sick babies and children and we can't do it without you.
Join our fight for little lives today.
Charity reg. nos 208701 and SC039284.