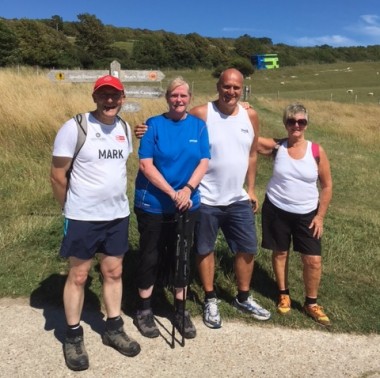 Ahead of this weekend's Trek the Night: South Downs Way challenge, a team mate from Hampshire has finally completed last year's walk.
In July 2016, the Hampshire Chamber of Commerce entered a squad for the Action Medical Research event.
Unfortunately, after trekking 32 miles of the 40 mile hike, one of their members fell ill and was unable to complete the course. But that didn't stop Eddie Bell from (eventually) crossing the finishing line!
Almost a full year later, on Sunday 9th July 2017, Eddie fulfilled her determined promise to go back and finish the walk by returning to the spot that she was forced to stop at.
With support from one of the original team and two friends that had sponsored them in 2016, Eddie completed an emotional 8-mile walk over the Seven Sisters and onwards to the top of Beachy Head.
Following her achievement, teammate Mark Baulch said: "Eddie had always said that she would finish this challenge and I am so pleased that she has done so.
"It was a difficult afternoon, emotionally and physically, especially on such a hot day. I applaud Eddie's determination and commitment and thank our friends and colleagues for their invaluable support too."
Alice Lisher, Community Fundraiser for Action, added: "We were so disappointed for Eddie when she could not complete last year's challenge.
"Coming back and finally crossing that finish line just shows Eddie's grit and determination to complete the course. We're absolutely delighted for her!"
The Hampshire Chamber of Commerce team raised just over £2,000 for Action which contributed to the overall total of nearly £48,000.
This year, 25 teams and five individuals will be taking on the 40 mile hike from Devil's Dyke to Beachy Head from midnight on Saturday 15 July. 
Action Medical Research is a UK-wide children's charity which funds desperately needed research to tackle the diseases that devastate the lives of so many of our children. It has been funding medical breakthroughs since it began in 1952 including helping to introduce the first polio vaccines in the UK, developing the use of ultrasound in pregnancy and testing the rubella vaccine.
The charity is currently funding research into conditions including asthma, prematurity, epilepsy, meningitis, cerebral palsy, brain cancer and some rare and distressing conditions.
- ENDS –
NOTES TO EDITORS:
Photos
To download photos of Eddie and the team who crossed the finish line with her:
https://www.action.org.uk/sites/default/files/downloads/press/trek_the_night_eddie_bell_2.jpg
(L-R: Mark Baulch, Eddie Bell, Mark Smithard, Jilly Russell)
https://www.action.org.uk/sites/default/files/downloads/press/trek_the_night_eddie_bell.jpg
(L-R: Mark Baulch, Jilly Russell, Eddie Bell, Mark Smithard)
For more information on Action Medical Research, contact Peter Denton, Fundraising Communications Officer, on:
T: 01403 327480
E:pdenton@action.org.uk
W: action.org.uk
Follow us on Twitter at @actionmedres and @amr_events  
Like our Facebook page at facebook.com/actionmedres
Follow us at pinterest/actionmedres
Action Medical Research is a leading UK-wide charity saving and changing children's lives through medical research. For 65 years we've helped pioneer ways to prevent disease and develop treatments benefiting millions of people. Our research has helped to beat polio in the UK, develop ultrasound in pregnancy, fight meningitis and prevent stillbirths. But we urgently need to develop more new treatments and cures for sick babies and children and we can't do it without you.
Join our fight for little lives today.
Charity reg. nos 208701 and SC039284.