A mother and son from Droitwich are teaming up to help Action Medical Research – a UK-wide children's charity.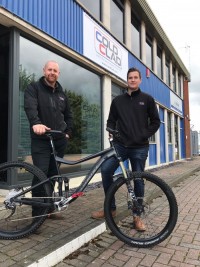 George Brown, 29, an Estimating Manager at Cold Clad Ltd (pictured right with fellow rider Ben Nash) is joining nine colleagues to take on the 'Taff Trail Challenge' on 23 September.
The 55 mile cycle route is a mainly off-road trail from Brecon to Cardiff that takes in a canal towpath, mountain fire roads and single- track trail. The team is hoping to raise £1,000.
Speaking ahead of the ride, George said: "My colleagues and I are all keen mountain bikers and a group of us go to the Forest of Dean most Fridays after work to ride a few trails. We have been talking about trying something more challenging for a while and one of my colleagues did the Taff Trail a few years ago.
"Obviously with my mother getting involved with Action earlier this year, it raised my awareness of the great work the charity does. We just want to help by doing our bit – reaching our fundraising target would be amazing!"
Action has been funding medical breakthroughs since it began in 1952 including helping to introduce the first polio vaccines in the UK, developing the use of ultrasound in pregnancy and testing the rubella vaccine.
The charity is currently funding research into conditions including asthma, prematurity, epilepsy, meningitis, cerebral palsy, brain cancer and some rare and distressing conditions.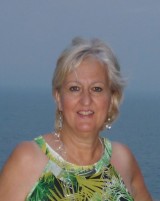 Judy Brown, 64, started up a local committee in Droitwich back in May and held a recruitment meeting in the village in July.
"A friend of mine down in Devon first introduced me to Action and I thought their work sounded fascinating. But there was no fundraising group in this area.
"So with the help of my partner Peter, we decided to try and set up a group and see if we can help raise funds. 
"The meeting in July was really successful - there are now nine of us planning our first fundraiser for Action in November which is so exciting!"
If you would like to get involved in the Droitwich area you can contact Judy via email judy295@outlook.com
For more volunteering opportunities across Worcestershire contact the county's Community Fundraiser Tracey Edwards tedwards@action.org.uk.

To find out more about George's 'Taff Trail Challenge' tap here.
-END-
NOTES TO EDITORS:
To download a photo of George Brown:
https://www.action.org.uk/sites/default/files/downloads/george_brown.jpg
(L to R): Fellow rider Ben Nash and George Brown
To download a photo of Judy Brown:
https://www.action.org.uk/sites/default/files/downloads/press/volunteer_week_-_judy_brown.jpg
For more information on Action Medical Research, contact Peter Denton, Fundraising Communications Officer, on:
T: 01403 327480
E: pdenton@action.org.uk
W: action.org.uk
Follow us on Twitter at @actionmedres and @amr_events  
Like our Facebook page at facebook.com/actionmedres
Follow us at pinterest/actionmedres
Action Medical Research is a leading UK-wide charity saving and changing children's lives through medical research. For 65 years we've helped pioneer ways to prevent disease and develop treatments benefiting millions of people. Our research has helped to beat polio in the UK, develop ultrasound in pregnancy, fight meningitis and prevent stillbirths. But we urgently need to develop more new treatments and cures for sick babies and children and we can't do it without you.
Join our fight for little lives today.
Charity reg. nos 208701 and SC039284.