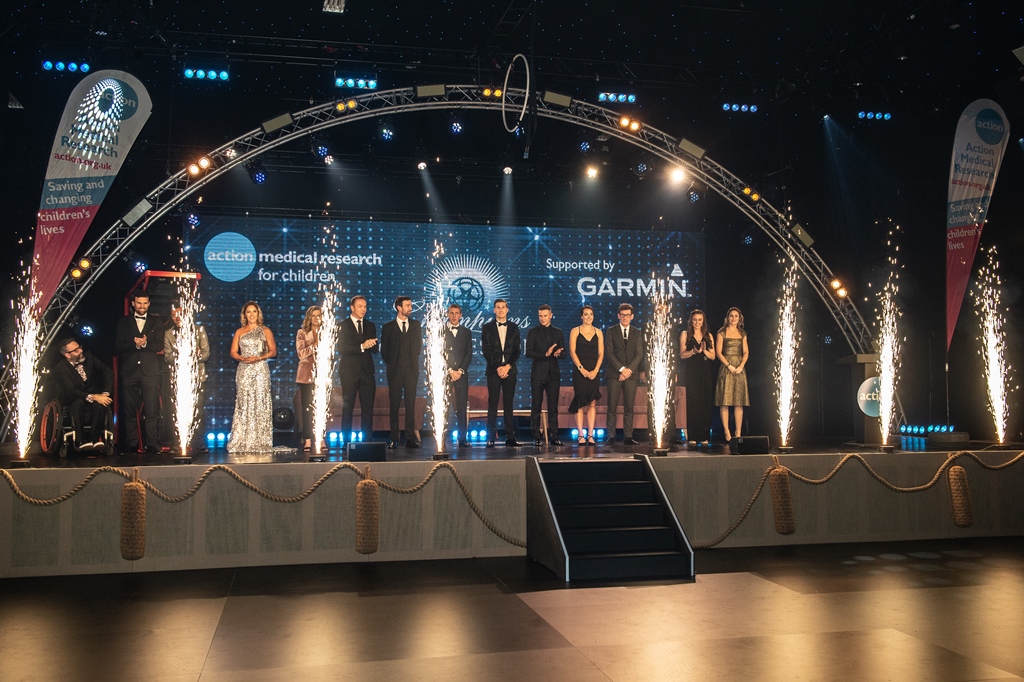 It was another sparkling night in London as children's charity Action Medical Research hosted its ninth annual 'Champions of Cyclesport' dinner, kindly sponsored by Garmin.
A number of high profile sports stars lent their support on Thursday 22 November, including Sir Chris Hoy MBE, Nico Roche, Rochelle Gilmore and Dani Rowe.
Speaking afterwards, Dani said she was delighted to return: "I've been fortunate enough to come to a number of these fundraising galas for Action; the atmosphere is always incredible with plenty of opportunity to mingle with cycling fans.
"I love that cycling is such an intrinsic part of Action's work; I think their events across the UK help boost interest in the sport as well as raise vital funds."
The black tie gala event was held at Battersea Evolution with hundreds of guests enjoying a delicious three course meal.
Dan Martin, who recently became a father to twin girls, said he was pleased to once again be involved: "I think Action Medical Research is a fantastic charity, raising funds to help save tiny lives.
"And they love their cycling too! Action organises a number of annual events across the UK which all go towards funding vital research for poorly children."
A couple of fundraising auctions were also held throughout the evening with some incredible prizes including: a British National Road Race Championships jersey signed by Connor Swift; a custom made Passoni Top Force frameset; a corporate ride out with Nico Roche; and the chance to name an Eddie Stobart truck!  
Funds raised from the gala are still being counted but since its launch in 2010, the Champions of Cyclesport dinner has raised more than £1.6 million.
Action Medical Research's Senior Partnership Development Manager Sarah Stevenson said: "We are absolutely delighted with this year's event and I would like to thank our sponsors and all of our lovely guests for their generous support.
"We always strive to make this an evening to remember for cycling enthusiasts; our guests get a chance to mingle with some truly elite athletes and bid on some money-can't-buy memorabilia.
"They also get to learn about our work and how the research we help fund can help future families. Every penny raised really can make a difference."  
This year's gala was kindly sponsored by Garmin, Rouleur and Frog bikes.
Action Medical Research is a UK-wide children's charity which funds desperately needed research to tackle the diseases that devastate the lives of so many of our children. It has been funding medical breakthroughs since it began in 1952 including helping to introduce the first polio vaccines in the UK, developing the use of ultrasound in pregnancy and testing the rubella vaccine.
The charity is currently funding research into areas including premature birth, epilepsy, asthma, scarlet fever, cerebral palsy, brain cancer and some rare and distressing conditions.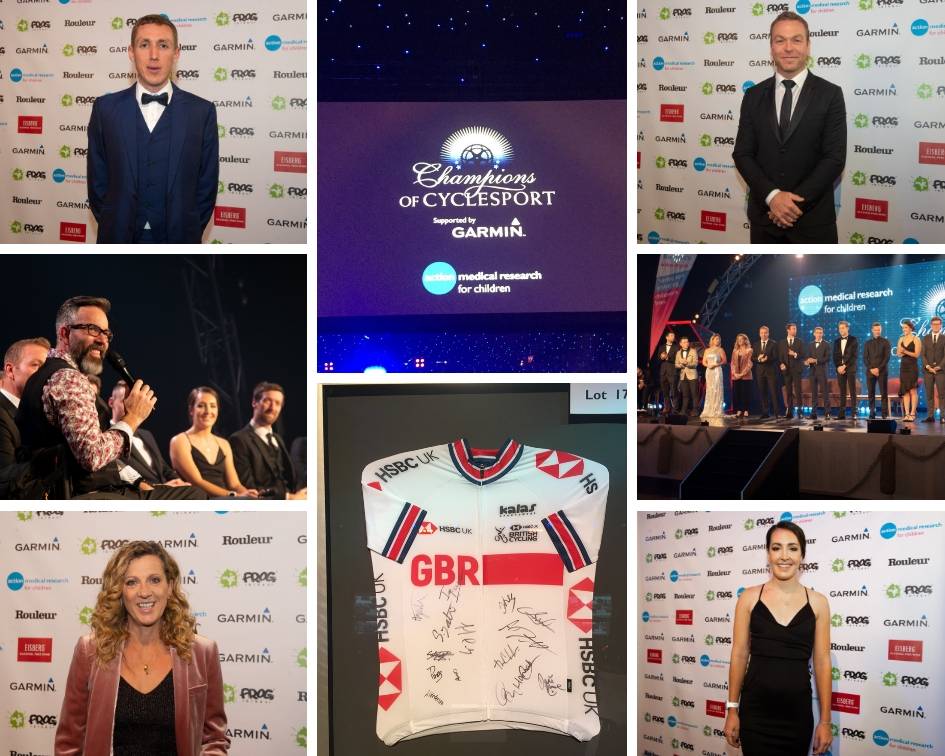 -ENDS-
NOTES TO EDITORS:
A full list of 2018 sports star attendees can be found online here. https://www.action.org.uk/champions-cyclesport/champions-and-celebrities
Photos
Please credit Phil O'Connor
Sir Chris Hoy
https://www.action.org.uk/sites/default/files/downloads/press/chrishoy_phil_tw.jpg
Dan Martin
https://www.action.org.uk/sites/default/files/downloads/press/champs18_danmartin_phil_tw.jpg
Dani Rowe MBE
https://www.action.org.uk/sites/default/files/downloads/press/danirowe_phil_tw.jpg
Sally Gunnell OBE
https://www.action.org.uk/sites/default/files/downloads/press/sallygunnell_phil_tw.jpg
Champions on stage
https://www.action.org.uk/sites/default/files/downloads/press/champs18_stage_fireworks_phil.jpg
For more information on Action Medical Research contact Peter Denton, Fundraising Communications Officer, on:
T: 01403 327412
E:pdenton@action.org.uk
W: action.org.uk
Follow us on Twitter at @actionmedres and @amr_events  
Like our Facebook page at facebook.com/actionmedres
Follow us on Instagram at @actionmedres and @actionevents
Action Medical Research is a leading UK-wide charity saving and changing children's lives through medical research. For more than 65 years we've helped pioneer ways to prevent disease and develop treatments benefiting millions of people. Our research has helped to beat polio in the UK, develop ultrasound in pregnancy, fight meningitis and prevent stillbirths. But we urgently need to develop more new treatments and cures for sick babies and children and we can't do it without you.
Join our fight for little lives today.
Charity reg. nos 208701 and SC039284.