Archived
Please note, this page may contain outdated information or subject matter.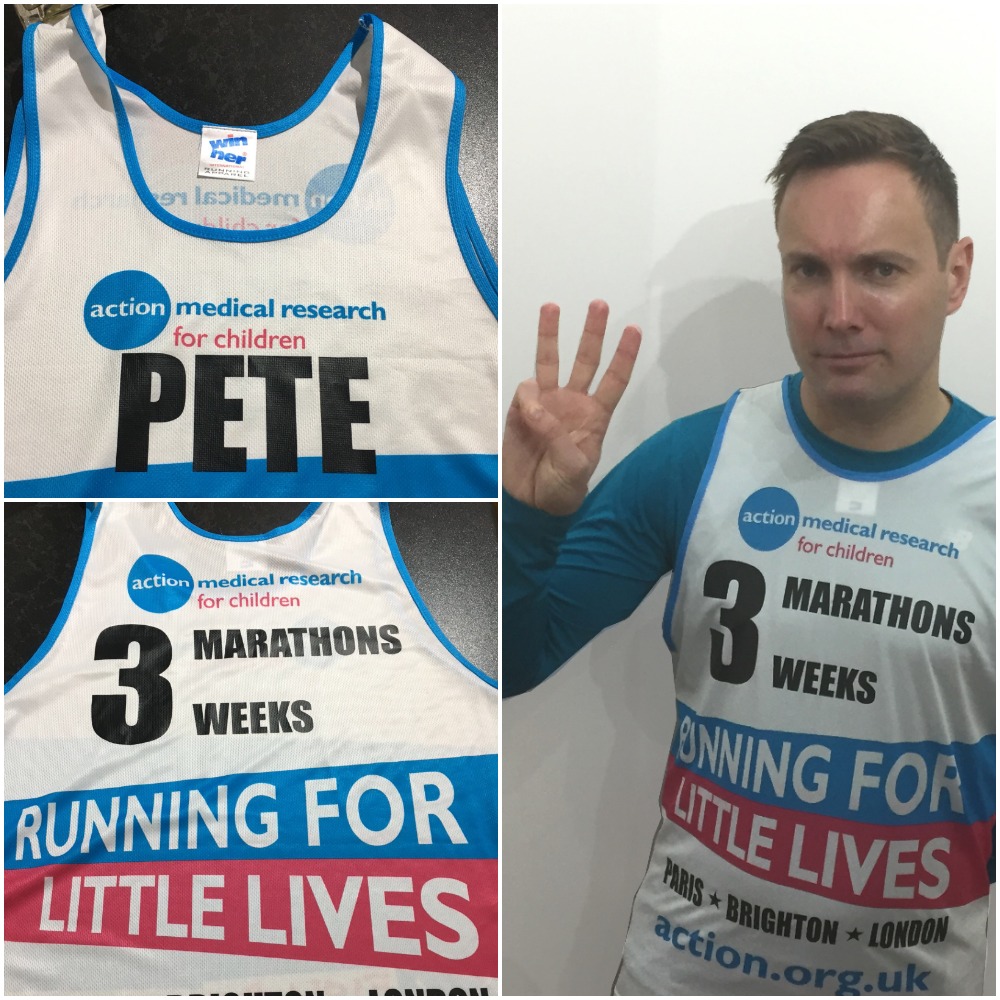 A man from Essex is getting ready for a marathon charity challenge. Well, three of them to be precise.
Pete Wiseman, a Claims Adjuster from Hockley, will be taking on the Paris Marathon (8 April), Brighton Marathon (15 April) and Virgin Money London Marathon (22 April) for Action Medical Research.
"It's definitely going to be tough", admits the 38-year-old. "Part of me is really excited to take on the challenge; but part of me is also going 'What am I thinking?!?'"
Pete first became aware of Action last year and completed his first ever London Marathon in April 2017.
He admits he is not a 'natural' runner but says the three-race challenge was too good an opportunity to turn down: "I jumped at the chance to run in France because I occasionally work out of our Paris office.
"Then within a week I was given the opportunity to run London and I thought I had to make a decision which one. In that same week a friend of mine asked me to support him by joining him in the Brighton marathon!"
Pete, who has three young daughters with his wife Louise, hopes to raise £4,000.
You can find out more information about Pete's challenge here.
Action Medical Research is a UK-wide children's charity which funds desperately needed research to tackle the diseases that devastate the lives of so many of our children. It has been funding medical breakthroughs since it began in 1952 including helping to introduce the first polio vaccines in the UK, developing the use of ultrasound in pregnancy and testing the rubella vaccine.
The charity is currently funding research into conditions including asthma, prematurity, epilepsy, meningitis, cerebral palsy, brain cancer and some rare and distressing conditions.
-ENDS-
NOTES TO EDITORS:
To download a photo of Pete Wiseman:
https://www.action.org.uk/sites/default/files/downloads/press/pete_wiseman_01.jpg
To download a photo of Pete's running vest:
https://www.action.org.uk/sites/default/files/downloads/press/pete_wiseman_vest_2.png
https://www.action.org.uk/sites/default/files/downloads/press/pete_wiseman_vest_1.png
For more information on Action Medical Research  - or to try and arrange an interview with Pete - contact Fundraising Communications Officer Peter Denton on:

T: 01403 327412
E:pdenton@action.org.uk
W: action.org.uk
Follow us on Twitter at @actionmedres and @amr_events  
Like our Facebook page at facebook.com/actionmedres
Follow us on Instagram at @actionmedres and @actionevents 
Action Medical Research is a leading UK-wide charity saving and changing children's lives through medical research. For more than 65 years we've helped pioneer ways to prevent disease and develop treatments benefiting millions of people. Our research has helped to beat polio in the UK, develop ultrasound in pregnancy, fight meningitis and prevent stillbirths. But we urgently need to develop more new treatments and cures for sick babies and children and we can't do it without you.
Join our fight for little lives today.
Charity reg. nos 208701 and SC039284.