Three of the four children from the Penn Evans family have Batten disease
Children's charity, Action Medical Research, is calling for funding for more research into rare conditions that affect children, like juvenile Batten disease (CLN3), an inherited neurodegenerative disorder, which causes blindness, epilepsy, muscle spasms and dementia, and is always fatal.[1][2] Between 11 and 17 children, young people and adults are diagnosed with a form of Batten disease in the UK each year.[3] It is a cruel irony that out of the 17 children diagnosed each year three of them are the children of Dee and her partner Jody from Hereford. Three of Dee's four children have juvenile Batten disease, 19 year old twins Toby and Corey, and 14 year old Izzy. Although their sister Amber does not have the condition, she might be a carrier and have the potential to pass it on.
The devastating diagnosis of Batten disease in three of the four children in the Penn-Evans family has had a significant impact on their plans for a future. Christmas, while a happy time is tinged with sadness for the Penn-Evans family. Having to prepare your child in case they lose their sight and introducing them to a children's hospice, because they might have to go into a hospice has been very difficult.
Their mother Dee says: "Discovering that three of our kids had juvenile Batten disease left us feeling numb. Toby and Corey have symptoms including severe sight impairment, seizures, aching legs and wrists, behavioural problems and stammering. Izzy's condition has worsened over the past few years Initially her sight was good and her symptoms included stammering, short-term memory loss, night terrors and challenging behaviour, but now she is affected by dementia and sight loss. We have started introducing Toby and Corey to their local children's hospice, so that the boys get familiar with the sounds, smells and textures, in case they do lose their sight fully."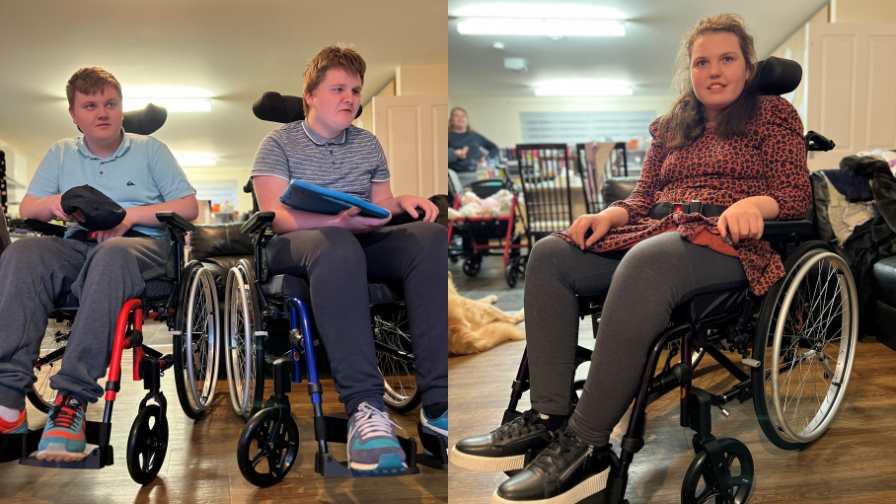 CLN3 disease is a rare condition,[1] (a rare condition is defined as one which affects less than 1 in 2,000 people).[1] Children with CLN3 disease experience a wide range of symptoms including sight loss, tremors, epilepsy, problems with balance and walking, behavioural and psychological issues and, as the disease progresses, difficulties with chewing and swallowing.[2] There are a number of genes that cause the condition, the first of which were discovered 20 years ago. One of these, the CLN3 gene, gives the body's cells instructions on how to make a protein,[3] but until recently, the role and significance of this protein was unknown. The role of this protein has recently been discovered by researchers thanks to funding from Action Medical Research.
Sarah Moss, Director of Communications at Action Medical Research, comments: "Over the past few years, Action funding into the CLN3 form of juvenile Batten disease, has helped to progress understanding of the causes of this life-limiting condition, taking us a step closer to being able to develop vital treatments to help children like Toby, Corey and Izzy. Action's commitment over the years, in helping to tackle rare diseases in children, continues today as we fund much-needed research to bring hope to the thousands of families dealing with the devastating fact that their child has a disease for which there is no cure.  
Since it was founded, Action Medical Research has developed an extraordinary track record in supporting some of the most significant medical breakthroughs in recent history – breakthroughs that have helped save thousands of children's lives and changed many more such as ultrasound scanning in pregnancy, discovering the importance of taking folic acid and testing the rubella vaccine. The charity is currently appealing for support as part of its Children's Rare Disease Research Campaign, to help raise funds for research into rare diseases that affect children. Please visit: www.action.org.uk/rare.
References
[1] Department of Health and Social Care. The UK Rare Diseases Framework. Available at: https://www.gov.uk/government/publications/uk-rare-diseases-framework/the-uk-rare-diseases-framework [Website accessed November 2022]
[2] Action Medical Research. Toby, Corey and Izzy's story. Available at: https://action.org.uk/research/family-stories/toby-corey-and-izzys-story. [Website accessed November 2022].
[3] Cotman SL. Staropoli JF. The juvenile Batten disease protein, CLN3, and its role in regulating anterograde and retrograde post-Golgi trafficking. Clin Lipidol. 2012 Feb; 7(1): 79–91. doi: 10.2217/clp.11.70