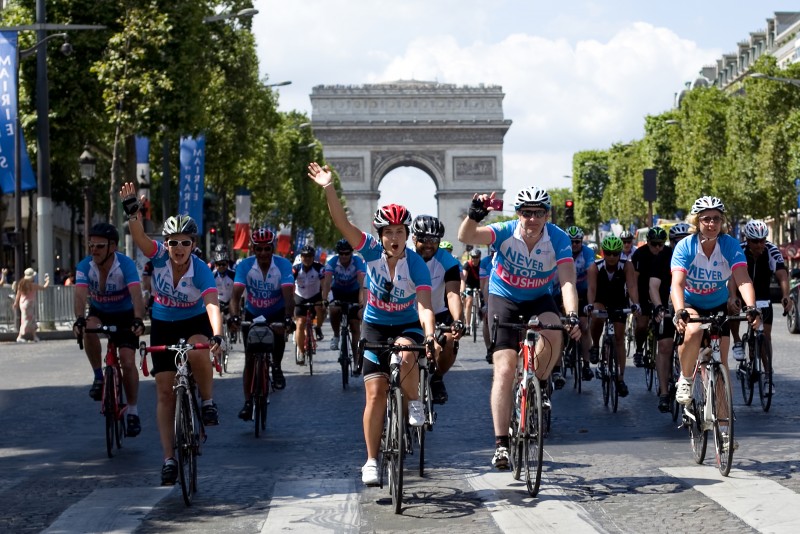 Brett, Mace and Dome Consulting are throwing their weight behind an epic new bike ride aimed exclusively at the construction industry.
Children's charity Action Medical Research has launched a new edition of its hugely popular London to Paris bike ride for the sector and a number of firms are preparing to take their support up a gear.
The Ziggurat ride will take place from 19-23 July 2017 with staff from the industry's biggest companies leaping into the saddle for the 300-mile trip to the French capital.
"We're really looking forward to the London to Paris challenge as it's a great chance to support a cause very close to our hearts," says Bill Brett, Chairman of the Brett Group.
"The work they do funding vital research is really inspiring and, having taken part in Action Medical Research's cycling events, I know we're guaranteed a smooth ride – all we need to worry about it is covering the miles."
The ride will finish in Paris on Saturday, 22 July, with 120 cyclists riding in convoy down the Champs Élysées to the Eiffel Tower the day before the iconic Tour de France race ends along the same streets.
"Our new Ziggurat ride offers an unparalleled opportunity for networking while raising money to save and change the lives of babies and children," says David Graham, Head of Events Fundraising at Action Medical Research.
"It's also a great chance for some team bonding as you pedal through the rolling countryside of southern England and northern France before arriving in glorious Paris for one of the most exciting sporting weekends in the calendar."
With the help of its supporters, Action Medical Research has played a significant role in many medical breakthroughs for more than 60 years, from the development of the first UK polio vaccines to the use of ultrasound in pregnancy – helping to save thousands of children's lives and change many more.
It is currently funding research into meningitis, Down syndrome, epilepsy and premature birth, as well as some rare and distressing conditions that severely affect children.
For more information, please visit action.org.uk/ziggurat
- ENDS -
NOTES TO EDITORS:
For more information on Action Medical Research, please contact Ellie Evans, Fundraising Communications Officer, on:
T 01403 327480
Follow us on Twitter at @actionmedres and @amr_events  
Like our Facebook page at facebook.com/actionmedres
Follow us at pinterest/actionmedres
Action Medical Research is a leading UK-wide charity saving and changing children's lives through medical research. For more than 60 years we've helped pioneer ways to prevent disease and develop treatments benefiting millions of people. Our research has helped to beat polio in the UK, develop ultrasound, fight meningitis and prevent stillbirths. But we urgently need to develop more new treatments and cures for sick babies and children and we can't do it without you.
Join our fight for little lives today.
Charity reg. nos 208701 and SC039284.