Four military veterans have completed their 3,000-mile journey across the Atlantic Ocean to raise awareness of the impact of premature birth and have raised nearly £200,000 for children's charity Action Medical Research.
Team Elijah's Star, made up of Phil, Mac, Dean and Jason, set out on their voyage from La Gomera in the Canary Islands on 12 December 2021 and have completed the crossing in 41 days, 2 hours and 44 minutes. Elijah's Star was the 17th boat in the fleet of 35 to reach their destination in Antigua as part of the Talisker Whisky Atlantic Challenge – known as the world's toughest row.
The team battled extreme winds, scorching temperatures, painful blisters and severe sleep deprivation. As well as experiencing issues with the boat's battery power in their fourth week at sea which involved careful power management for the last leg of the journey.
The boat carries the names of over a thousand premature babies and was named after baby Elijah, a premature but much-loved son, and brother, who was born at 25 weeks and three days, weighing 823g and who sadly lived for just 37 days.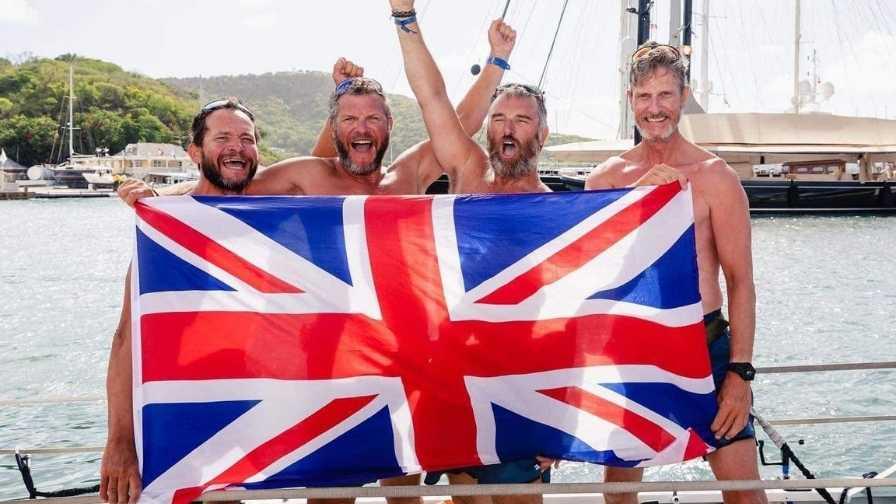 "We are in absolute awe of the strength the Elijah's Star team have shown over the past six weeks and are so touched that they did this in our son's memory," says Elijah's mum Jenny. "Following the team's journey across the Atlantic has brought our family so much joy and their determination to help fund life-saving research is inspirational. Action Medical Research fund amazing research and we hope that the money raised through this challenge can make a difference so that other babies' lives won't be cut so painfully short."
Lewis Coghlin, Fundraising Director at Action Medical Research says: "Everyone at Action is so grateful to the team for completing this incredible challenge in Elijah's memory. Action helps fund vital research for sick babies and children, some of which looks into the causes of premature birth and the complications that can arise from it. We hope that through more research into premature birth and pregnancy complications we will be able to change things for the future and save more lives. Thank you to the team and to everyone who has donated to Elijah's Star's Atlantic challenge."
The Talisker Whisky Atlantic Challenge is the premier event in ocean racing and is recognised as the world's toughest row, covering more than 3,000 miles between the start in the Canary Islands and the end point in Nelsons Dockyard, English Harbour, Antigua and Barbuda. The Elijah's Star crew is made
up of Philip Bigland, Mac McCarthy, Dean Frost and Jason Kerr; longstanding acquaintances who have all served in the armed forces and have experience in the rigours of endurance racing. 
Action Medical Research is a UK-wide children's charity which funds desperately needed research to tackle the diseases that devastate the lives of so many of our children. It has been funding medical breakthroughs for 70 years including helping to introduce the first polio vaccines in the UK, developing the use of ultrasound in pregnancy and testing the rubella vaccine.
It is now driving forward children's research in the fight against COVID-19 as well as funding research into conditions including asthma, prematurity, meningitis, cerebral palsy, brain cancer and some rare and distressing conditions.
To honour Elijah's short life and the team's incredible journey, you can still donate to their Just Giving page here: https://www.justgiving.com/campaign/elijahsstar.
Images of the Elijah's Star journey are available to download here: https://www.dropbox.com/sh/4jjdwdkalat1kj8/AADXAjwEz2oWzneBf_m05Fqva?dl=0.
Photo credit: Atlantic Campaigns.
ENDS
Notes for editors:
For more information on Action Medical Research contact:
Grace Wardley, Communications and Engagement Officer:
T: +44(0)7725 090008 or out of hours PR phone: 07754 320281
E: gwardley@action.org.uk
W: action.org.uk
Follow us on Twitter at @actionmedres and @amr_events  
Like our Facebook page at @actionmedres and @actionevents  
Follow us on Instagram at @actionmedres and @actionevents
Action Medical Research is the leading UK-wide charity saving and changing children's lives through medical research. For 70 years we've helped pioneer ways to prevent disease and develop treatments benefiting millions of people. Our research has helped to beat polio in the UK, develop ultrasound in pregnancy, fight meningitis and prevent stillbirths. But we urgently need to develop more new treatments and cures for sick babies and children and we can't do it without you.
Join our fight for little lives today.
Charity reg. nos 208701 and SC039284.