Archived
Please note, this page may contain outdated information or subject matter.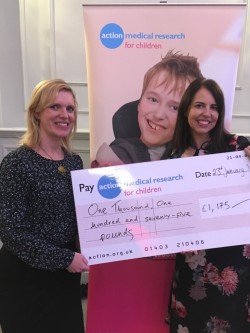 Bucket collections at the Leatherhead Theatre's Jack and the Beanstalk Panto last December have raised a dazzling £1,175 for children's charity Action Medical Research (https://www.action.org.uk/).
BBC Sussex and Surrey radio presenter Allison Ferns starred in the role of 'Fairy Bluebell' and was delighted at the magical total raised: "Action is a wonderful charity that works tirelessly to help fund vital research into a wide range of conditions.
"Starring in pantomime at the Leatherhead Theatre was an incredible experience; the audiences were fantastic and extremely generous! Thank you to everyone who donated."
Katia King, Action's Community Fundraiser for the London and South East region, said: "We're really grateful to have been selected as the chosen charity and to have benefitted from the generosity of those who donated.
"Every penny raised really does make a difference in our ongoing fight for little lives. On behalf of Action I just want to thank everyone for their kind support."
Action Medical Research is a UK-wide children's charity which funds desperately needed research to tackle the diseases that devastate the lives of so many of our children. It has been funding medical breakthroughs since it began in 1952 including helping to introduce the first polio vaccines in the UK, developing the use of ultrasound in pregnancy and testing the rubella vaccine.
The charity is currently funding research into conditions including asthma, prematurity, epilepsy, meningitis, cerebral palsy, brain cancer and some rare and distressing conditions.
Action Medical Research is now actively seeking all kinds of volunteers and supporter groups in this area. For further information on how to get involved, please visit action.org.uk/volunteering
- ENDS -
NOTES TO EDITORS:
To download a photo of the cheque presentation:
https://www.action.org.uk/sites/default/files/downloads/press/leatherhead_panto_cheque_2018.jpg
(L to R: Katia King, Allison Ferns)
For more information on Action Medical Research, contact Peter Denton, Fundraising Communications Officer, on:
T: 01403 327412
E: pdenton@action.org.uk
W: www.action.org.uk 
Follow us on Twitter at @actionmedres and @amr_events 
Like our Facebook page at facebook.com/actionmedres
Follow us on Instagram at @actionmedres and @actionevents 
Action Medical Research is a leading UK-wide charity saving and changing children's lives through medical research. For 65 years we've helped pioneer ways to prevent disease and develop treatments benefiting millions of people. Our research has helped to beat polio in the UK, develop ultrasound in pregnancy, fight meningitis and prevent stillbirths. But we urgently need to develop more new treatments and cures for sick babies and children and we can't do it without you.
Join our fight for little lives today.
Charity reg. nos 208701 and SC039284.