Archived
Please note, this page may contain outdated information or subject matter.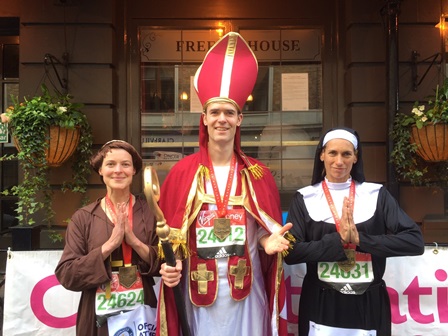 Not content with just completing the 26.2 mile Virgin London Marathon, three Action Medical Research supporters have also broken Guinness World Records!
Husband and wife Max Livingstone-Learmonth and Sarah Dudgeon - who are both from Abingdon, Oxfordshire - joined Victoria Carter from London to cross the finishing line in style on Sunday (23 April).
They have each been officially recognised for running the marathon in the fastest time dressed as a bishop, a nun and a monk respectively.
Sarah told us why they chose this particular theme: "Well, we were looking for three things that would look visually good together and we decided that we were religious about running so it just made sense!"
So why put themselves through such a gruelling challenge for charity? Max says that they all have their personal reasons: "We've all actually had some difficult times with our family recently. Very sadly, both of my parents died in the last six months and Action Medical Research was the charity my father was involved with. Also, Action funded Sarah's grandfather, Professor Alastair Dudgeon, who helped test the Rubella vaccine, so, lots of connections."
The 'holy trio' are well on their way to raising an amazing total of £3,500 and if you want to help them you can find out more here.
Action Medical Research is a UK-wide children's charity which funds desperately needed research to tackle the diseases that devastate the lives of so many of our children. It has been funding medical breakthroughs since it began in 1952 including helping to introduce the first polio vaccines in the UK, developing the use of ultrasound in pregnancy and testing the rubella vaccine.
The charity is currently funding research into conditions including asthma, prematurity, epilepsy, meningitis, cerebral palsy, brain cancer and some rare and distressing conditions.
END-
NOTES TO EDITORS
To download a photo of Sarah, Max and Victoria:
https://www.action.org.uk/sites/default/files/downloads/press/london_marathon_-_holy_trio.jpg
For more information on Action Medical Research, contact Peter Denton, Fundraising Communications Officer, on:
T: 01403 327480
E:pdenton@action.org.uk
W: action.org.uk
Follow us on Twitter at @actionmedres and @amr_events  
Like our Facebook page at facebook.com/actionmedres
Follow us at pinterest/actionmedres
Action Medical Research is a leading UK-wide charity saving and changing children's lives through medical research. For 65 years we've helped pioneer ways to prevent disease and develop treatments benefiting millions of people. Our research has helped to beat polio in the UK, develop ultrasound in pregnancy, fight meningitis and prevent stillbirths. But we urgently need to develop more new treatments and cures for sick babies and children and we can't do it without you.
Join our fight for little lives today.
Charity reg. nos 208701 and SC039284.