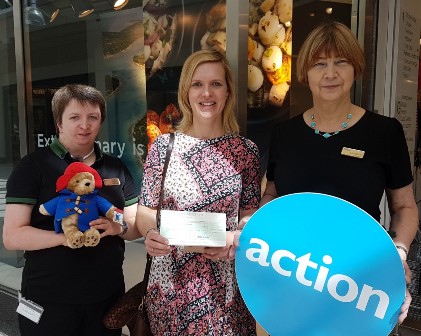 The Horsham branch of Marks and Spencer has proved it's no ordinary fundraiser, having collected an amazing £5,576 for Action Medical Research.
The store chose Action as its local charity in March 2015 and renewed its original 12 month partnership for another year in 2016.
During this time, staff have volunteered for local events organised by the charity, held collections in Swan Walk and carried out bag packs at the tills.
On Wednesday 17 May, Action's Community Fundraiser Katia King was presented with a cheque for £2,959 by Hospitality Manager at M&S Horsham, Christine Beet. Katia says the store's support has been incredible: "We honestly cannot thank all the staff and customers at Marks and Spencer in Horsham enough.
"For every project Action funds there's another one we have to turn away – simply because of a lack of funds. Every penny really does count."
Christine Beet added: "We are delighted to have been able to support Action Medical Research for the second year running as our store charity of the year.
"They help to make a real difference in people's lives across the UK, providing vital resources for those most vulnerable within our communities and to have their head office based here in Horsham has made our partnership all the more special.
"I would personally like to thank all of my colleagues for their fundraising efforts and our valued customers for their generosity."
Action Medical Research is a UK-wide children's charity which funds desperately needed research to tackle the diseases that devastate the lives of so many of our children. It has been funding medical breakthroughs since it began in 1952 including helping to introduce the first polio vaccines in the UK, developing the use of ultrasound in pregnancy and testing the rubella vaccine.
The charity is currently funding research into conditions including asthma, prematurity, epilepsy, meningitis, cerebral palsy, brain cancer and some rare and distressing conditions.
- ENDS -
NOTES TO EDITORS:
To download a photo of the cheque presentation outside Marks and Spencer in Horsham:
https://www.action.org.uk/sites/default/files/downloads/press/ms_cheque_presentation4_may17.jpg
(L-R: Laura Nias - M&S Plan A Champion, Katia King - Community Fundraiser at Action Medical Research, Christine Beet M&S Foodhall Manager)
For more information on Action Medical Research, contact Peter Denton, Fundraising Communications Officer, on:
T: 01403 327480
E:pdenton@action.org.uk
W: action.org.uk
Follow us on Twitter at @actionmedres and @amr_events  
Like our Facebook page at facebook.com/actionmedres
Follow us at pinterest/actionmedres
Action Medical Research is a leading UK-wide charity saving and changing children's lives through medical research. For 65 years we've helped pioneer ways to prevent disease and develop treatments benefiting millions of people. Our research has helped to beat polio in the UK, develop ultrasound in pregnancy, fight meningitis and prevent stillbirths. But we urgently need to develop more new treatments and cures for sick babies and children and we can't do it without you.
Join our fight for little lives today.
Charity reg. nos 208701 and SC039284.