In July 2021 people from across the insurance industry came together for a cycle ride, 'Raptör' covering over 300 miles, to help raise funds and awareness for children's charity Acton Medical Research.
Supported by lead sponsor Brit, Raptör is a ride for those working in the Insurance Industry. Originally the group were set to take on the inaugural challenge in 2020, cycling from London to Paris, but due to covid restrictions the event had to be cancelled. This was a huge blow to the charity and, not wanting to have to postpone again in 2021, the decision was made to ride in the UK instead.
The 320 mile ride started in Dorking at the Denbies Wine Estate and the group rode through the Surrey Hills and into leafy lanes of Sussex. Each day was punctuated with some serious hills, with an average ascent of over 5,000 feet a day, including Ditchling Beacon and Box Hill, pushing the riders – many of whom had very little cycling experience – to their limit.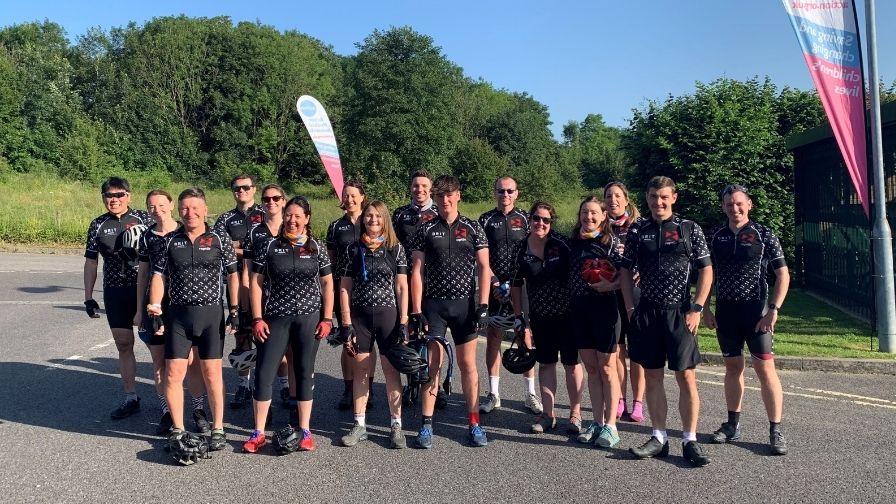 The cyclists were all representing a number of companies including Brit, Aon, SCOR, Tysers, Ki and Liberty Specialty Markets, amongst many others.
Action's Head of Events, Felicity Louden said:
"Everyone at Action is so grateful to all the riders who took part in Raptör and in particular Brit Insurance for their contribution and support, which made this ride possible. Over £200k has been raised for our vital research, which will help save and change the lives of children and babies now and in the future".
If you are interested in taking part in Raptör in 2022 when Action will finally get to take riders from the industry from London to Paris then contact events@action.org.uk.  
Action Medical Research is a UK-wide children's charity which funds desperately needed research to tackle the diseases that devastate the lives of so many of our children. It has been funding medical breakthroughs since it began in 1952 including helping to introduce the first polio vaccines in the UK, developing the use of ultrasound in pregnancy and testing the rubella vaccine.
The charity is currently funding research into areas including premature birth, epilepsy, scarlet fever, cerebral palsy, brain cancer and some rare and distressing conditions.
– ENDS –
NOTES TO EDITORS:
For more information about the event please contact:
Felicity Louden. Head of Events. Action Medical Research
T 07548 326871
E flouden@action.org.uk
Follow us on Twitter at @actionmedres and @amr_events 
Like our Facebook page at @actionmedres
Follow us on Instagram at @actionmedres and @actionevents 
Action Medical Research is a leading UK-wide charity saving and changing children's lives through medical research. For 65 years we've helped pioneer ways to prevent disease and develop treatments benefiting millions of people. Our research has helped to beat polio in the UK, develop ultrasound in pregnancy, fight meningitis and prevent stillbirths. But we urgently need to develop more new treatments and cures for sick babies and children and we can't do it without you.
Join our fight for little lives today.
Charity reg. nos 208701 and SC039284.