Archived
Please note, this page may contain outdated information or subject matter.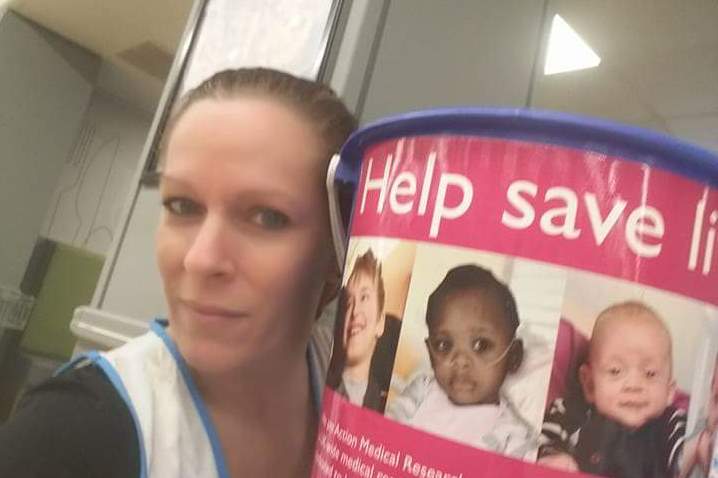 Jane Chaplin, a mother of four from Southend-on-Sea, is preparing for the 'London Landmarks' half marathon on Sunday 25 March.
But that won't be the only challenge she'll be taking on this year for Action Medical Research.
Having already completed the 10k 'London Winter Run' and the 'Big Half', Jane is also setting her sights on:
The Virgin Money London Marathon (22nd April)
Ultra Marathon (26/27th May)
Trek the Night: South Downs Way (14th July)
The New Forest Half Marathon (9th September)
The Snowdonia Marathon (27 October)
That's a total of nearly 200 miles and Jane, a Senior Executive Officer for HMRC, hopes that her 'Dynamic Year for Action' will raise £3,000.
"I'll be honest, I hadn't heard of Action Medical Research until last year", admits the 46-year-old. "I was looking for a half marathon place and stumbled upon them after searching online. But once I'd read a bit about the charity, I was fascinated."
Action Medical Research has been funding medical breakthroughs since it began in 1952 including helping to introduce the first polio vaccines in the UK, developing the use of ultrasound in pregnancy and testing the rubella vaccine.
It is the research Action helped fund into developing the use of ultrasound that really struck a chord with Jane: "When I was five months pregnant with my third daughter I was told she had a dilated renal pelvis; this early diagnosis meant that she could be prescribed with vital medication from day one, resulting in limited pain and a significantly reduced risk of infection.
"I think the work Action does is awesome!"
Jane hopes to raise £3,000; you can find out more about her challenges on her fundraising page. 
Action is currently funding research into conditions including asthma, prematurity, epilepsy, meningitis, cerebral palsy, brain cancer and some rare and distressing conditions.
-END-
NOTES TO EDITORS:
To download a photo of Jane:
https://www.action.org.uk/sites/default/files/downloads/press/jane_chaplin_action_crop.jpg
https://www.action.org.uk/sites/default/files/downloads/press/jane_chaplin_pr.jpg
To download the Action logo:
https://www.action.org.uk/sites/default/files/downloads/press/action_medical_research_logo.jpg
Please note Jane is happy to be interviewed about her 'Dynamic Year' for Action.
To arrange - or for more information on Action Medical Research - contact Peter Denton, Fundraising Communications Officer, on:
T: 01403 327412
E: pdenton@action.org.uk
W: www.action.org.uk
Follow us on Twitter at @actionmedres and @amr_events 
Like our Facebook page at facebook.com/actionmedres
Follow us on Instagram at @actionmedres and @actionevents 
Action Medical Research is a leading UK-wide charity saving and changing children's lives through medical research. For more than 65 years we've helped pioneer ways to prevent disease and develop treatments benefiting millions of people. Our research has helped to beat polio in the UK, develop ultrasound in pregnancy, fight meningitis and prevent stillbirths. But we urgently need to develop more new treatments and cures for sick babies and children and we can't do it without you.
Join our fight for little lives today.
Charity reg. nos 208701 and SC039284.