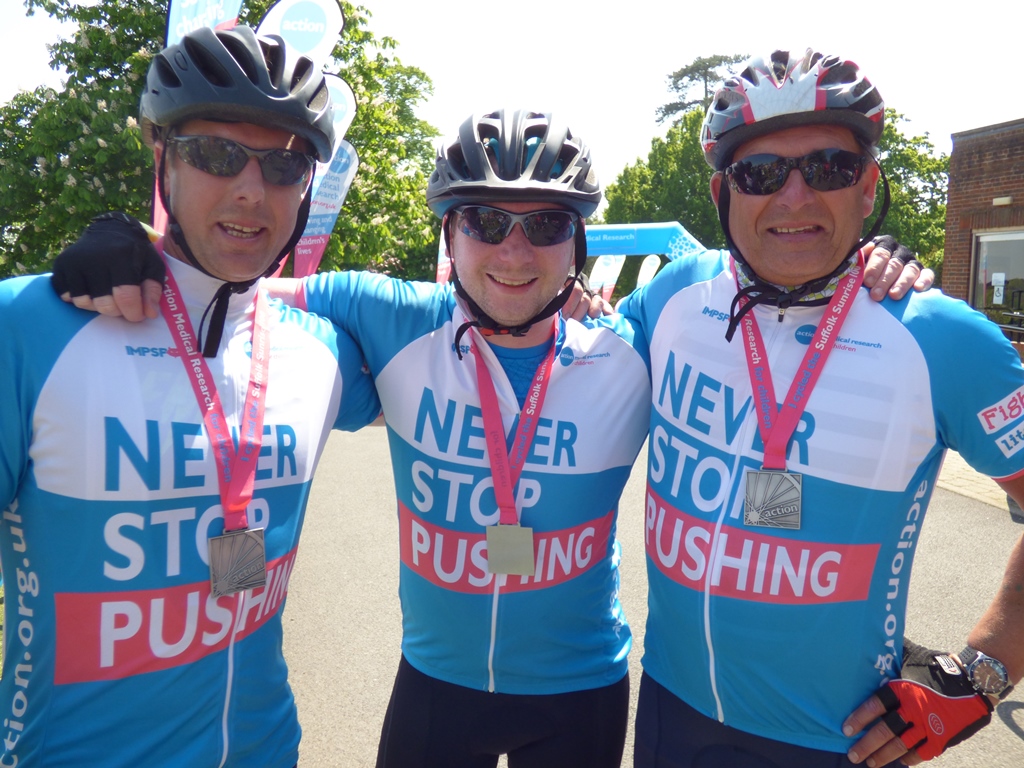 Just over a year ago Paul Humphreys saved a man's life.
The 32-year-old from Warrington was driving on the A14 near Cambridge when the car in front swerved and hit the central reservation a number of times before finally coming to a stop.
"I was working in the area at the time", recalls the Field Service Engineer at D.Wardle Plant. "The driver was unconscious and so me and another chap who stopped managed to get him out of his car and perform CPR before the paramedics and Air Ambulance got him safely to hospital."
That man he saved was 38-year-old Tony Clack from Framlingham, Suffolk.
"I genuinely owe my life to Paul" says Tony. "If he hadn't stopped to help me that day, I would not be here now."
"How many times do people drive past accidents as they are in a 'hurry'?
"Thankfully, Paul was not one of those people. And thanks to his kindness, and being a trained first aider, my children still have a father and my wife has a husband."
The two men kept in touch after Paul contacted Tony's workplace to get an update on his condition.
Tony was due to take part in the 'Suffolk Sunrise' event as part of his rehabilitation. But he sensibly decided not to risk over-doing it so soon after the incident.
Paul was determined to cycle as planned. Sort of: "I was actually only going to ride one of the shorter routes, but my Dad's a keen triathlete and once he got wind of the idea he convinced me to take on the 100 miler. Cheers Dad!"
Paul's father, Philip (55) along with Paul's close friend Rob Herst (32) cycled the 102 mile course on Sunday 20 May in a bid to raise £1,000. You can see their fundraising page here.
More than 800 cyclists took part in the annual Suffolk Sunrise fundraiser which started and finished in the grounds of Framlingham College.
Action Medical Research is a UK-wide children's charity which funds desperately needed research to tackle the diseases that devastate the lives of so many of our children. It has been funding medical breakthroughs since it began in 1952 including helping to introduce the first polio vaccines in the UK, developing the use of ultrasound in pregnancy and testing the rubella vaccine.
The charity is currently funding research into conditions including asthma, prematurity, epilepsy, meningitis, cerebral palsy, brain cancer and some rare and distressing conditions.
-ENDS-
NOTES TO EDITORS:
To download a photo of Paul with his Dad and friend Rob:
https://www.action.org.uk/sites/default/files/downloads/press/paul_humphreys.jpg
(L-R: Rob Herst, Paul Humphreys, Philip Humphreys)
To download generic photos from the Suffolk Sunrise:
https://www.action.org.uk/sites/default/files/downloads/press/suffolk_sunrise_1.jpg
https://www.action.org.uk/sites/default/files/downloads/press/suffolk_sunrise_2.jpg
For more information on Action Medical Research, or to arrange an interview with Paul or Tony, contact Peter Denton, Fundraising Communications Officer, on:
T: 01403 327412
E:pdenton@action.org.uk
W: action.org.uk
Follow us on Twitter at @actionmedres and @amr_events  
Like our Facebook page at facebook.com/actionmedres
Follow us on Instagram at @actionmedres and @actionevents
Action Medical Research is a leading UK-wide charity saving and changing children's lives through medical research. For more than 65 years we've helped pioneer ways to prevent disease and develop treatments benefiting millions of people. Our research has helped to beat polio in the UK, develop ultrasound in pregnancy, fight meningitis and prevent stillbirths. But we urgently need to develop more new treatments and cures for sick babies and children and we can't do it without you.
Join our fight for little lives today.
Charity reg. nos 208701 and SC039284.