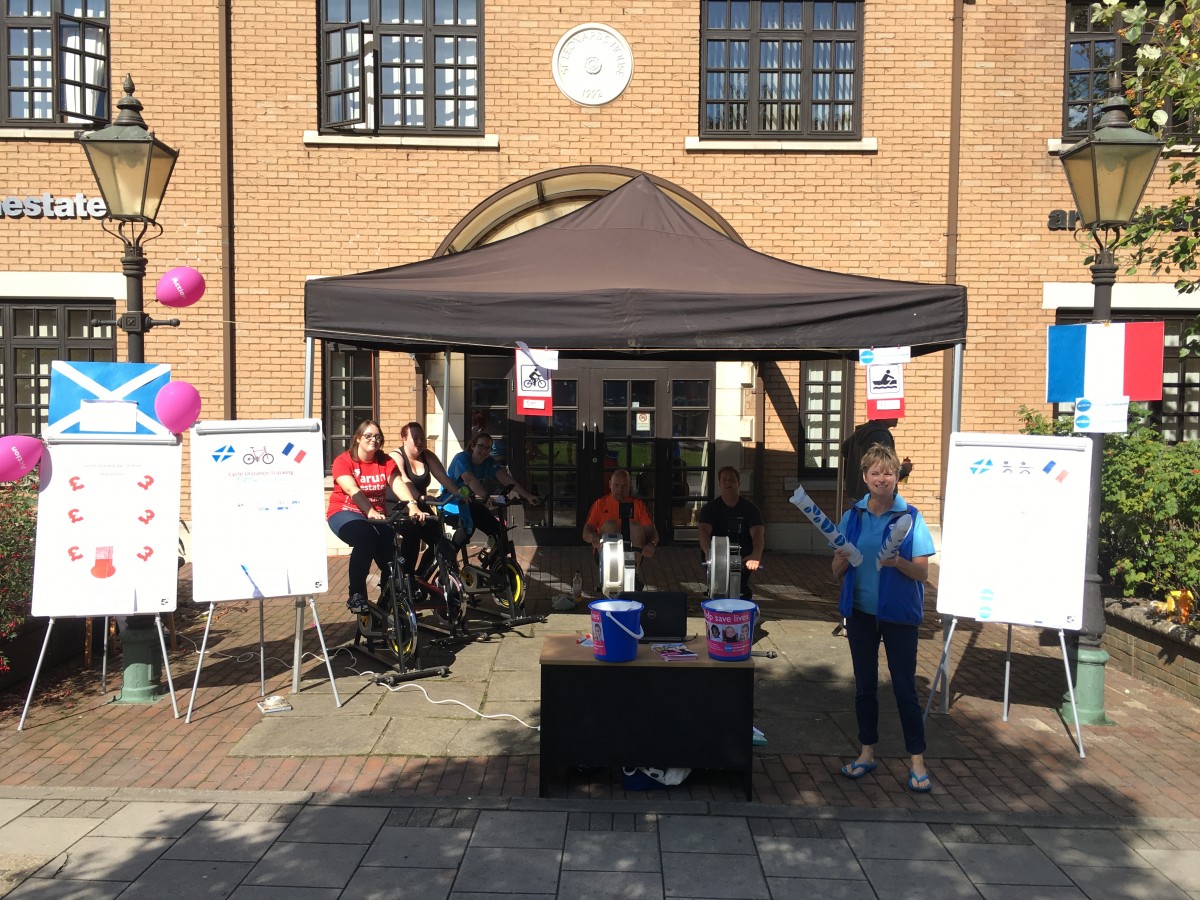 Action Medical Research, the leading UK-wide charity funding vital research to help sick and disabled babies, children and young people, is used to organising long distance physical challenges .
But on Wednesday, 13 September, Arun Estates - the largest independent estate agency in the South East of England – organised their own physical fundraiser for the organisation.
Members of staff at the Horsham based Customer & Property Care Department took to rowing machines and exercise bikes in North Street in an effort to travel the equivalent of Edinburgh – Paris.
The 'Big Event 'was held between 8am – 6pm and raised just over £1,250.
Charity Ambassadors for Arun Estates Customer & Property Care Department, Andy Hayward & Jenifer Keen, explain how they got the idea: "Well, last year all of our various offices/branches/departments took to static bikes to cycle as far as they could in one day. The aim was to ride a combined distance of 30,000km – the equivalent of cycling the planet – but we actually got closer to 40,000 km!
"As a department based in Horsham town centre we wanted to support a locally based charity. With many of the staff being parents, the opportunity to raise funds for a cause looking to help babies and children really touched our hearts."
Together with other fundraising events throughout 2017, Arun Estates Customer & Property Care Department have so far raised more than £3,000 for Action and are on target to beat last year's total of £3,780. This is just one department within Arun Estates who currently have over 110 offices and departments all raising money for Action Medical Research every year.
Action's Head of Relationship Fundraising, Toby Tennant said: "We are very grateful to Arun Estates for their ongoing support . The team's efforts on the rowing machines and exercise bikes were tremendous and they deservedly raised an incredible amount – we can't wait to see what fundraising ideas they come up with next!"
Action Medical Research is a UK-wide children's charity which funds desperately needed research to tackle the diseases that devastate the lives of so many of our children. It has been funding medical breakthroughs since it began in 1952 including helping to introduce the first polio vaccines in the UK, developing the use of ultrasound in pregnancy and testing the rubella vaccine.
The charity is currently funding research into conditions including asthma, prematurity, epilepsy, meningitis, cerebral palsy, brain cancer and some rare and distressing conditions.